Woolwich and Greenwich: For a workers' MP on a worker's wage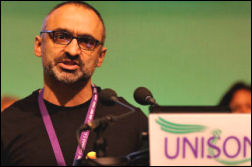 Onay Kasab, TUSC candidate for Greenwich, photo Paul Mattsson
ONAY 'KAZ' Kasab, the TUSC general election candidate in Woolwich and Greenwich has condemned local authorities who pay large sums to chief officers while cutting pay for the lower paid. Greenwich is looking to make huge 'savings' of £30 million over the next three years.
Council plumbers recently struck in protest at a 50% pay cut in some cases. Care managers who prepare care packages for the elderly are due to see pay cuts of over £5,000 a year and have called on their union to let them take action to defend their pay. While cutting jobs, Greenwich council also want to slash terms and conditions for the lower paid, including redundancy entitlements from May.
In 433 councils, 2,056 officials received at least £100,000 each in salary, bonuses, severance payments and other benefits in 2008-9. In 2003-4 the figure was 391. In Greenwich six officers earned at least £100,000 in 2003-4. By 2008-9 this had gone up to 23.
As Kaz says: "For the lower paid it's pay cuts and redundancy, while for those higher up the scale life can only get better. I challenge candidates from the main parties to condemn both the attacks on council workers' pay and conditions and the increased rewards for already well paid senior managers."
TUSC pledges to defend public services from cuts and privatisation, and demands that those who caused the economic crisis pick up the bill, not the working and middle class.
Onay Kasab is standing to be a "workers' MP on a worker's wage" taking only the average wage of a skilled worker and will only claim expenses essential for the job, making any expenses claims public each month by sending details to the constituency, and letting the local electorate audit any claims.
Kaz says: "I do not want to get elected to make money. I want to get elected to speak for the people. Many will not vote in this election because they see all politicians as the same.
By standing as a "workers' MP on a worker's wage", I am offering the chance to vote for something different, a real alternative."