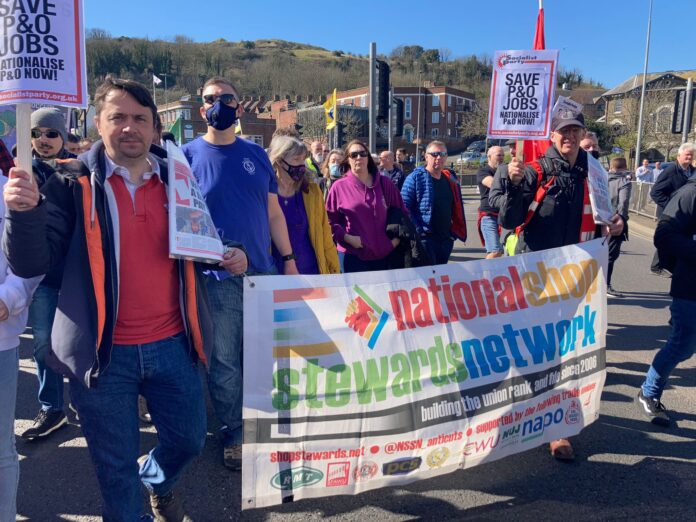 Solidarity with seafarers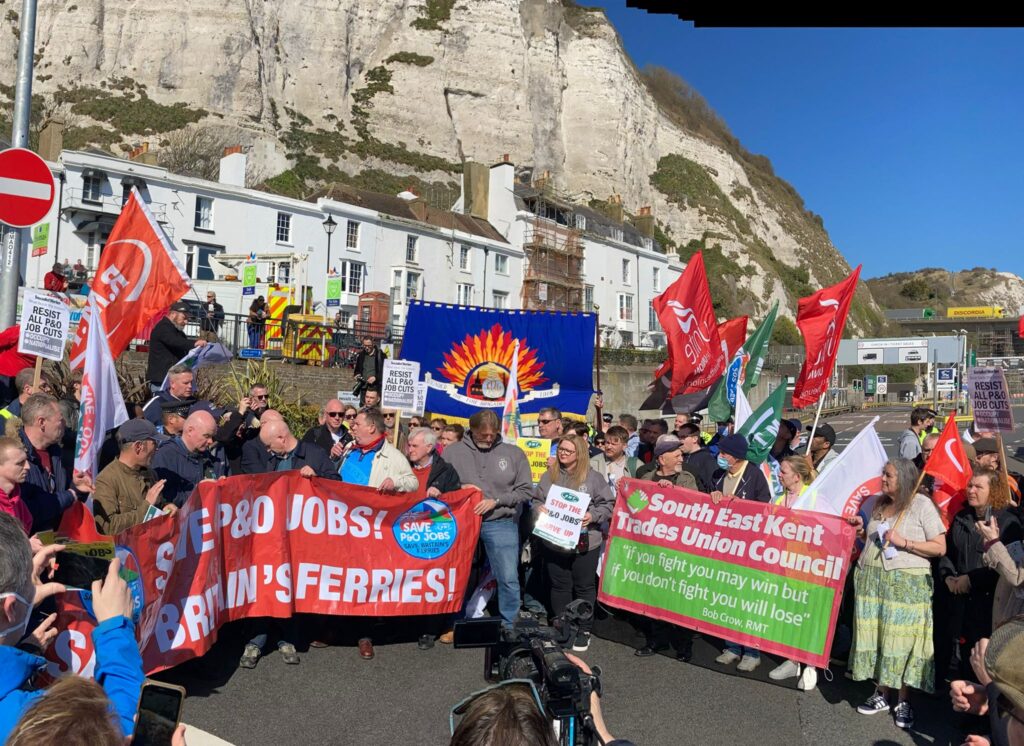 Rob Williams, Socialist Party industrial organiser
The cold brutality of the bosses was shown by P&O Ferries on 17 March when it sacked 800 employees by Zoom. Even more so, security was primed, with some acting as if they had powers of arrest.
In those brutal minutes, the entire façade of 'national unity' that Boris Johnson has been assembling over the Ukraine war, as with Covid, with the full backing of New Labour leader Sir Keir Starmer – was ripped down and shown to be the sham it is.
So too has the so-called concern of Tory ministers after it was revealed that the government was tipped off about the plans of P&O and its parent company DP World. Tory Dover MP Natalie Elphicke joined protests, but was rightly heckled because last autumn she refused to vote in parliament against 'fire and rehire'.
Trade union members have rallied to the cause of the workers and their union, the RMT, on the dockside in Dover, and again in the days after at solidarity rallies and protests in Hull, Larne, Liverpool, Dover and London.
Among those who marched in Dover were some who remembered the year-long strike by the National Union of Seamen (NUS), now a part of the RMT, 34 years ago, when over 2,000 ferry workers were sacked.
That dispute was defeated, despite tremendous support and solidarity from rank-and-file trade unionists, because the workers and the NUS were isolated. This can't happen now.
In the first Covid summer of 2020, the likes of British Airways rolled out 'fire and rehire' and were shamefully joined by the Blairite Labour council of Tower Hamlets. And now their Coventry counterparts are spending millions trying to defeat striking bin workers.
During lockdown, many companies saw the opportunity to use this brutal method to attack workers' pay, terms and conditions. British Gas workers took 43 days of strike action, but still faced cuts in their income of over £10,000. Those who didn't sign new contracts were made redundant. Car transporters were sent round to pick up the British Gas vans. Behind each one was a worker and their family.
But the viciousness of P&O has been on another level. There wasn't even a consultation period, just a prepared assault on these workers. They have to be defended.
Fire and rehire became a wave, as the bosses picked up the baton from the likes of British Airways. Unite has estimated that one in ten of its members have been affected by it. P&O might try to argue that UK employment law doesn't apply, as these are maritime workers, but this cannot be accepted, and whatever is the case, many other employers will now be looking to see if P&O get away with it.
Many workers will see that this is the regime that could be in place when the new tranche of 'freeports' is brought in by Boris Johnson, opening the door to more trampling of workers' contracts and national agreements.
Bosses' profits
The balance of forces has tilted slightly in some sectors, as the economy has recovered from the pandemic lockdowns. Labour and skills shortages, along with strained supply lines, have meant that some groups of workers such as HGV drivers have been able to win significant pay rises, on condition that they have been organised and willing to take action.
But this is a reminder that when their profits are at stake, the bosses will use the most brutal methods. This was virtually admitted by the company, citing alleged losses. Yet just this month DP World has announced that it made profits of $896 million (£751 million) in 2021, up from $846 million in 2020. It has also backed a £147 million deal to sponsor European Golf, when there is a hole in the P&O workers' pension fund of £146 million!
But how much profit P&O makes must not decide what happens to workers, their families and communities. It merely shows that it can't be trusted to run these services. P&O must be nationalised and brought into public ownership, under democratic workers' control and management.
The Tory government has taken emergency action against Russian oligarchs by imposing sanctions and has threatened to seize their properties. But the P&O sackings show that employers, backed by their Tory government, are also capable of acting in a dictatorial fashion.
Correctly, workers shouted "seize the ships" on the Dover protest. But no trust can be placed in Johnson's government. However, it can be forced under pressure to act. This poses the need for a massive movement that must be built to support the sacked workers, especially drawing in other workers in transport, haulage and the docks.
Many of these workers have themselves been in dispute recently, and the RMT has launched strikes on London Underground against Tory cuts administered by Blairite Labour mayor Sadiq Khan. The RMT is also being forced to prepare action nationally because of similar attacks by Network Rail and the train operating companies.
Such is the widespread anger, there is real potential to mobilise workers in solidarity. Already it is being reported that some of the agency staff who were lined up to take the P&O workers' jobs have refused.
The Trades Union Congress has finally called a national demo in June against the cost of living squeeze and the Tory and employers' pay freezes and wage cuts. But now is the moment. Whether it's in central London or at one of the ferry ports, such a mobilisation is needed and can be the platform for a victory.
---
Protesting and fighting back in Dover
Hundreds of trade unionists joined sacked P&O workers on 18 March outside the Dover RMT union offices and chanted "seize the ships!" A march to the docks followed, with passing motorists and lorry drivers tooting in support, in recognition of the vital nature of this battle to Dover and other communities that rely on the employment of the ferry services run by P&O and others.
Workers on board P&O ships for over twenty years have been dumped with a worrying future in front of them. Rosie, a former P&O worker and RMT rep, explained this has been a long time coming: "P&O is a bad employer taking people on for the summer on zero-hour contracts, then, as soon as things quieten down, dump them for the winter. Its temporary work on low wages. The company left a black hole in the pension fund which they are now making seafarers pay for with their jobs."
Darren Proctor, RMT national secretary, speaking at the rally, outlined what's at stake: "If they can do this at P&O they can do it to anyone, no one is safe. This isn't just an RMT fight, this is a fight for every worker. These ships should be detained, they're our ships. The CEOs come and go but it's our workforce that keeps ships running. We have to fight. We are going to win. Our message is loud and clear, seize the ships!"
P&Os brutal action has huge ramifications. As Mick Lynch, RMT general secretary explained, the government has seized the assets of the Russian oligarchs, why not take the same action against the oligarchs at P&O and parent company DP World?
The Socialist Party made a clear call for nationalisation of P&O as the only way to secure jobs and ferry services on a permanent basis. This has to be linked to a mass mobilisation of the wider trade unions, a call made by Matt Wrack, general secretary of the FBU, speaking at the rally in Dover, if the Johnson Tory government is going to be forced to act.
Labour leader Starmer's timid response to this vicious attack shows more than ever that workers need a party of their own to mobilise mass support effectively and offer a real alternative to capitalist crisis, job insecurity and the soaring cost of living.
Nick Chaffey, Southern Socialist Party
---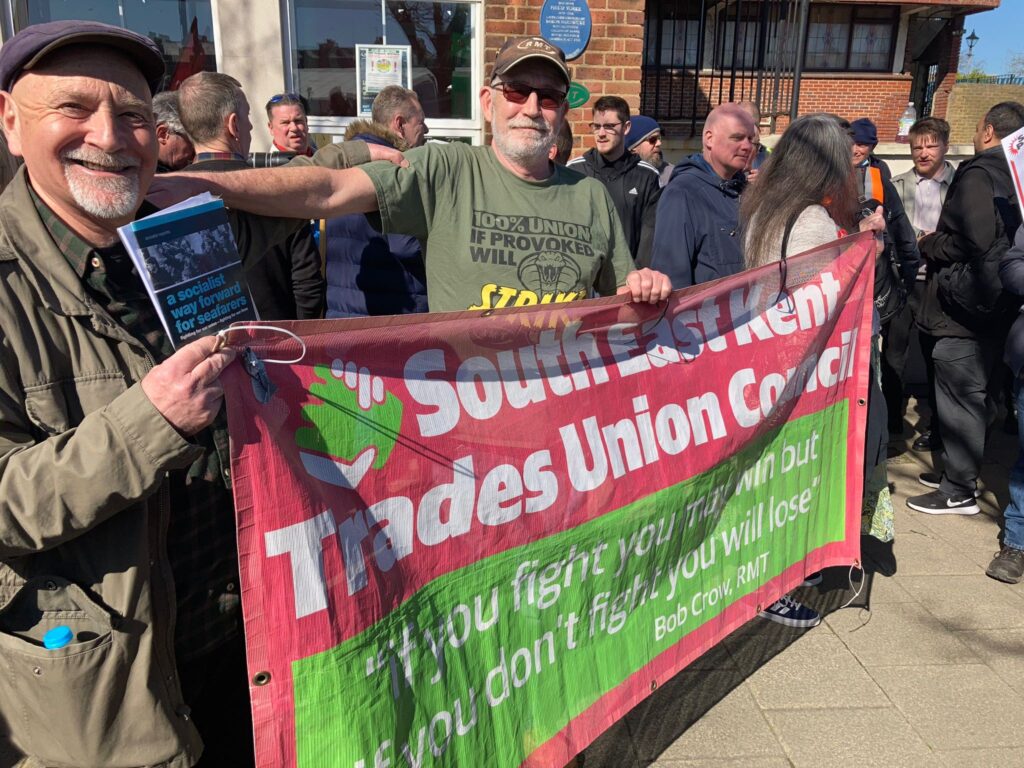 On 21 March I joined my friends and comrades in the RMT on a journey to London to protest our outrage at the appalling treatment of these workers by P&O and its owner, DP World.
The facts behind this outrage are beginning to surface, and the politicians from all sides are having to weigh in. Previous track records on maritime issues illustrate how empty the rhetoric proves.
The maritime sector has been relentlessly ground down, with many protections removed and offshore registration favoured.
From the eighties seafarers' strike to the present day, we have seen in Dover the hit to the economy. Where once there were thousands of ferry workers and associated jobs, we are now experiencing a further 'cull' by a powerful Middle Eastern multinational with a massive portfolio. A strategy it proudly announced to shareholders – driving down the wages and terms and conditions as low as they can. This probably looks great on a spreadsheet, but here in Dover we see the real impact on families and their children facing a terrifying and uncertain future.
Paul and Kath met on board a ship, fell in love and married. A couple of years on, they decided, both being in 'secure' employment, to buy a house and start a family. Two kids on and with a mortgage to pay, they are now scared.
Sally is a single mum. As the only breadwinner, she pays for everything from her salary on the ship.
Davey did reasonably at school then went on to an apprenticeship with P&O – where lies his future?
The whole of the area is devastated by this news, but for the bigwigs and politicos in Westminster, it's just another day in the office!
In Liverpool, Hull, Northern Ireland and here in Dover, we are not going away!
Mike Sargent, RMT Dover
---
Port of Hull
The Socialist Party joined around 200 trade unionists in solidarity with P&O Ferries workers in Hull. We marched on the P&O terminal but were locked out! Hull Trades Council secretary Joe Gibbins called for the nationalisation of P&O, and the need for a new workers' party to fight for such socialist policies. It was great to see delegations from the RMT, FBU firefighters, GMB, and the 20 or so prison officers and POA members from Hedon Road prison who brought solidarity.
Alistair Tice, Yorkshire Socialist Party
---
Liverpool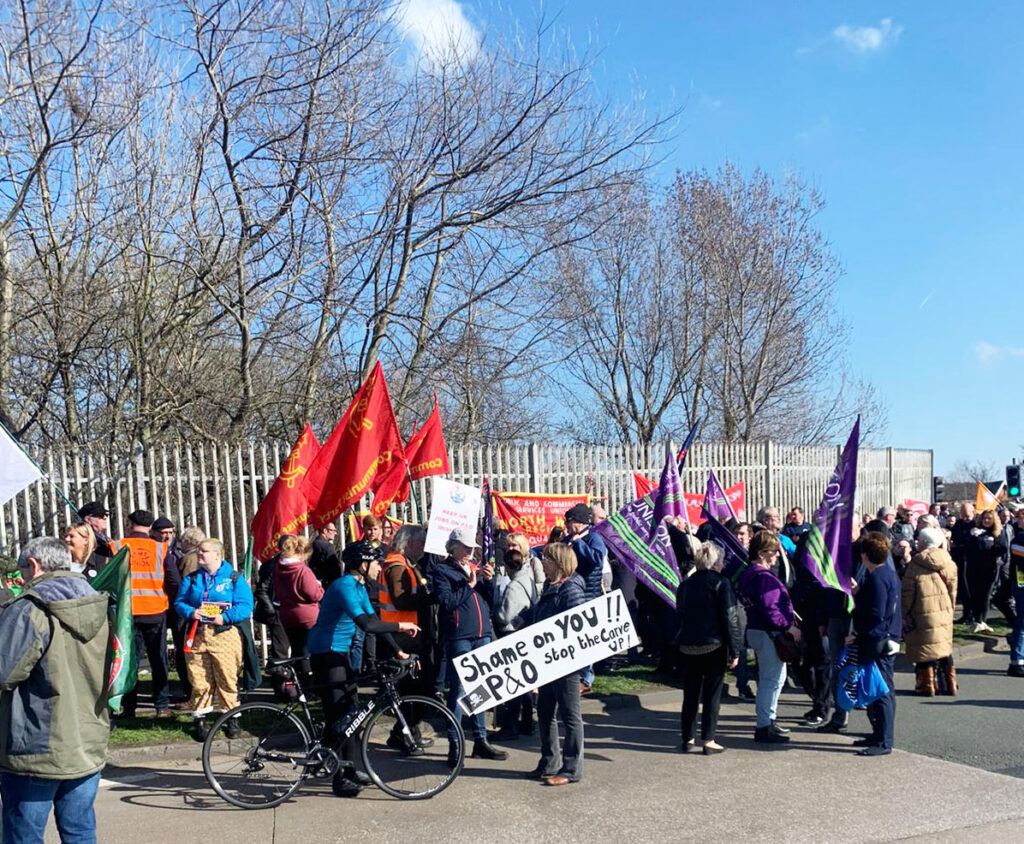 Over 250 people attended the protest at Liverpool Freeport in Seaforth on 18 March, they were there in support of the P&O staff cruelly sacked by P&O bosses who, apparently believe that a £100 million black hole is the fault of the seafarers.
Only months ago these workers were seen as key workers, but when bosses lose profits, they quickly make them expendable.
P&O have been allowed to hire staff from around the world on far lower wages than the UK minimum wage, with staff sent to Liverpool from as far afield as the Philippines or Singapore.
The RMT union has already had to deal with a similar situation a couple of years ago on the Seatruck Terminal, just a few hundred yards down the Mersey from where P&O operate.
Liverpool Socialist Party branch members will attend future protests in order to show solidarity and support at this crucial time.
Neill Dunne, Liverpool Socialist Party