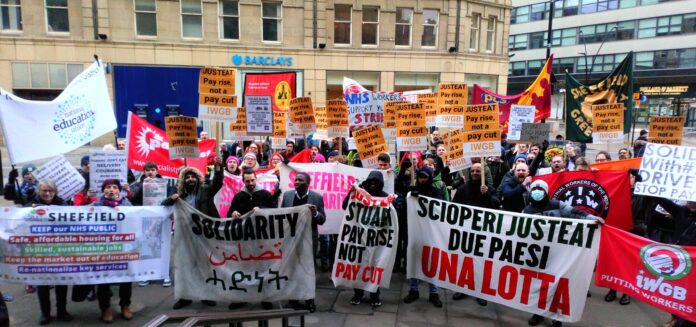 Iain Dalton, Leeds Socialist Party
Over the past few weeks strike action by Just Eat/Stuart couriers, that began in Sheffield in December, has reached more parts of the country, with strikes taking place in Mansfield, Leicester, Ashford, Folkestone, Reading and Worcester, among others.
Beginning after Just Eat delivery contractor Stuart cut the base delivery rate of pay, and how that scales up over distance, couriers are striking because they are now working for less at a time of rising costs, especially fuel.
But through the action of strikers in Sheffield, a number of concessions have been won, including paid waiting times from April.
Drivers in Heckmondwike contacted the IWGB union, and joined the action in February, shutting down orders for both Just Eat and UberEats at a retail park, including a busy McDonald's, for one day a week since then. Socialist Party members have been supporting the strikers, as well as helping them and other strike supporters leaflet couriers operating out of nearby McDonald's in Birstall and Morley, with couriers there now planning their own strike action.
120 couriers took action in Mansfield and Sutton-in-Ashfield, shutting down orders for McDonald's, KFC and Burger King on Fridays and Saturdays for three hours, 5-8pm.
Given the increasing pressures from inflation, the interest from couriers elsewhere will continue to grow, with new outbursts of strike action likely. The 100th day of strike action in Sheffield is approaching, in what is already the UK's longest-running gig economy strike.
This occasion could be a further opportunity to escalate the strike action, if trades councils and others in the wider labour movement staged rallies in support of the strikes in their cities, reaching out to couriers working out of McDonald's, Greggs and other companies.