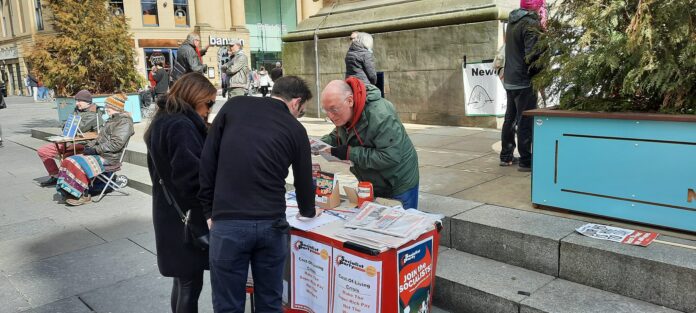 Coventry
We had a very busy campaign stall in Coventry city centre on Saturday 2 April.
People are outraged that staff parking passes at Walsgrave Hospital have just risen 25%! Our already dreadfully underpaid NHS workers are now asked to fork out £600 a year for the privilege of parking at their own workplace!
"My daughter's a nurse there, I know all about it. It's disgusting!" one person told us as she came up to sign our petition to scrap hospital parking charges – which now has well over 5,000 signatures.
Our petition in support of the striking bin workers has also been popular. More residents are seeing the council's lies and distortions for what they are, and sympathise with the fight for a decent pay rise in this cost-of-living crisis.
The Socialist sold well. As the headline said, with rising prices and taxes for workers while bosses get richer, it is very clearly 'Them and Us'.
Newcastle
"It was a much better read than I expected, and not extreme at all." This is what a retired shop steward, who'd bought a paper off us a couple of weeks ago, told us when he bought another copy of the Socialist on our campaign stall in Newcastle.
There's definitely growing anger against the cost-of-living hikes. People mentioned the poll tax struggle. There's a recognition that we need mass action to fight back.
It's good that the Trades Union Congress has called a demo for the 18 June. Now it needs to pull out all the stops and build for it. When you fight you can win!
Oxford
During a sale of the Socialist this week, we spoke to one person who said he would have ignored us in the past. But after the recent behaviour of the government and its handling of the pandemic he was willing to reconsider his views on socialist politics.
An ex-Tory voter, he explained how the fact that the government was willing to spend over three times the amount pledged by Jeremy Corbyn in his election manifesto showed how claims about a lack of money for public services were obviously false.
Despite describing himself as "relatively comfortable" income-wise, he was still scared to put the heating on during the day due to fears about massively inflated energy bills – a fear no doubt shared by many working people today. He also supported the need for a new political voice for workers, separate from either the Conservatives or New Labour.
It is clear to us in the Socialist Party and to a growing number of people in society that no one is safe from the greed of the capitalist class and the politicians, Tory or Labour, who represent them. Only a socialist alternative will provide the secure future that we deserve.