Merton, south London
Housing – don't trust Labour or Clarion
Clarion housing association boasts it's Britain's largest landlord. It's probably also the worst.
Viewers of the ITV News investigation might have been horrified by the condition of Clarion properties. Residents weren't surprised.
Merton Council privatised its housing in 2010 with full support from Labour councillors. Rather than organising an efficient repairs service, they hoped someone else would take the blame and councillors could avoid responsibility – a shameful abdication of responsibility.
Within months of privatisation, Clarion reneged on its agreement with the council by raising rents from affordable social housing levels to near market heights. But Labour councillors failed to use their powers to stop this.
Overcrowding
Clarion shares responsibility with the Labour council for some of the worst overcrowding in the country. Labour councillors will happily put a couple with a small child in a one-bedroom flat.
There aren't any social-rented properties at the flagship Plough Lane development. Labour's idea of affordable housing is shared ownership with purchase prices of up to £645,000.
Labour councillors could use council land, reserves, and borrowing to build thousands of energy-efficient properties at low rents. This would start to tackle the 11,000 households on Merton's waiting list, and the backlog of households who haven't even made it onto the waiting list. The council is still dealing with applications from 2021!
Tenants, leaseholders and private tenants should have a democratic vote to decide whether they want to:
Stay with Clarion (highly unlikely)
Return to the council with a democratic housing committee elected by residents and housing workers
Replace Clarion with another housing association
Establish a democratically run local housing association
There is no place for managers on sky-high salaries, like Clarion chief exec Claire Miller who 'earned' £343,375, a bonus of £38,964 – for what? – and a car allowance of £10,000 in 2019-20.
Labour councillors could have used their powers to reverse this year's rent increase. They could also help tackle the cost-of-living crisis with breakfast clubs and free school meals all year round.
Youth clubs, experienced youth workers and affordable leisure are also needed. But Labour councillors are the problem. Trade Unionist and Socialist Coalition (TUSC) councillors would stand up to Clarion.
TUSC is standing April Ashley in Figge's Marsh and Alex Forbes in Cricket Green
---
Swindon – austerity has ripped my brother's future
My childhood and teenage years were greatly enriched by the local services and amenities on offer in the town at the time, especially the council-run youth arts programmes. My brother has severe disabilities, and he benefited from local services growing up.
He was able to attend a special education school, with additional funding for his 16-19 education, and enjoy summer activity programmes for disabled children. Swindon used to enjoy an excellent reputation for its services for disabled people.
My brother and I were lucky. But those who came after us are not.
As austerity has swept the country, the council services that made my brother's and my upbringing so rich have been stripped away, privatised or abandoned altogether, year on year.
My parents have increasingly had to battle the council to secure provision for my now-adult brother, including actually taking the council to court.
This is one family, my own. We can only imagine these circumstances multiplied across hundreds of thousands of others.
Elsewhere, we see other consequences of austerity. Swindon town centre has continued to decline in the era of austerity, and now sits nearly half-empty.
The local libraries that I knew growing up have largely been shut down. The council expects everyone to journey to the town centre library, with no thought to those who can't. The libraries that remain open are largely staffed by volunteers.
Neither Westminster nor the council have done anything to relieve the tens of thousands of people devastated by the closure of Swindon businesses – especially the Honda plant.
I have been moved to stand to present an alternative to this deadly tide of cuts and closures. People in Swindon deserve a councillor that will fight for them.
Scott Hunter, TUSC candidate in Covingham & Dorcan
---
Southwark – The rich are buying up London
As a final year student nurse, I see firsthand how the cuts hit the NHS hard. I see continuous staff shortages and burnout – understaffing and a lack of resources push overburdened health workers out.
I have witnessed the rush of staff to get enough done for their patients and the struggle to provide a high standard of family-centered care amid the lack of funding and support. For working people, this has meant surgery delays and a significantly lower quality of care than they deserve.
I see the impact that rising prices and stagnating wages have on working-class people, with many struggling to just afford basic essentials. In Southwark, there is a large council house waiting list and not enough homes, all while the wealthy buy up more and more property in London as 'investment'.
This division has gone on long enough. The time is now for working people to stand up. We can make a real impact.
I may not be an experienced politician, but I am experienced in the struggle of ordinary people, and I have a passion to end austerity.
Charlie Kennedy, TUSC candidate in Borough & Bankside
---
Cardiff – youth have something to fight for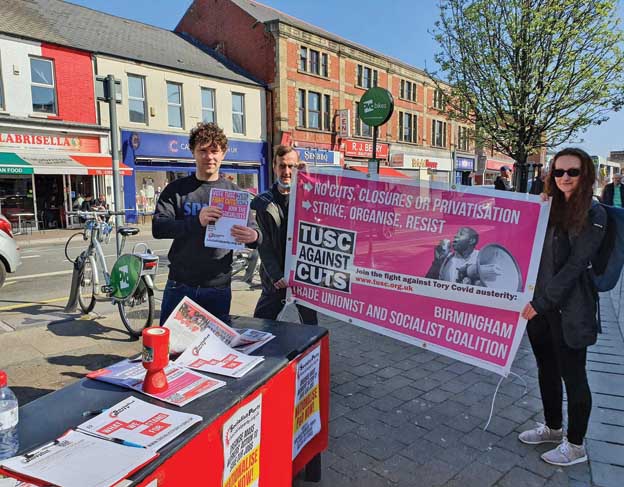 The services that young people access have been cut by the Labour council. This will continue if we do not change it.
Student safety is incredibly important – harassment, violence and uncomfortable behaviour are constantly reported. But before the pandemic, Cardiff University and Cardiff Council cut the night bus running from town to residences a few miles away. We demand this be reinstated, and that the council provide night buses to all parts of the city throughout the night, so everyone can get home safely.
Young people are exploited in work, on low wages and zero-hour contracts, without benefits they are entitled to. The vast majority of students undertake a placement year unpaid, doing the same jobs and hours as their paid colleagues. Through the universities and the council there is the budget to pay all students on placement year a fair wage.
Rent is constantly increasing. Paired with the cost-of-living crisis, students and young people face huge uncertainty in their living situation. The council must introduce rent control, and affordable, safe housing should be available for all who need it.
Students and young people are not important to the council. The heavily student-populated area of Cathays is often ignored. Rubbish is not collected on time, people cannot park outside their homes, shops are closing down – all under the watch of Labour councillors.
These council elections offer a real chance for young people to make their voices heard and enact real change where they live.
George Phillips, TUSC candidate in Cathays
---
Camden centre closures hurt community
Cuts are making life more difficult. The Caraf community centre has been open for 40 years, a lifeline, especially for local black children. It had also provided essential nursery care. It is now closing – workers will lose their jobs, and local people will lose this vital service.
The West Euston project was also forced to shut after 30 years, due to a £80,000 funding shortfall. This was another centre popular with young people seeking advice on finding work and training.
One Labour local councillor was honest enough to recognise that this was another example of "where the voluntary sector has been expected to do more in the face of local government cuts". But what she and all of the other main austerity parties fail to mention is that these closures are not necessary.
The two TUSC candidates in Kentish Town – Farhana Manzoor and Hannah Power – stand out in condemning these closures, and have called on the council to reverse these appalling decisions by offering to continue to finance the centres.
They are the lifeblood of the local community. They are our jobs, they are our services, and as socialists we have no choice other than to defend them.
Nick Auvache, Camden and Haringey Socialist Party
---
Backing up the Erdington by-election and building the Socialist Party
Ella Foley-Doyle, Birmingham North Socialist Party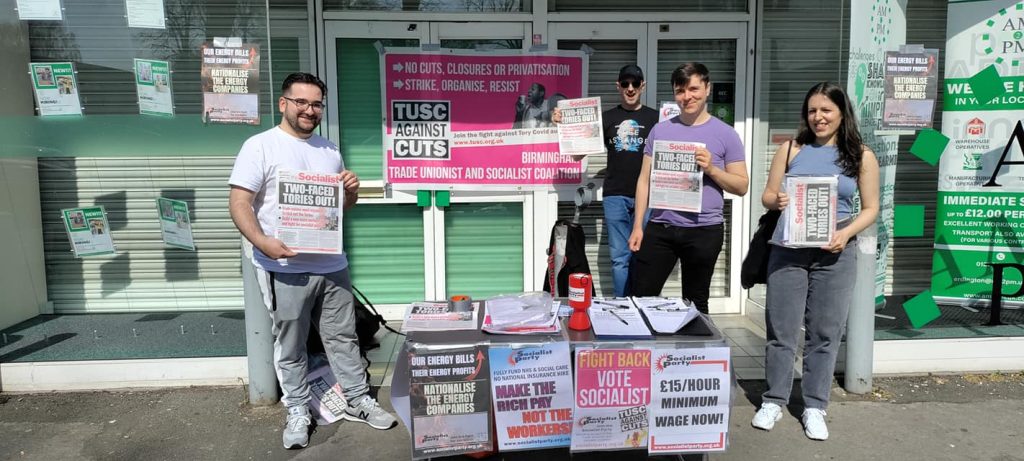 In Birmingham we are standing TUSC candidates in all seven wards that make up the Erdington constituency. Just last month Dave Nellist came third for TUSC behind Labour and the Tories in the parliamentary by-election.
Dave's election campaign showed how TUSC's socialist, anti-cuts programme was able to connect with working-class people in the constituency. Erdington has seen job losses with the planned closure of the GKN plant, potential loss of public spaces such as the Short Heath Playing Fields, and continued issues with poor-quality housing and rogue landlords exploiting the lack of social care services.
In addition to the seven candidates standing in Erdington where I live, we have TUSC candidates standing across Birmingham. So far we have had a positive response from working-class communities that have felt the impact of Tory austerity policies, which are happily passed on by the local Blairite Labour council. Birmingham's Labour council has made cuts of over £770 million over the last decade.
Lots of working-class people that we have spoken to while canvassing have expressed their frustration at the lack of a combative political alternative offered by Labour. Many have told us that they would not have voted at all if it was not for TUSC offering them a real anti-cuts programme to address the lack of services and opportunities.
Throughout the campaign we have seen a real interest in the activities of our local Socialist Party branch with new members joining, sympathetic supporters coming along to local meetings, and more local community members getting in touch to find out more.
Whatever the result on 5 May, we have seen that a genuine anti-cuts and socialist alternative can both win over the support of working-class people and help convince communities of the need for a new mass workers' party.
---
Epping Forest – there's nothing left to cut
Ian Pattison and Bea Gardner, TUSC candidates Waltham Abbey Honey Lane and Waltham Abbey Paternoster
Rent, bills, fuel, food, council tax and National Insurance – everything is going up. We can't afford the Tories' 4.1% council tax hike. And we can't trust the Tories to do anything for us.
In Essex, they want to cut £102 million from public services. There's nothing left to cut!
Labour wouldn't be any different. When Labour was in power locally, they just passed on Tory cuts and council tax rises. Waltham Abbey library could be next on the chopping block.
Local councils have the power to cap rents and build council homes to actually make it affordable to live somewhere decent.
Waltham Abbey Leisure Centre has put up its prices. The council is handing local services to private firm Qualis, supposedly to save money. But things are getting more expensive as Qualis make profit at our expense. It's the same for homeowners having to fork out more to estate management companies.
Bus services in Waltham Abbey are too expensive, and the prices have just gone up! Sunday services are run by another company. Why do we have to fork out again for an unreliable service? Local councils should step in to stop this happening, or run the service themselves.
And if you drive, Rishi Sunak knocking 5p off petrol is a joke. Has he seen how much prices have increased by? And Epping Forest Tory Council has just cut £100,000 from the pothole budget.
Like many parents, we're struggling to find enough nursery hours and baby clubs for our children. This will only get worse now Epping Forest Tories have cut the voluntary budget in half.
That's why we're standing as Trade Unionist and Socialist Coalition (TUSC) candidates. We're the only party in this election standing against Tory and Labour cuts.
---
Ealing – Austerity has worsened crime
Mark Benjamin, TUSC candidate in Norwood Green
Residents deserve a councillor who will campaign for them. Austerity has contributed to an increase in burglaries, car theft and violence against women.
I am campaigning for the council to deliver 4,500 new and safe genuinely affordable homes, which would combat the rise in private rents. As heating bills rise, the council should use its powers to provide each and every household with grants to better insulate our homes. TUSC candidates are real people: your neighbours, trade union members, nurses, school teachers, bus and train drivers and civil servants.