The brutal mass sacking of 800 P&O staff shocked the whole working class on 17 March. As well as destroying livelihoods with no warning or recourse, profiteering ferry bosses hired private security to forcibly remove workers. The Socialist spoke with a security contractor hired for a job he didn't expect – and who refused to carry it out.
You work in security. You got a job and didn't know what it was. What happened?
I got the job through, we had limited information. We had to go to a particular town. We were going to get some training before. We were provided with a hotel room.
On the way up, we were kind of thinking it might be something to do with arms to Ukraine maybe, because it was around a port.
We were then greeted by a couple of team leaders. They still said to us, we're not going to tell you anything. Which, at that point, I felt quite uncomfortable to be honest. I've never really had that on the job.
When we woke up in the morning, they said, right, you're going to go do a course on how to 'handle people' directly – a 'conflict management' course. So they brought in another company. We went to a training establishment – another hotel.
But still they couldn't tell us what it was. This is where I said, if I don't agree, I want to go home. So they then – later on in the afternoon – said it's something to do with a big company, and it's basically changing staff. Best case, you'll probably just sit in the car park, and that will be it.
At this stage, several of us were issued handcuffs. This team was called something like the 'sweep team' and if anyone got too heavy-handed, we would go in and handcuff them.
At this point we'd come to the conclusion that the company was P&O. We didn't really get the gist of why they were removing staff. That still wasn't told to us. But a few of us guessed they might be replacing staff because of new contracts.
When did you find out what it was?
The night before we still weren't told anything. Just meet in the car park at 6am to get on the minibus.
We pulled into the port and saw the big P&O ferry. We found out they were replacing workers with these other guys who didn't really know why they were replacing them. So they were confused as well.
And they were sort of sheepish because they were thinking, have we done something wrong here? Everyone's going to hate us.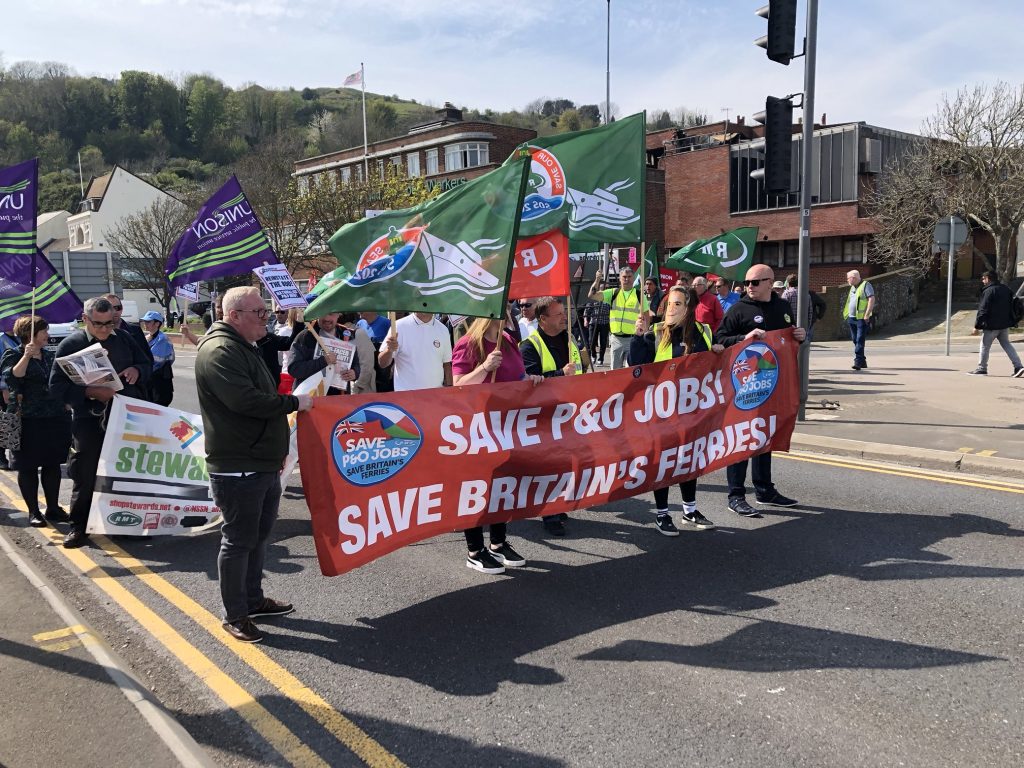 How did you respond to being told you'd be removing sacked workers?
At this point, some of us decided that we didn't want to be part of this. We said to the team leader, we're not happy, and we're going. There's the equipment, we're going back, we won't have anything further to do with it.
We took a massive pay hit from that. But I still think it was the right thing to do. The whole situation was just so wrong.
When I saw the protest at the port, I just felt so gutted to be sitting in that van. I wanted to be on the side of the unions. I left shortly after that.
A lot of people had an attitude like, 'here comes the placard brigade'. But they had to admit they had a point.
It sounds like a lot of security workers felt conflicted?
Yeah I would say definitely. It was a tough year for the security industry. No events because of Covid. I lost a lot by walking away but a lot of them couldn't take that step. We were told if we do it in one day, we get paid for seven. So that's a lot of money.
It takes a lot to walk away from that. And a lot of them couldn't because it's been so difficult financially for them.
But everybody I spoke to, in the area where I was sent, was against it. Every person. There was no one going, 'yes, can't wait!' Everyone had their head down. You could see the body language. They didn't want to do it.
Everybody involved in that situation, from the P&O staff, to the replacement staff, to the security as well – what I witnessed anyway – didn't want to.
There should be a massive investigation into how everybody was treated. Especially those poor P&O workers.
On the day, when they finally told us what the job was, we were told there were great packages for them, that they'd be all right. It was almost like the story was that they were going to live on a nice little island to see out their days. It was that kind of propaganda.
It was very, very peculiar. The guys that organised it – I had never seen them. There was a lot of ex-police involved, put it that way. That's all I'm going to say.
I will never ever do a job like that again. First and last time.
Did you get to speak to any of the sacked workers?
I stayed there one more night. We actually met some of the people who had been taken off there.
We met them in the hotel. Me and my friend, we said 'we're so sorry, we didn't know why we were here.'
They were so polite, so nice to us. They said it's not your fault. You're doing your job, we were doing our job. And they totally understood.
But they were just left there by P&O. They had no way of getting to the airport. Bearing in mind we were at the other end of the country to where their flights were. They were given nothing.
They nearly didn't have a room, until the staff at the hotel sorted something out. I believe the staff just gave them a room.
They said to us, are any of you going in the direction of the airport, can any of you give us a lift? But me and my mate were going to another job.
One of them had worked there 14 years, the other one ten. And they were just gutted.
They said they might reapply and go for the lower wage. They shouldn't even be put in that situation, they should be getting more money. They were forced into that position, told to reapply and they would possibly get their job back.
Do you think this says anything about the need for workers' organisation in the security industry?
Massively. I've been saying this for a couple of years. We need a union in security.
I won't go into the whole details of what I've witnessed in other jobs, hours like 24-hour shifts. It's horrendous. Breaks every law.
Obviously we sign the waivers in a lot of contracts. You have to be willing to work over 48 hours in the week. But it's horrendous what they do.
What baffled me is this was the same group of people – the working class – fighting each other. Bear in mind that security didn't even know until that morning. P&O staff and replacements didn't know either. So we're in a situation where we're fighting each other, when really all of us knew it was wrong.
One side's doing their job, and the other side's trying to do their job. The capitalist class are just making us fight against each other.