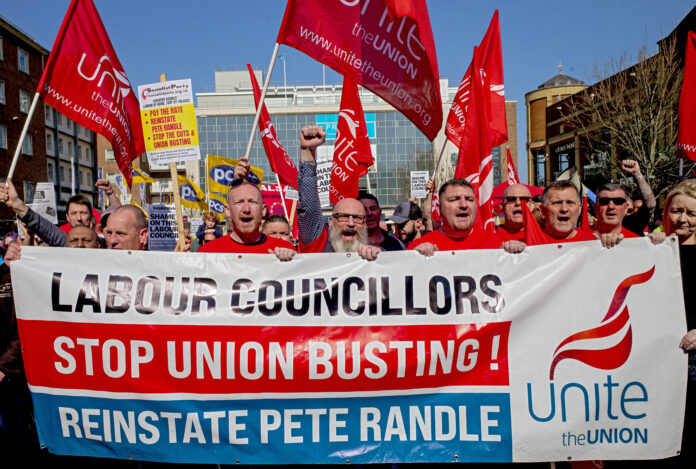 Labour councils attack workforces
Scott Jones
Labour councils for years have passed on Tory cuts and attacked their workforces. But workers are striking back. In Coventry the Labour council has thrown more money at breaking the strike, employing scabs and discrediting the strikers, than it would take to pay the bin workers what they are asking for.
But, now in its twelfth week, the strike has been solid, even in the face of the lead Unite rep being suspended, and the strike has inspired other bin workers in nearby Rugby. There, the council had recently responded to a petition asking for better pay and conditions from the workers with an offer of advice on benefits, budgeting and employee loans!
Bin workers have also threatened strike action in Cardiff against management bullying and the use of agencies. Pete Randle, the suspended bin workers Unite rep from Coventry, spoke at Cardiff Trades Council's May Day Rally on 30 April calling the Labour council "Tories in disguise; if they act Tory we'll treat them Tory."
Council workers in three vital departments in Hackney, east London, are also currently striking against the borough's Labour authority. On huge picket lines the housing maintenance, bins and street cleaning, and special educational needs and disability (SEND) transport workers have been calling for more than the pathetic 1.75% pay offer when inflation is at 9%.
Labour councils have a choice. But they are choosing to make workers and residents pay, while they pass on Tory cuts and then seek re-election with promises they have already broken. These councils all have millions in reserves which should be used to cover the shortfall, while also mobilising a mass campaign of the working class to win the funding back. The current strike action around the country shows how this could be done.
The Trade Unionist and Socialist Coalition, which the Socialist Party is a part of, stood in the local elections on this platform – we need no-cuts, needs-based budgets and councillors who will fight for them. Unite's policy on local government is to initially use reserves while mobilising mass campaigns to fight the cuts too. But workers also need their own political voice, supported by the trade unions and bringing together all the disputes, to get rid of the Tory and Labour cutters who are making us pay for austerity and the cost-of-living crisis.