Nearly 30,000 voters put an 'X' next to the name of a Trade Unionist and Socialist Coalition (TUSC) candidate on 5 May. With working-class people facing impending recession and plummeting living standards, there was no other widespread group of candidates offering a socialist alternative to further local austerity and cuts.
Socialist Party members were among the over 200 TUSC candidates fighting for an alternative to the bosses' establishment parties.
The Socialist Party participates in TUSC alongside the RMT trade union, Resist, and others.
By standing candidates and putting forward a fighting socialist programme, we are able to build an important platform for socialist ideas, and also help the process of developing a new mass workers' party.
We publish reports of Socialist Party election campaigns around the country, and an overview of TUSC results nationwide.
---
TUSC election results
TUSC stood 227 candidates in 222 wards in the English council elections across 53 local authorities, plus three mayoral candidates. There were 16 Scottish TUSC candidates in nine councils in Scotland; and 25 candidates across five authorities in Wales.
The last time these seats in the English councils were contested was in 2018. The previous local elections in Scotland and Wales were in 2017. In both those years, with Jeremy Corbyn the leader of the Labour Party, TUSC was not contesting general elections and only stood in council elections against right-wing Labour candidates who were openly acting in opposition to Jeremy as they carried out austerity policies in the council chamber.
This time, with Tony Blair-style New Labour politics fully restored within the Labour Party, there was a potentially far wider field. The TUSC core policy platform for the May 2022 elections, can be found at tusc.org.uk
Summary points from the results include:
The total vote for all TUSC candidates on 5 May was 29,169, comprised of 23,991 votes for the council candidates, and 5,178 votes for the three mayoral candidates.
While the results were still modest, in all three of the directly-elected mayoral polls it contested TUSC increased both its absolute vote and percentage share compared to when it had previously stood.
Leading the 'league table' of all the TUSC results of five percent or more was the 18.3% polled in the Seven Kings ward in the London Borough of Redbridge – which secured a second place finish – followed by the 18.2% won in Knowsley council's Northwood ward.
In 40 wards the TUSC candidate polled over five percent, including in eight of the twenty wards contested by TUSC in the North East London borough of Waltham Forest.
In Waltham Forest, the TUSC candidates polled a combined total of 3,490 votes. The other councils where the TUSC candidates polled over a thousand votes were Coventry, Cardiff, Ealing, Lewisham, Newham, Sheffield and Tower Hamlets.
Once again TUSC played its role in providing a banner for trade unionists to take on the austerity politicians at the ballot box. Those standing as TUSC candidates included national executive members from trade unions Unison, the National Education Union and NAPO; section executive members from the PCS and Unison; and over 30 branch officers from the RMT, Unite, NEU, PCS, Unison, GMB and CWU.
TUSC also provided an inclusive space for the widest spectrum of socialists, from different socialist organisations or none, to stand under a common banner. This included over a dozen candidates who were previously Labour councillors or Labour Party council candidates from the time of Jeremy Corbyn's Labour leadership, who decided to carry on the fight for anti-austerity, socialist policies by standing, this time, under the TUSC umbrella.
Overall, the scale and impact of the TUSC election challenge this May was modest compared to what could have been achieved, with the potential for thousands of anti-austerity fighters standing, if the unions had organised a national drive for candidates or if Jeremy Corbyn himself had taken the initiative to organise an electoral challenge to new New Labour. But it will have added to the pressure on them to do so for next year's council elections and the general election to come.
A comprehensive report of TUSC's 2022 local election results will be published on tusc.org.uk
---
Coventry: Raising TUSC's profile against a hostile Labour council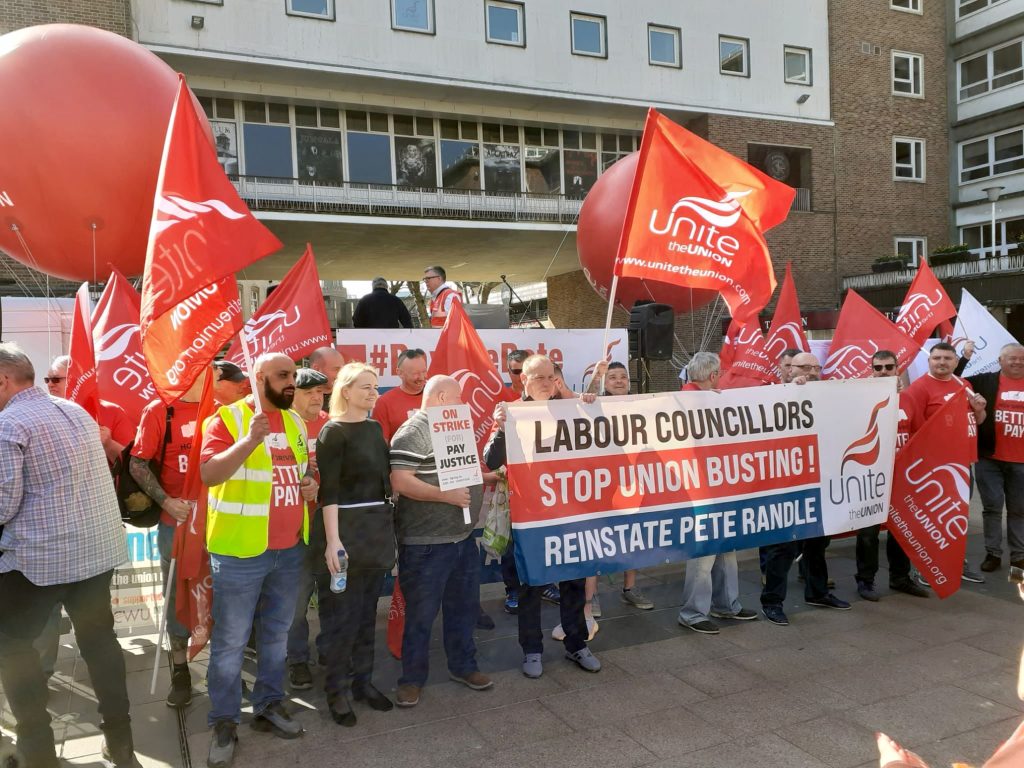 Adam Harmsworth, Coventry Socialist Party
TUSC's council election campaign in Coventry was very busy and dominated by the bin strike caused by a traitorous Labour council. Before we even began our campaign, striking bin workers were pledging their support. During the last bin workers' protest many began chanting "Vote TUSC!" and during Coventry's May Day rally, trade union speakers including those not part of the coalition, called on the rally to vote for us.
Where we met residents during the campaign, the main issue that came up was the cost-of-living crisis. People recognise that everything is getting more expensive, life is getting more difficult, and things have got to change.
Cost-of-living pain
On our campaign stalls we met people who have begun rationing their heating to save money. Others are visiting relatives in hospital less to save on parking charges – charges that we have been campaigning to get rid of. Nobody had a good word to say about Labour, because they aren't doing anything to help workers fight the cost-of-living crisis.
Our election public meeting brought in trade unionists and young workers from across the city. Unite convenor for Coventry bin drivers, Haydn Jones, spoke in support of TUSC and outlined how the strike had politically developed himself and other bin workers. Haydn proudly told the meeting that he wanted his Unite branch to build a campaign in the union to disaffiliate from Labour.
On election day itself there were nearly ten thousand fewer votes compared to last year. The Tories lost nearly 5000 votes, and Labour over 700. The result here reflected the utter apathy and disillusionment in establishment politics.
TUSC took over 1,000 votes, including nearly 10% in St Michaels ward. In Sherbourne, we made an effort to punish Labour for betraying the bin workers, we doubled our previous vote and the Labour candidate's majority was cut from 501 in 2018 to just 35.
---
Waltham Forest: 'A taste of a future working-class political challenge'
Nancy Taaffe, Waltham Forest Socialist Party
Waltham Forest's May 2022 elections gave a little taste of what an independent working-class political challenge would look like. Tube strikers, hospital strikers, Socialist Party members, community campaigners and anti-austerity activists of all descriptions stood under the banner of the Trade Unionist and Socialist Coalition (TUSC).
The working class in our area, like everywhere, was furious at the cost-of-living crisis. But it was hard to enthuse people about elections. There was a feeling like elections are for other classes, that all the parties are the same.
But those who did stop to engage with us found out we really are different. Our policies for building council homes, rent controls, nationalising energy to slash the bills – these struck a chord. And our candidate line-up was different too.
Waltham Forest Socialist Party was heavily involved in supporting the Unite union strike at our local hospital, and the RMT union's tube strikes. Four hospital strikers stood in wards round the hospital, and three striking tube drivers stood too. We had housing campaigners, community campaigners Save Our Square, and other trade unionists – 24 candidates in 20 wards.
Building the Socialist Party
We distributed thousands of leaflets at transport hubs, workplaces, schools and doorsteps. We sold over 380 copies of the Socialist newspaper, convinced new people to join the Socialist Party, and raised over £1,300 in street donations and pledges at our Socialist Party public meeting.
We organised candidates into teams based on local areas. Many candidates and supporters were inspired by our campaign. They just grabbed bunches of leaflets and set off, sometimes by themselves, to spread the word.
We campaigned at labour movement meetings. We pushed for hustings to open up the debate when no one else would. At Waltham Forest Trades Council's hustings, all the main parties felt compelled to attend alongside TUSC.
Labour even felt pushed to produce a leaflet claiming their latest austerity measures constitute a 'no-cuts budget'! But only TUSC argued for a real end to austerity and a mass working-class campaign to win the funding for our borough.
Around 3,500 people voted for us. We believe our constituency was like many working-class people around the country: feeling let down and despondent after Corbyn, they simply don't believe that voting alone will change their lives.
We agree with them. That's why we were out on the streets the very next Saturday inviting people to get active in the fight against the cost-of-living hikes.
We actually got an even better response. There was a sense during the elections that politicians campaign because they want something but never fight for the working class in return.
Elections are important, and if you don't stand you don't have a voice in them. But they are just one way to fight – and the Socialist Party offers working-class and young people a way to fight all year round.
---
Sheffield: Building support in the trade unions for a new mass workers' party
Gary Drabble, Sheffield Socialist Party
Sheffield is currently run by an alliance of Labour and Green councillors, and with Labour losing two more seats to the Greens, this looks likely to continue next year.
Throughout the election, Labour campaigned by saying: 'Vote for us because we're not Tories'. Hardly a word was said by them about tackling the cost-of-living crisis.
In fact, in their desperation to keep politics out of politics, the Labour Party expelled one candidate and then deselected another for being opposed to cuts and council tax rises!
In contrast, TUSC supporters actively campaigned for the nationalisation of the energy companies, for an integrated transport system and for a mass council house building programme to tackle the 39,000 people on the council waiting list.
Union support
TUSC campaigners spoke at RMT and Unite trade union branch meetings, with the RMT branch donating £100 to our campaign.
We distributed over 15,000 leaflets including outside workplaces where we have supported recent strikes, and where we are campaigning for socialist candidates in elections in PCS and UNISON unions. In addition, we leafleted parents at schools and held campaign stalls.
One of the big successes of the campaign was bringing new campaigners forward, including former Labour Party members, and the involvement of a current councillor who has recently resigned the Labour Party whip and left the party in opposition to the cuts.
Finally, we held two successful public meetings that were addressed by TUSC candidates and by trade unionists in struggle, including Gaz Jackson (RMT Regional Organiser) who was involved in the P&O dispute, Sarah Woolley, General Secretary of the Bakers Union (BFAWU), and a striking Just Eat courier.
Following the elections we will continue to campaign and sink roots deeper into the labour movement and local communities.
---
Ealing: Giving a voice to those fighting the cutting Labour council
Bill Reed, West London Socialist Party
On the doorsteps in Ealing, people had no good words for Labour. When we explained TUSC's policies of fighting cuts, using reserves and building a campaign to restore government funding, most people were enthusiastic. One person told us that the council had left her for years without hot water. Another showed us the way the council had left her flat between repairs.
In the campaign, we made contact with campaigners trying to save a youth centre, more trying to prevent green spaces being built on, others fighting polluted air in Southall, and a host of campaigners against tall buildings.
Eight TUSC candidates in Ealing amassed over 1,000 votes between them. In North Hanwell Ward, Tony Gill more than quadrupled the vote he had secured in a by-election in September.