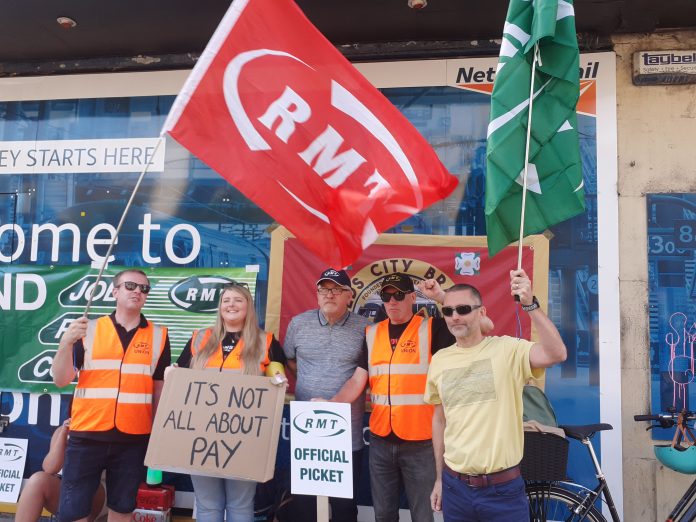 On Tuesday 21 June rail workers in the RMT transport union, all across the country, in Network Rail and the Train Operating Companies, took their first day of national strike action.
They said no to job losses, attacks on pensions, on wages, on terms and conditions; and for the safety of the railways.
They are out again on Thursday 23 and Saturday 25 June. Drivers' union Aslef is also on strike in three train operating companies over the next week.
The impact of the national rail action was strengthened by all grades of London tube workers in the RMT also striking on 21 June.
This is an historic national strike – a lead being given by members of the RMT which other workers throughout the country will support and will need to follow the example of, as all are suffering attacks on living standards!
Socialist Party members were out supporting the picket lines, and are helping to build support for the strikes in workplaces and communities across the country. Here are some of their reports.
An RMT picket in Leicester, Peter Sawbridge, told Steve Score:
"It's the hypocrisy of the government. They are saying they bailed out the railways during Covid, but how come £500 million of that went to shareholders? How come the directors were getting massive bonuses?
"The MPs gave themselves a 6% pay rise, but the government says we can only have 3% unless we accept attacks on our terms and conditions. They are the things that give us quality of life. Yes, let's modernise, but let's do it properly round the table with the trade unions' agreement.
"An example of what the management want to do is get rid of guards on the trains. We don't just check tickets. Our job is to make sure people can get on and off safely. If someone is in a wheelchair for example, we may phone on ahead to make sure someone is there ready to help them off the other end.
"If there is a train accident, maybe we hit something on the track. The guard can be vital to ensure things are safe, what if the driver is trapped in the cab, injured or worse?
"They also want to tear up our pensions. This is all why I am here today."
Striking together
James Ellis visited strikers in Hastings. "One of the first things an RMT member said to me was that 'we need a general strike if we're really going to make a difference'! A lot of workers on the picket are talking about the need to coordinate action. All agreed that the best way to make a difference would be if teachers, NHS workers, etc all balloted too.
"The strike was solid and the picket was cheerful and well attended. A few members were telling me that the public seemed to be particularly supportive in this dispute – more so than usual. This is probably due to recognition that we're all being affected at the moment by the cost-of-living crisis and the actions of the government."
From the Leeds picket line, Michael Johnson reports: "Someone clearly going to work stopped to pass on support for strikers, saying the workers 'had to do it' and hoped they'd win. A homeless man also walked past the picket encouraging people to keep fighting."
Iain Dalton adds that there were 20 pickets at Network Rail's depot in Leeds. "Lots of support from vans and lorries passing the site. One driver stopped to apologise for his horn not being loud enough!"
Won before and will again
At Paddington, reports Helen Pattison, "pickets were discussing how they were on strike nearly seven years ago to keep the guards on the train, and how they won. This is a whole new battle they are going to fight just as hard. It was clear the support they were getting from passers-by. Many were stopping to complain about the Tories. Strikers complained about the lack of support from Starmer's Labour and that no MPs would be supporting them."
The success of the strike in Essex meant it was "deathly quiet at Wickford on the Greater Anglia picket", Dave Murray says. "First train will be 7.52 as opposed to 5am-ish".
At Eastleigh in Hampshire, Nick Chaffey met signallers: "Many fought in 1994 and are carrying on the fight today."
"The government is provoking this dispute to take our minds off of all their fuck ups", said one of the 30 or so pickets that Clive Walder and Bill Murray met at Tyseley maintenance depot in east Birmingham.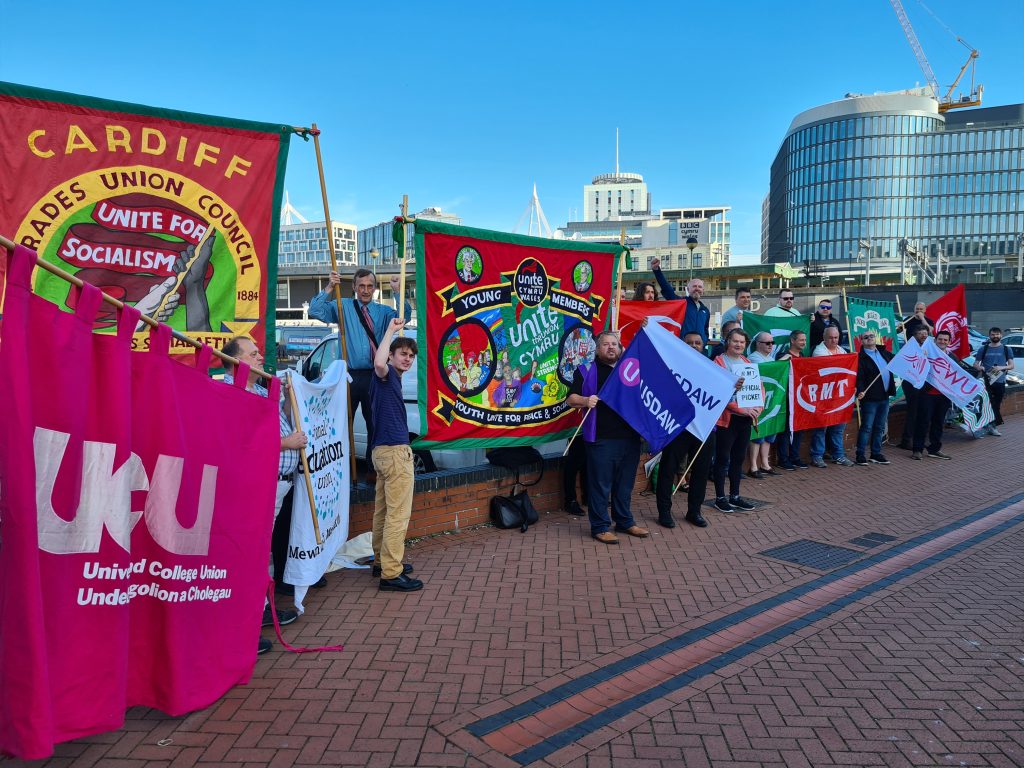 In Cardiff, the trades council organised a picket rally, reports Dave Reid.
Alistair Tice reports that at the Sheffield station picket, RMT members were joined by other trade unionists and socialists, including eight Socialist Party members. "Plenty of cakes but 'no flim-flam', said Neil, the branch chair, meaning that they are up for the fight. Branch secretary Martin Cook, who is speaking at the Sheffield Socialist Party public meeting on Thursday, proudly displayed the branch's new RMT banner featuring a Bob Crow quote on the front and Solidarity with Orgreave on the back. A self-declared 'non-political' striker said he hoped the strike would bring down the Tory government!"
The Doncaster station picket was nearly all guards on Northern Trains, veterans of the Keep the Guards on the Train dispute of four years ago. Asked about public support, one picket said that on her last shift she'd had lots of fist pumps from passengers in support, and most public passing the picket line were supportive as well.
Ellen Kenyon-Peers went to Kings Cross. "Owing to the location, we saw international solidarity. Workers arriving into London stopped to show support, making comparisons to their own countries and demonstrating the global effect of the capitalist crisis. RMT members were in high spirits and deflated press reporters failed to get the quotes they wanted for various right-wing outlets. There was great feedback for the Socialist Party's Red Line leaflets, which were useful for strikers and the public."
A rail worker in York told Bernard Davies that the strike is not just about pay. "The last four major train accidents can be attributed to cost-cutting measures and cost cutting is not just about pounds and pence but about lives!"
Eric Segal reported from Dover: "The pickets from Network Rail made sure that they could be seen from the road as streams of cars carrying people to work or kids to school hooted support in support of the strike. The pickets from South Eastern railways, some of whom had been on duty from 3.30am, were catching up with workmates with hot coffee and croissants. They were joined by workers from Unite, GMB and RMT Maritime sacked P&O workers. One of the younger workers, on his first picket, said: 'We need a general strike.' There was agreement that the strikes taking place need to be coordinated."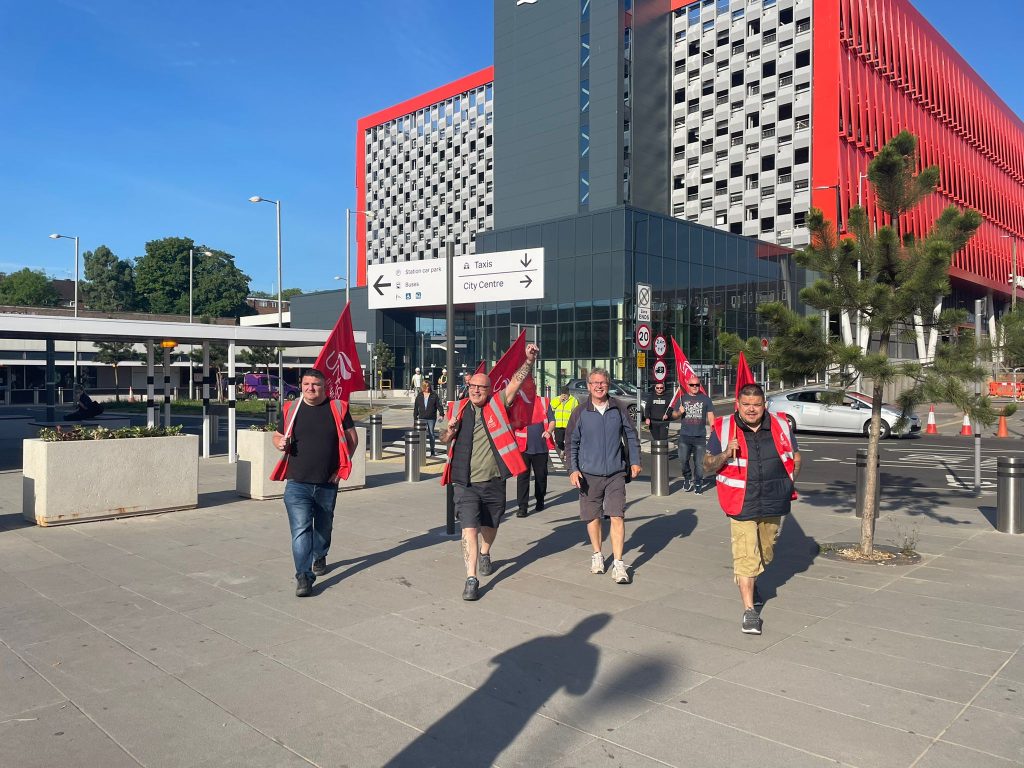 "A lively picket with huge public support from passing motorists and commuters on their way to work," reports Roger Thomas at Bristol Temple Meads. "Pickets reported that the rail network in the South West was virtually at a standstill. Delegations from other unions joined the pickets throughout the morning bringing cakes and biscuits and, most importantly, solidarity."
Mick Whale reports: "There was a confident mood at Hull. The station was closed effectively and, judging by the tooting horns of passing traffic, there is strong wider support for the strike. One passer-by, who had come into town via the bus station, summed up what a lot of people are saying: 'Thank God someone is standing up for us against the government'! Labour's position was shot to pieces by RMT members. One of them, who had loyally stayed with Labour beyond the Corbyn era, stated that he wanted to have a discussion about TUSC. What he said about Labour could not be printed!"
The power of workers
Ian Pattison reports from Waltham Cross in Hertfordshire, that "even though the drivers here in Aslef are only on strike on Thursday, the station is closed all three days – showing the power of all rail workers. The train company had promised that one train out of every five would run on strike days."
Paul Couchman found a "great mood amongst the pickets at Staines this morning. Always a good response from these guys. Rekindled some old friendships with a couple of them from last time on the guards picket. Very combative and up for prolonged action if needed. Solid support for TUSC as always and an invite to TUSC to speak at a future Feltham RMT branch meeting."
TUSC, the Trade Unionist and Socialist Coalition, is the anti-cuts electoral umbrella in which both the RMT and the Socialist Party take part, alongside many other trade unionists and individual socialists, and former Labour MP Chris Williamson's Resist party.
Fight the cost-of-living crisis
Organise to strike together
Kick out the Tories
Fight for a new mass workers' party
For a fully funded, integrated, publicly owned, democratically controlled transport network
---
London tube strike
Coordinating with the national rail strike, London Underground workers were continuing their strike action against huge attacks by Transport for London (TfL), including potentially 600 job cuts and changes to pensions.
Socialist Party members and supporters in the rail unions produce a bulletin called the Red Line. Today, the Red Line was being given out by pickets at Hainault along with the RMT's leaflet!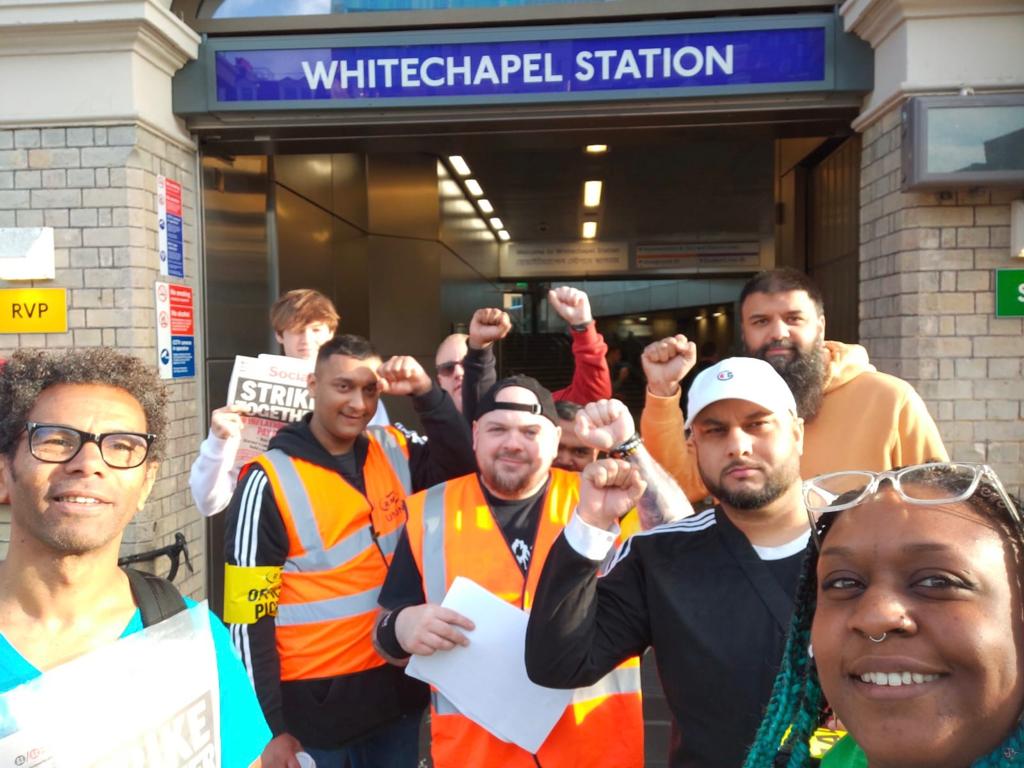 A picket at Morden told Adam Powell-Davies: "Things are moving in the right direction. We need the rest of the working class to get out on strike."
Alex Forbes says: "I met strikers at both Morden tube ticket hall and Garth House car park. At the car park picket they were pleased with Saturday's TUC march, but were exasperated that the mainstream media had misrepresented it."
At Earl's Court, Mark Best says: "Workers on this picket mentioned Coventry bin strikes as an important example of how strikes are happening all over, and the Labour Party is standing on the side of the bosses, not workers."
Ben Goldstone visited the Acton Works, Bollo Lane and Acton Town. "There was a really positive energy at the picket lines, and the striking staff commented that they had support from the public whilst they'd been standing there. We saw a number of workers beep or cheer in solidarity while we were there."
According to Theo Sharrieff, "Brixton picket line was strong with a real confidence that by standing together, RMT members can force TfL management back on their proposed attacks. Aslef members also turned out to offer solidarity."
Brian Debus reports that "Such was the strength of the strike at Highbury and Islington and the Angel tube stations there was no picket just a solidarity protest of supporters at Highbury. An indication of the strike's impact was the fact that it took me an hour to get there from Hackney just three miles away. Many buses were full to overflowing. Two buses I was on also terminated mid-journey. Some major junctions had queues of cars and buses hundreds of yards long."
Effectively shut down
Jim Horton reports "At East Finchley, the majority of the workers are in Aslef, about one third in the RMT. Some Aslef members crossed the picket, allowing management to claim a partial service is running on the Northern line. The reality is that a few trains are running north from East Finchley, and none into the City – therefore it's an effective shutdown! There's a good mood on the picket line and great discussions. A visceral hatred of the Tories and Keir Starmer; and openness to the idea of a new workers' party."
James Ivens reports from Northumberland Park depot: "Fleet and engineering pickets are well organised and have shut down the workplace. Service controllers in particular have a lot of power and their absence alone closes the line. Johnson's threat to bring in agency workers to break the strike was one topic of conversation. Pickets aren't worried at this depot. They told us their work is too specialised – service controllers especially – for agencies to supply.
"One striker told us there's so much wrong that the country needs a general strike. We agree! That could even bring down this weak Tory government – but who would replace it? We then all discussed the legacies of Tony Blair and Jeremy Corbyn. How can the unions regain a political voice? Some knew TUSC candidates, and all agreed with the idea of the unions walking out of Starmer's Labour and holding a political conference to start something new."
Gary Harbord – RMT striker, Acton Town – says: "This is a picket line of RMT members on London Underground. The forerunners of the RMT were instrumental in setting up the Labour Party. Without trade unions the Labour Party would not exist. Sir Keir Starmer has today banned all shadow ministers from attending any picket lines. It's time for a new workers' party that fights in the interest of our class.
"Solidarity with the RMT!"