Action inspires other workers to fight back
Thousands of trade unionists joined RMT picket lines in solidarity during the three days of strike action across the rail network, and at dozens of public rallies in support of the strike on Saturday 25 June. Socialist Party members report from some of the pickets and rallies.
Plymouth
Dave Goard, South West NEC member for the RMT told Ryan Aldred:
"The RMT has taken this fight by the scruff of its neck. There are other trade unions around the country in a similar position. The posties in the CWU are balloting, the NHS unions, the National Education Union, are all looking for a substantial pay increase in line with the cost of living."
"The working-class person has just had enough, and it's making sure that we now look to coordinate these strikes, not just with other trade unions within the train and transport sector, but also the wider movement. That's what we're calling for now. The TUC demo in London clearly demonstrated that there's a huge desire for people to support busting the pay freeze"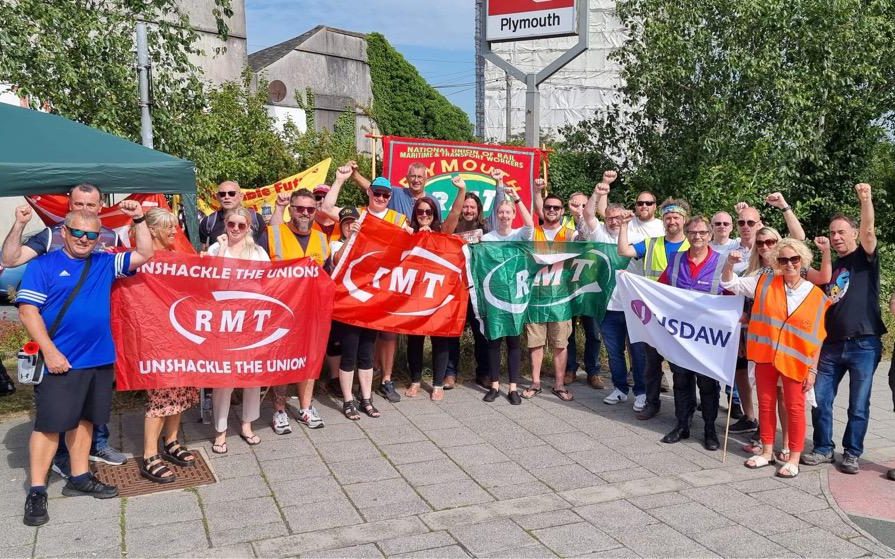 ---
Hastings
Pickets were in good spirits again on 25 June. Members of the public stopped to offer support, and a lot of food! Several members of train drivers' union ASLEF joined the picket line in solidarity.
There was a lot of positive talk about other unions balloting. One member said that he thought the Tories had made a big mistake, as the example set by the RMT would give confidence to workers in other industries and make industrial action elsewhere more likely.
James Ellis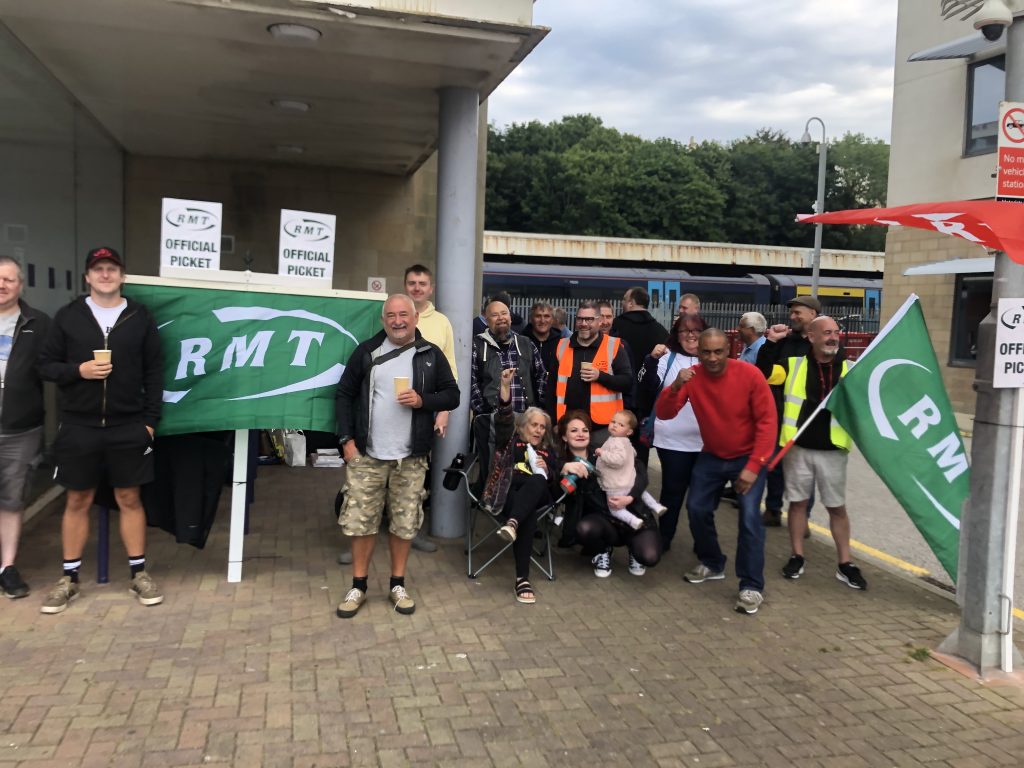 ---
Staines
The mood at Staines after three days of strike action was defiant and confident. Numbers active on the pickets have grown. Three activists from Surrey County Unison, including two Socialist Party members, brought biscuits, flags and solidarity to the strikers.
The discussion was mostly about how well Mick Lynch (aka the 'Hood') dealt with hostile questioning during BBC Question Time.
A GMB member from Heathrow stopped by to show support and tell pickets about the potential strike action there.
One young striker told the Socialist: "We want to be seen as just the first domino. All the other unions need to join in this fight for decent pay."
Paul Couchman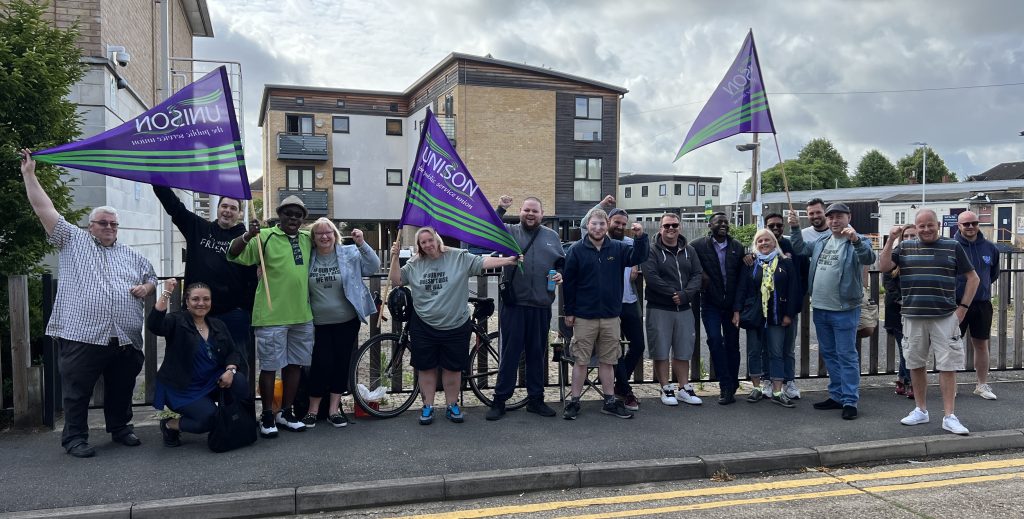 ---
Wigan
Workers and trade unionists marched through Wigan town centre on the third day of RMT industrial action.
Steve Shaw, member of RMT's National Executive Committee, commented on the need to oppose conditions that would risk the jobs and safety of workers and passengers. It was noted only two Labour councillors had shown support at the pickets. Steve Shaw commented: "Starmer has no working-class values and no longer an interest in the working class."
This notion was recurrent throughout the day, with other workers expressing their dissatisfaction with Starmer's Labour.
Alexander Zuk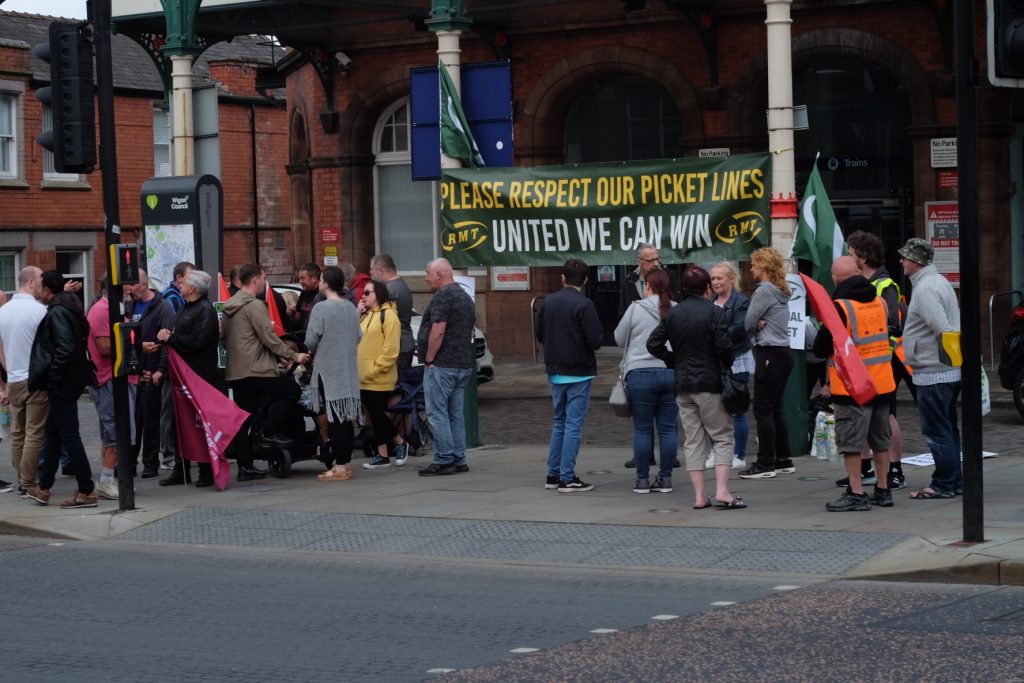 ---
Swansea
In Wales, even though the largest operator Transport For Wales (TfW) is not involved in the dispute, strikes were underway at Swansea and Cardiff stations run by Network Rail and served by Great Western Railway.
Over the three days of strike action, all but a few TfW services on the valleys were stopped as RMT members, from cleaners to engineers, joined the picket lines in solidarity.
A rally organised in Swansea by the RMT Swansea No 1 branch and Swansea Trades Council attracted over 70 trade unionists and supporters on 25 June.
Gareth Bromhall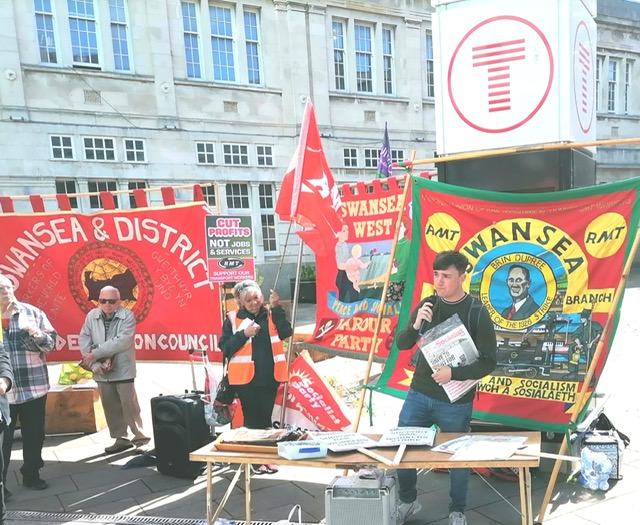 ---
Cardiff
Over 50 attended a rally organised by Cardiff and Caerphilly trades councils on 25 June. Marchers were offered shelter from the torrential rain as the Tabernacle Church flung open its doors, an indication of the strength of support that exists among the general public.
At the rally, RMT regional organiser Steve Skelly echoed the comments of RMT general secretary Mick Lynch, that the union and its members are willing to take further industrial action if the Train Operating Companies do not come to the table and negotiate a deal that protects jobs and improves pay and conditions.
Jamie Davies
---
London
RMT leaders were facing the cameras again at Euston on 24 June, batting aside silly potshots from the bosses' media pundits. Striking workers held the picket line behind them for jobs, pay and safety.
RMT members are not impressed with Starmer's Labour, with the leader of the opposition instructing those on his frontbench not to stand on picket lines.
Socialist Party members had a good response when we made the case for the unions to get together and discuss building a new workers' party.
A hotel worker who'd passed by to have a go on the last strike day came back. Reps told him on Tuesday that he wasn't paid enough and should strike himself. This morning he told reps he was thinking about joining a union.
James Ivens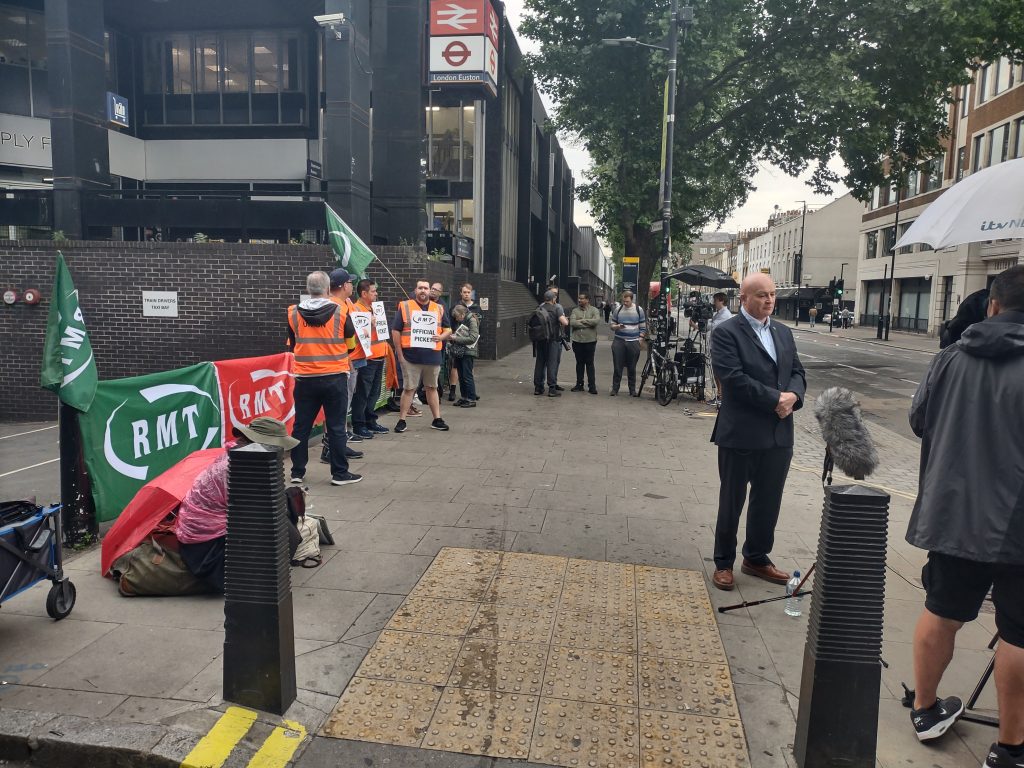 ---
Retford
"This will finish Johnson off – about time!" Pickets were in confident mood.
Bassetlaw RMT branch secretary Wayne Barnett and safety rep Andrew 'Bart' Hawkins told the Socialist that Network Rail's proposals "are preposterous. They want to fire and rehire an operative grade on £21,000 a year – a £10,000 drop."
Paul Tooley-Okonkwo
---
Dover
NEU and Unite members added to the numbers at the picket line in Dover. RMT strikers on the Network Rail picket line explained that if they do not succeed, half of the people on the picket will lose their jobs.
One picket said that he had been on strike for a year with the P&O dispute in 1989. When the strike ended he was left with no job. He added: "I'm in this strike to win."
Eric Segal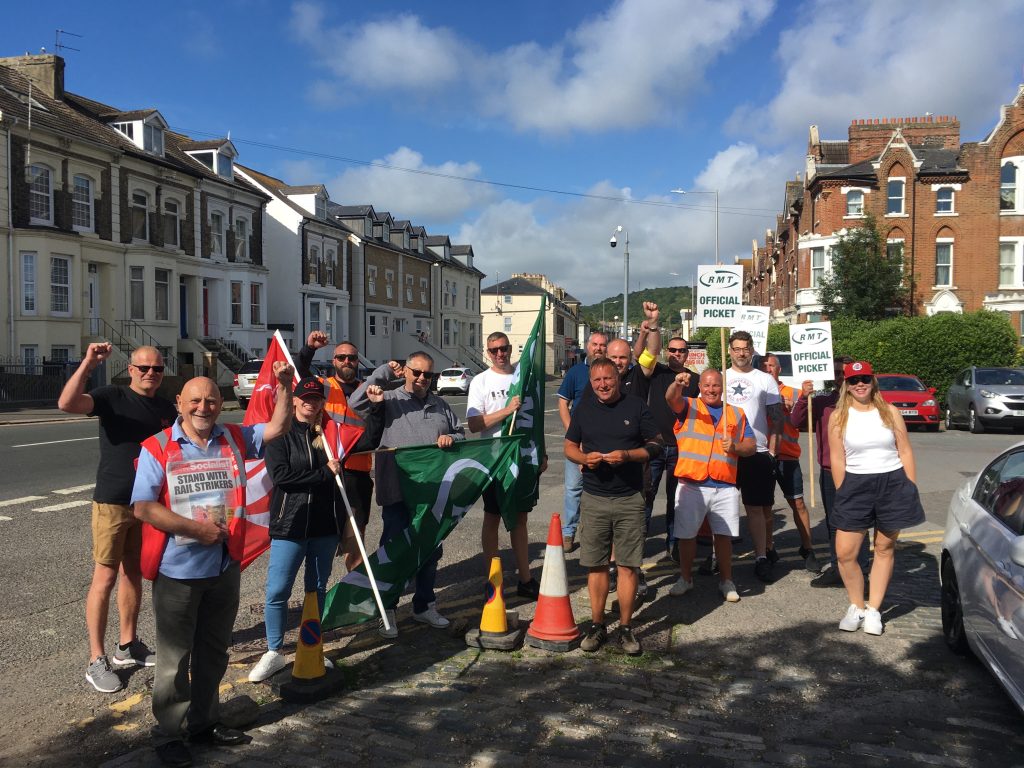 ---
Sheffield
Sheffield station was deserted on the second morning of the RMT train strike. Even the small groups of managers that had been trying to look busy on Tuesday had given up!
RMT pickets were joined by lots of supporters including a dozen FBU members.
Alistair Tice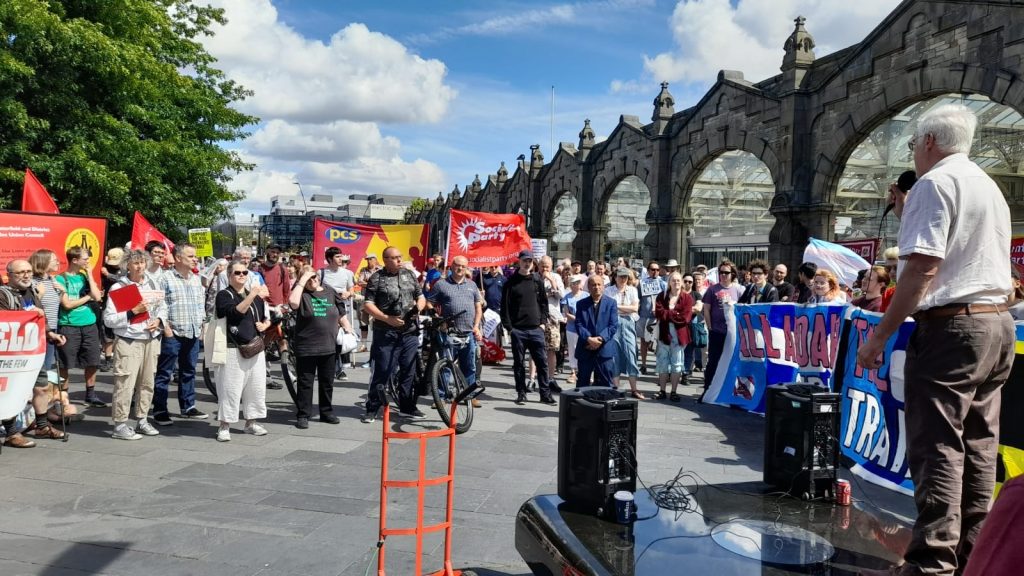 ---
Train strike can help galvanise other workers
The RMT train strikes have captured the attention of workers across the country.
In the NHS, nurses and other healthcare workers continue to be denied the pay rise we need to make up for years of real-terms pay cuts. It looks likely that when, at last, the NHS pay review body makes its recommendations, this will continue.
In last year's NHS union pay ballots, the majority of voters said 'yes' to action for a pay rise. But without a serious campaign from the union leaders, ballots have not met the Tory-imposed 50% turnout threshold. The RMT action has the potential to galvanise other workers, including NHS workers, to vote to strike. The Trades Union Congress reports an 184% increase in Google searches for "join a union".
Without a fight, continuing cuts will mean more and more nurses leaving the profession, and care will become more and more unsafe. If the NHS is to continue to survive, and to win a decent pay rise for NHS workers, then voting for strike action is vital.
Student Nurse, South East London