"See you all on the picket lines in a summer of discontent, and then an awesome autumn of winning for members!"
Speaking from the floor in a personal capacity, National Education Union (NEU) national executive member Sheila Caffrey summed up how everyone felt after a day of inspiring discussion and serious debate.
The 2022 conference of the National Shop Stewards Network brought together leaders of, and participants in, the working-class struggle taking place and being prepared today.
As well as hearing inspiring speeches and reports, it was an opportunity for an exchange of ideas about what needs to be done, between different trade unions and sectors, and between members and leadership. It was a chance to raise demands and debate a way forward. There is no other event like it.
Unions must "get in the room together" to build widest possible action
In his opening speech, NSSN chair Rob Williams described the RMT strikes as, "a vivid demonstration of the power of workers and, as we have seen during Covid, confirmation that we are the key force in society.
"From being constantly told that unions are too weak, the right-wing media is now demanding that anti-union laws are beefed up further, and the Tories are threatening to introduce even more measures against strike action. Yet Tories have done nothing when P&O management admitted breaking the law to MPs when sacking 800 workers to maintain their profits! The whole union movement must stand up against any Tory attacks on the RMT or any other union.
"Increasingly, it is the trade union movement, moving on the front foot through a growing strike wave against the cost-of-living crisis, that is providing leadership and winning support from workers and even sections of the middle-class.
Rail strike inspiration
"No wonder that it has been reported that Google searches for 'join a union' have increased by up to 200% in the last week, while the TUC's 'join a union' website has seen visits up 800%. It's why there is particular support for the rail strike: we the working class, really are all in this together.
"Side by side with taking action, the union movement should inscribe on our banner socialist renationalisation of the railways and transport network, Royal Mail, BT and the energy companies.
"At the same time as we support each other's disputes, all the unions must urgently get in the room together to coordinate industrial action ballots to build the widest possible action. As they did at the TUC Congress in 2011, when 29 public sector unions coordinated strike ballots, leading to what was effectively a public sector general strike of two million workers that November against the Tory attacks on pensions. There is even more potential for mass joint action now, as workers across all sectors are struggling against spiralling price rises while real wages fall.
"We lobbied that TUC Congress and we have again called an NSSN rally to lobby the TUC Congress on 11 September in Brighton – it has never been so important.
"We marched together on 18 June, now we organise to strike together!
"And this time, we fight until we win!"
---
"We will fight"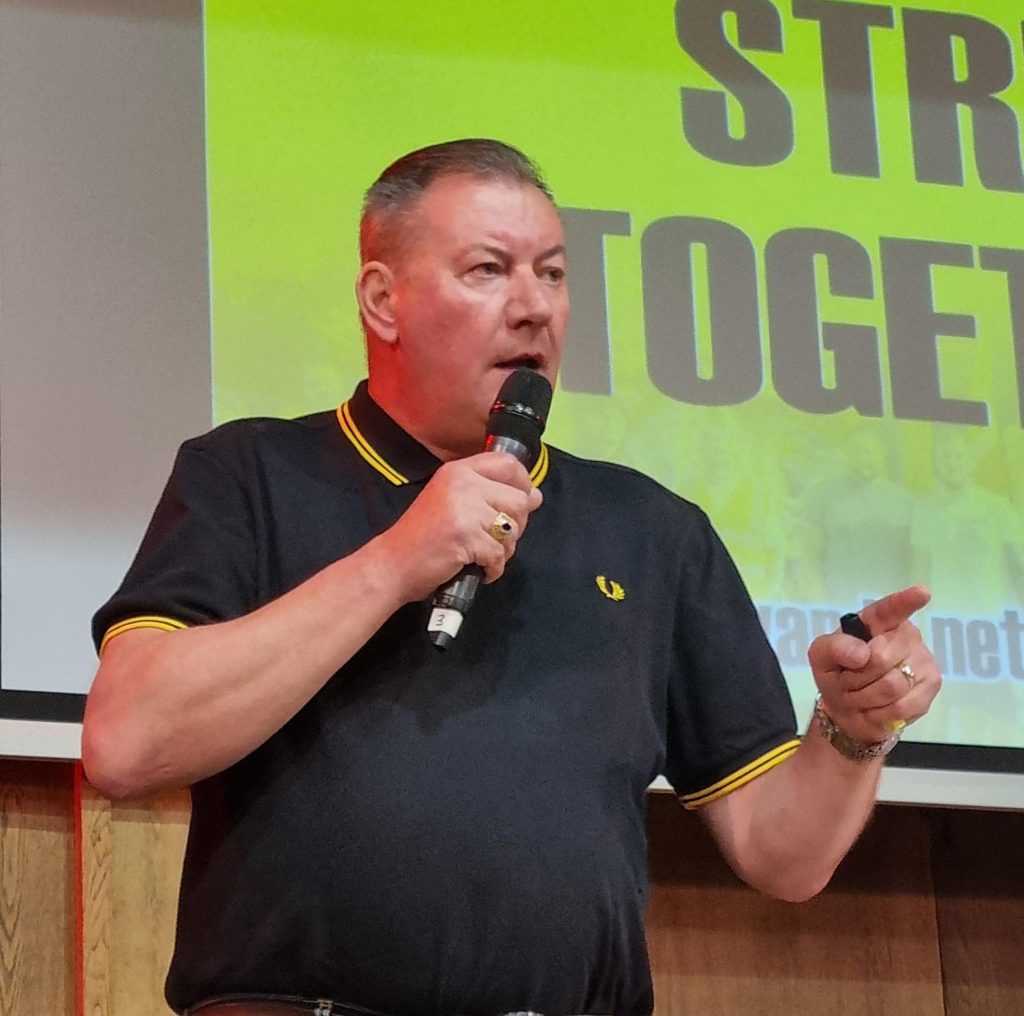 Terry Pullinger, CWU deputy general secretary, postal
"There is nothing more honourable than spending your life representing fellow workers. As for politicians, I think its great that the unions are shifting their position and talking about industrial trade unionism again. All my working life I've seen politicians of all persuasions let down ordinary decent working people. The people who make the difference are trade unionists. Of course we would rather a Labour government, but we would still have to do our work."
Terry argued that Covid was a game-changer, "the sun came out" on the key workers. That's why there is a lot of support now from the public.
1,500 members in the Post Office have taken four days of action. "The vote by telecoms workers – that's not happened in years. And now we're balloting 115,000 in Royal Mail – you wait to see the result of the ballot!"
The union made a deal to protect the service and the security of workers, in good faith, in 2021. The company has announced £746 million profit. The CEO has been given a £140,000 bonus, but there's nothing for the workers. "Not on your life – we will fight!"
---
No cuts budgets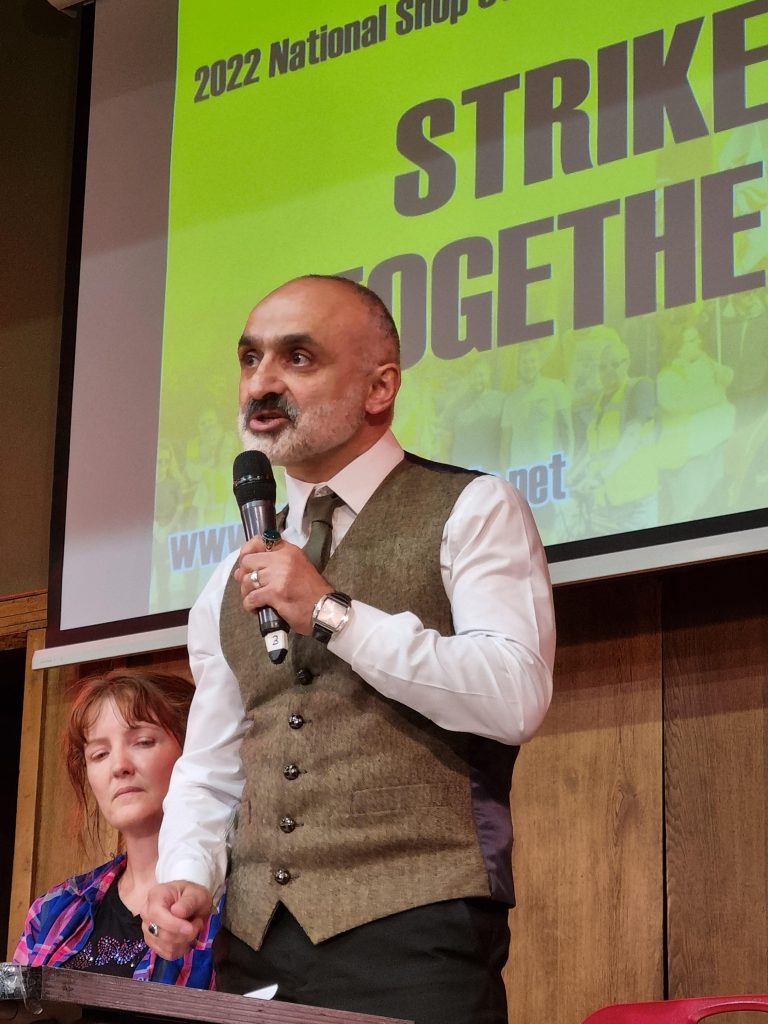 Unite national lead officer Onay Kasab (below) brought solidarity greetings from general secretary Sharon Graham
Kaz reported on the 'solution' to the cost-of-living crisis he had seen from one Labour MP, Stella Creasy: "Buy secondhand goods". Instead, Kaz argued, Labour councils could "at a stroke" do something about the cost-of-living crisis today, by agreeing no-cuts needs-based budgets in every authority they control, like Liverpool council did in the 1980s.
Kaz lambasted Labour politicians who speak against cuts and the cost-of-living crisis at the weekend, and implement cuts on a Monday – such as the leader of Hackney council, who refuses to negotiate with Unite members who want a decent living.
Kaz also gave a warning to bus companies nationally that "Unite is coming for you". He invited conference to imagine the impact if bus workers were out at the same time as the RMT.
---
"Fair pay for a fair day's work"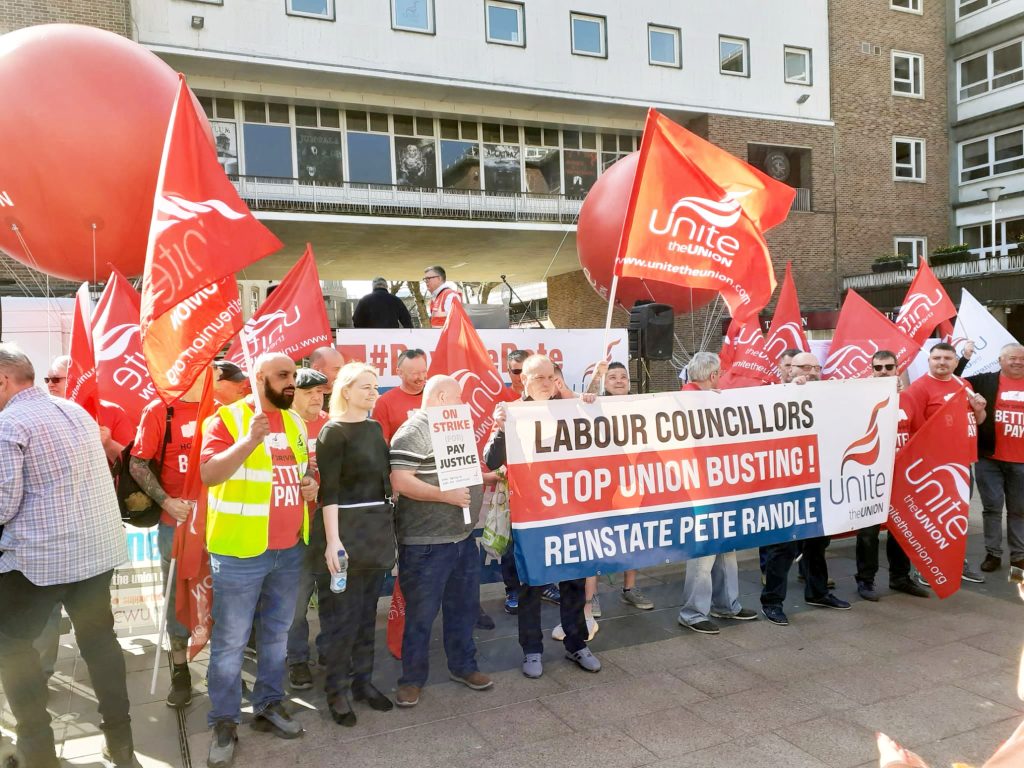 Pete Randle spoke on behalf of striking Unite Coventry bin workers
"Our strike is about to enter the seventh month. We've been out on strike for 125 days. What led us to going out on strike was simple. We'd had enough. It was time to organise."
Pete explained: "This is a Labour council. Or is it the Tory B team?
"We're out for fair pay for a fair day's work. The Labour council is trying to discredit us. They have brought in a scab workforce. A Labour council bringing in strikebreakers, to try to bust the union.
Labour in Coventry is highlighting the Labour government that Starmer could one day lead. Labour should be on the side of working people, not supporting the Tory front bench."
Pete's conclusion is that trade unions need to fight industrially, but also "extending that political arm" and "possibly find a new political home."
---
"Tories want to crush us but they're failing"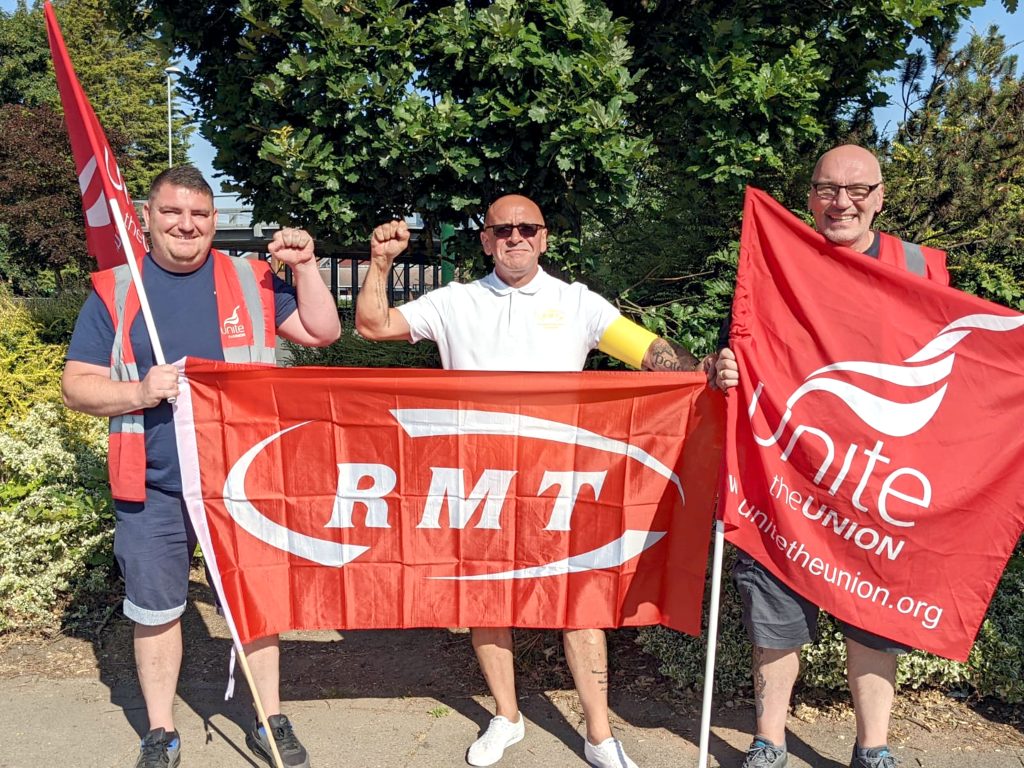 RMT speakers were greeted with a standing ovation
Paul Reilly, RMT branch secretary, maintenance representative and former NEC member, in a personal capacity
"The strikes were the proudest moment of my 31-year RMT membership. Seeing all the photos, all the support we got from people, from reps and the general public, because they're living the issues."
Paul explained that the national rail dispute is about pay and conditions, but also whole swathes of workers being made redundant: "We deserve a pay rise but there's no good having a pay rise if you've no job". Members are up for this fight. The CEO is on half a million pounds a year and the rail companies made hundreds of millions of pounds in profit during Covid.
"It was great to see the Coventry bin workers turn up to our picket lines, and I've been to theirs. This is going to be a great summer because everyone is saying enough is enough. If we all come out and if we can have a general strike that would be another proud day!"
Noreen Hayes, an officer of the RMT London Transport regional council, in a personal capacity
"The Tory thresholds are made to crush us but they're failing miserably.
The Tory government is telling our bosses to take our pensions away; they want £100 million a year out of our pension fund. I've paid into my pension for 23 years and I don't intend to give it up to the Tories any time soon.
Boris Johnson, when he was London mayor, shut ticket offices and tried to take away 600 jobs. We took strike action and we won those workers back. Now he's prime minister and its 600 again. So it's under the guise of Covid, but in reality these are Tory plans that have always been there.
The Labour mayor Sadiq Khan has told us it will be 'managed decline' of our London transport system."
---
"Privatisation has no place in the NHS"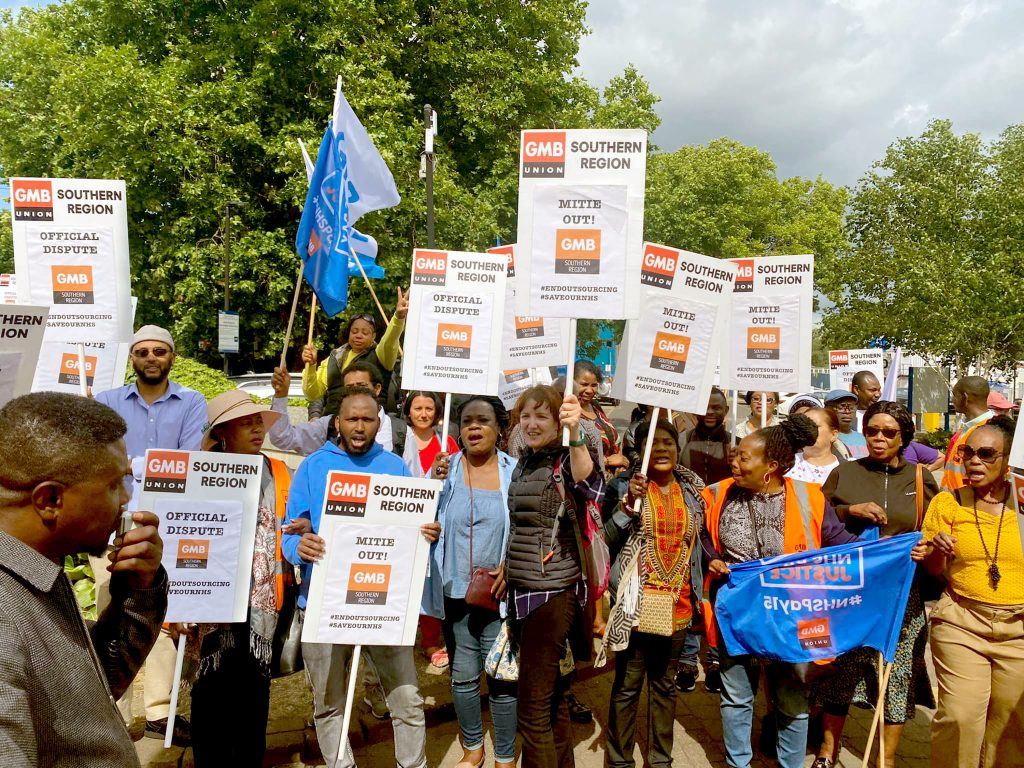 Helen O'Connor, GMB regional organiser, spoke about the battles of outsourced workers in companies such as Mitie, where workers at St George's Hospital in South London are fighting against privatisation.
"The NHS has been subject to cuts and privatisation for decades. Unless we organise now to defend it, in ten years' time we will not have a national health service left. Privatisation has no place in the NHS."
GMB members working for Mitie at St Georges have taken ten solid days of strike action. Predominantly black and migrant workers are fighting for equal pay for equal work. They rejected the divisive tactics of the company, who told them they should not allow a white woman to organise them into a union. In an affirmation of class struggle over identity politics, they marched to the RMT picket line.
After calling Starmer and Lammy "a disgrace", Helen O'Connor said "The battle on the picket line can't be separated from political representation. If they won't support workers they should stand aside."
---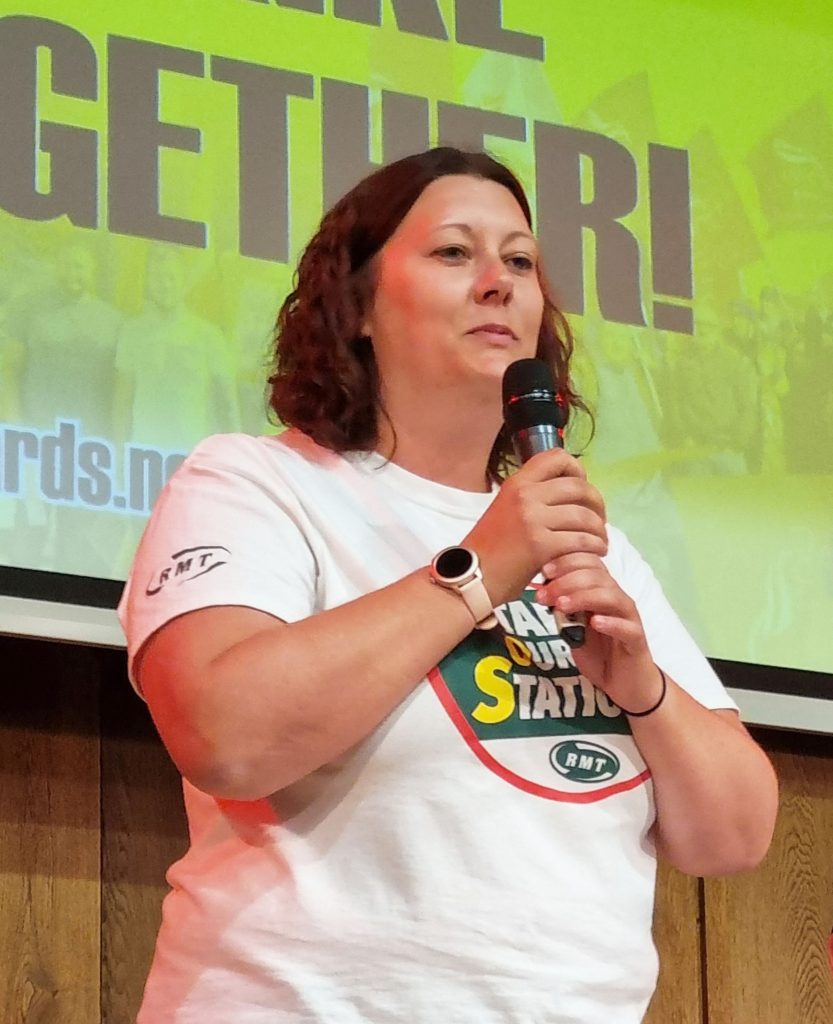 "More action than I can ever remember"
Sarah Woolley, general secretary of the bakers' union BFAWU
"There's more people taking industrial action that I can ever remember. Who would have thought that criminal barristers would take industrial action."
Sarah told the conference how proud she is of BFAWU members and reps, who "fed the nation" during Covid. She described bakers' union members as the "forgotten" key workers, treated as if they 'deserve' zero-hour contracts and the minimum wage. Yet skilled and one mistake could be catastrophic. That's why the BFAWU fights to scrap zero-hour contracts and for a £15-an-hour minimum wage.
---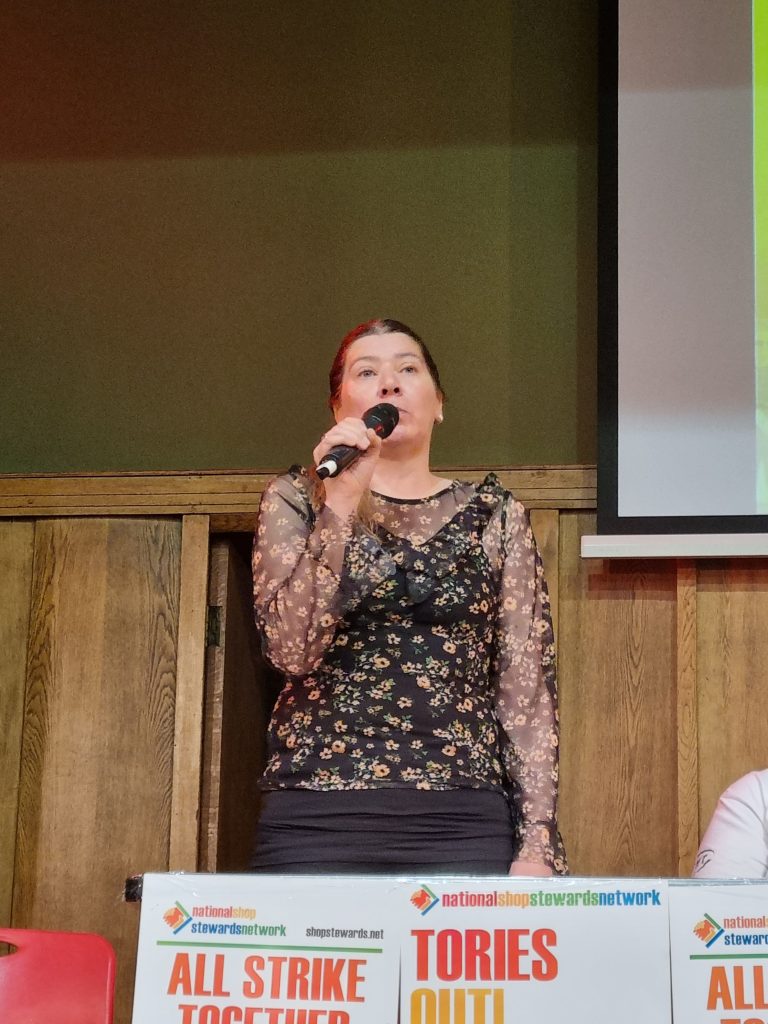 Bosses say "refrain from crying"
Annoesjka Valent, national official for Napo, the union and professional association for family court and probation staff, explained the reality of what the cuts and privatisation has meant to the probation service and family courts.
Members suffer stress and distress. Management say "try to refrain" from crying too much, so as to "not burden your colleagues"!
Annoesjka said that Napo had only ever had four or five strikes, "but this is going to change, because members have had enough".
---
Teachers' pay campaign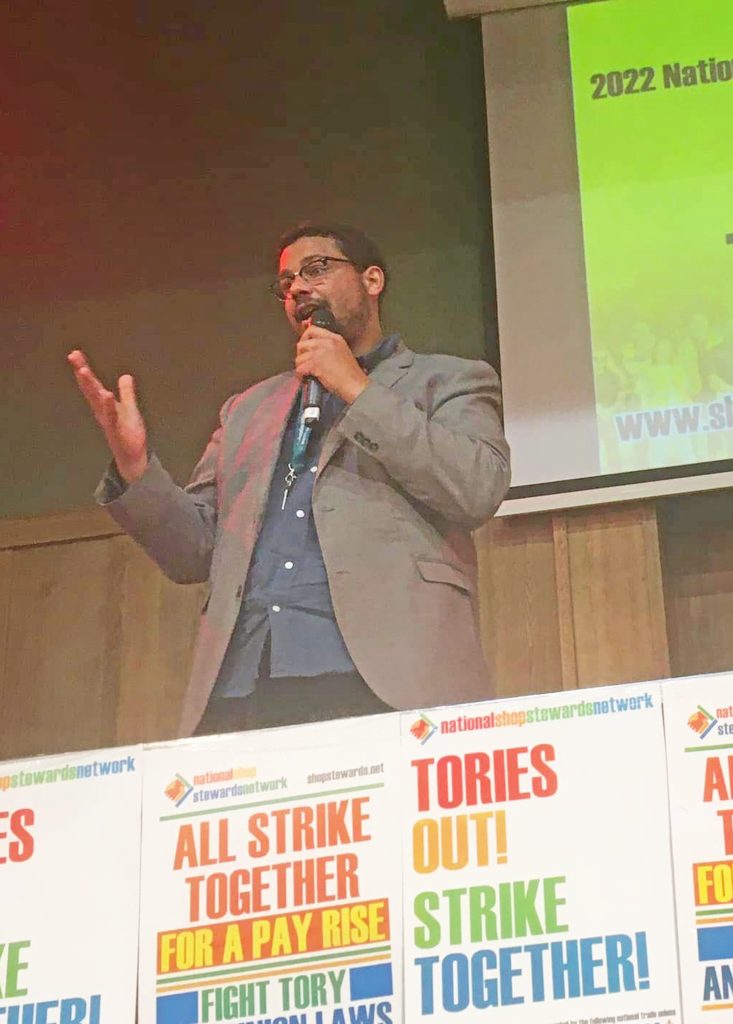 Daniel Kebede, NEU national president
Daniel agreed with the conference that the RMT has inspired the trade union movement to fight back.
"People know they can't wait for a Labour government, the Corbyn avenue has been shut off, so they are turning to the RMT and they'll be turning to all of us to be the answer to the grotesque conditions this government want us to live in."
He argued that the cost-of-living crisis involves an extraction of wealth from our schools, children and communities.
In real terms, teachers have lost 17%; the more experienced have lost 20%. Teaching assistants have lost £4,000 a year in real terms since 2010.
He anticipates that the pay review body is likely to offer a pay cut, and the NEU has started a pay campaign. Schools also face a monumental funding crisis.
---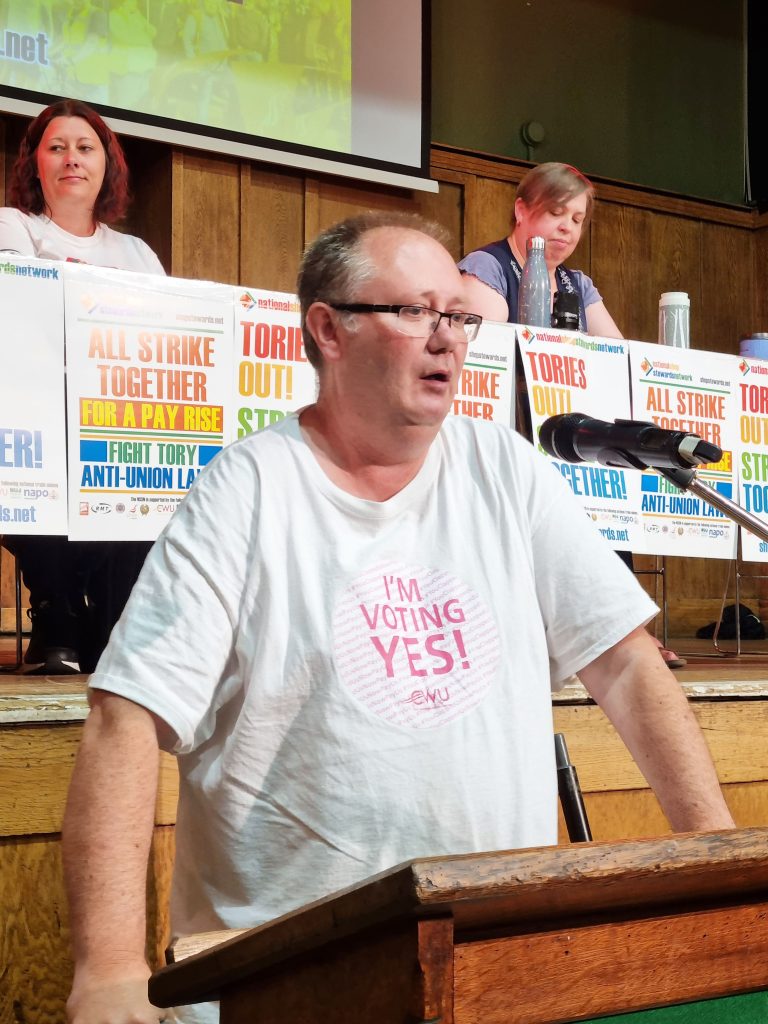 "Never seen a mood like it"
Lively discussion took place from the floor (Union reps all spoke in a personal capacity).
Gary Clark, CWU Scotland No. 2 branch secretary, reported: "I've never seen a mood like it". Speaker after speaker reported on the galvanising effects of the RMT strikes and now CWU ballots. But coming together to debate what's needed next has an effect on those workers in return.
RMT member Lee said: "We're under attack. It can be demoralising thinking you're the only union that's out there. Four hours ago, 'solidarity' to me meant a fist in the air. Now it means all these unions shoulder to shoulder."
---
"We need unions balloting and striking together in the public sector"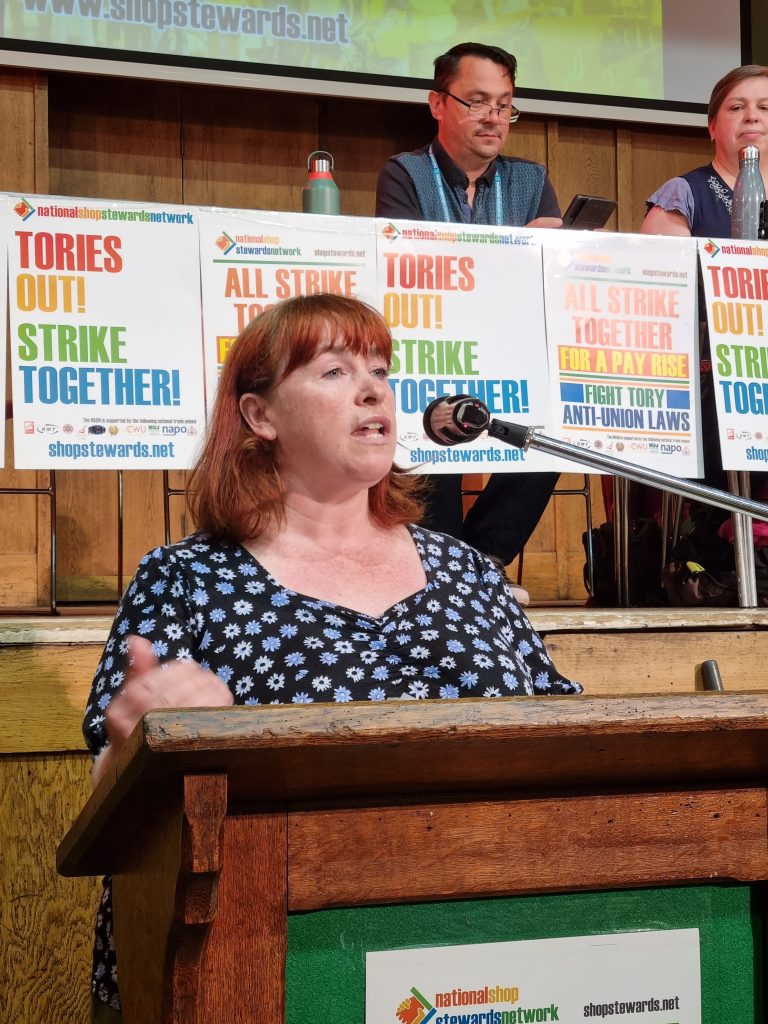 Sheila Caffrey, executive member of the NEU, which is balloting in the autumn, reported from a union meeting in the southwest. In a discussion about what level of pay rise to fight for, some members had said 15%, some said 20%, and others said 40%!
Members thought that support staff should be part of the same fight as teachers. Support staff are among the lowest-paid people in communities, many with second or third jobs, and going to food banks.
An NEU member in adult learning explained the need to link fighting on pay with struggling against casualisation – sessional pay, fixed-term and zero-hour contracts.
Unite member and NSSN officer Dave Gorton reported on the devastation in social care. In 1979, two thirds of social care was run by NHS and councils. Now 84% is for profit. As a result of the RMT strikes, the confidence of care workers in his area to vote to reject low pay offers has been transformed.
Mark Evans, secretary of Carmarthenshire Unison said that "the mood that you can't do anything is dissipating". He reported that in local government, workers have lost 27.5% real value of their pay. "In Unison, there is a left NEC for the first time in Unison's history. It needs to use all the resources of the union to deliver a 'yes' vote on pay. The TUC needs to coordinate that action towards a 24-hour general strike."
Len Hockey, Unite branch secretary, reported on the strike this year in Barts Health Trust in east London that won a significant victory, with privatised workers being brought back in-house.
PCS members Reece and Jaime spoke from the floor on the need to link the fight on pay in the civil service, where the reduction in real pay is 20% since 2010, to the government threat to cut 91,000 jobs. It is also essential to fight casualisation and for temporary staff to be made permanent.
They reported that there were "plenty of members in PCS that were proudly building for this conference". The "tempo of events is putting pressure on the leadership of PCS". There's a definite change in mood and so "hopefully in the autumn PCS members will ballot, and return a yes vote, and be able to join other workers on strike against this weak and divided Tory government."
---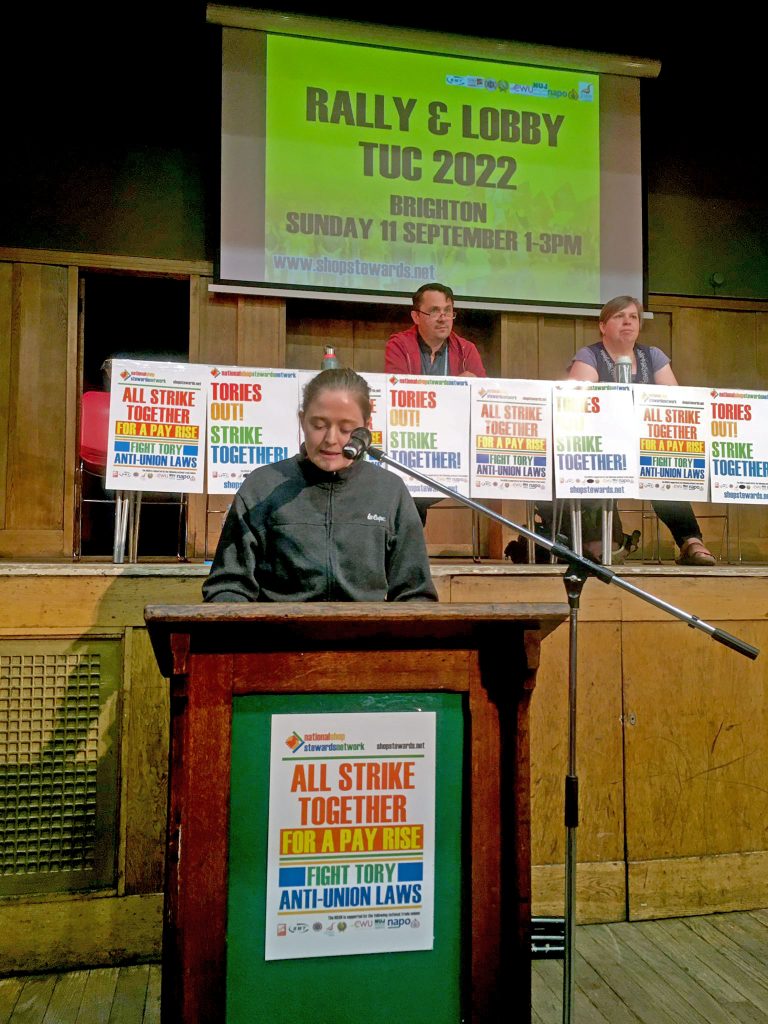 Young people
Many young workers attended NSSN conference for the first time, looking for a way forward. Some came with questions about what it is possible to win and how. Several young workers felt inspired to go back to their workplaces and encourage workmates to join a trade union.
Young worker Amy explained the low level of trade union membership among young people, who are often in industries that are difficult to unionise and with short-term fixed contracts. But events like the TUC demo and the RMT strikes can have a big effect. "They are realising they have the power to change things."
---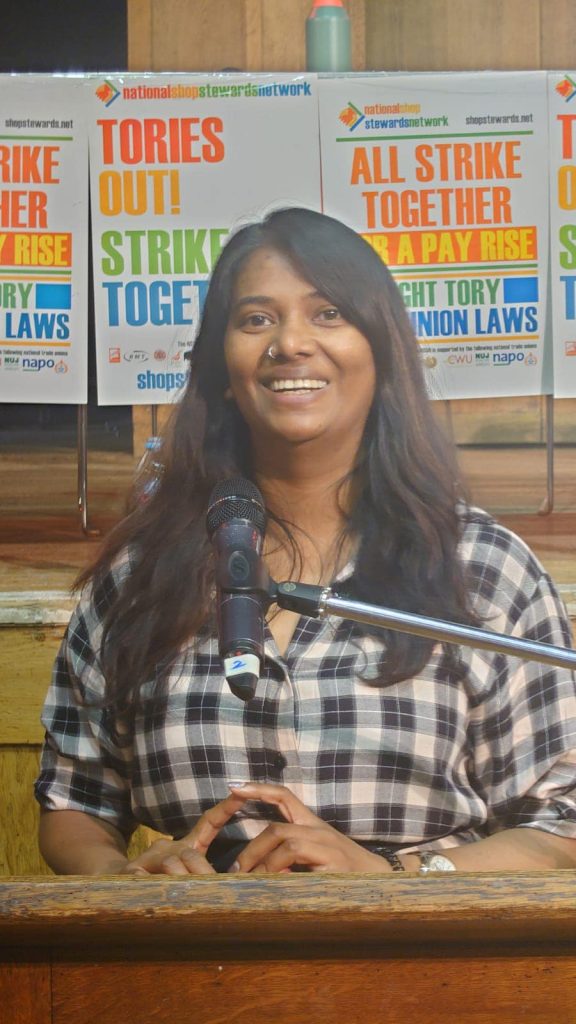 Refugee rights: fight for jobs, homes and services for all
Lawanya, NSSN steering committee member and Refugee Rights campaigner, spoke of the huge outrage and anger at the Tory's Rwanda immigration policy. She stressed that "the Tory Party can't be trusted to offer a prosperous future for anyone, except big business and the rich. We fight for jobs, homes, and investment in services. The struggle of refugees and migrant workers should link up with all workers in a mass movement."
---
Where is our political voice?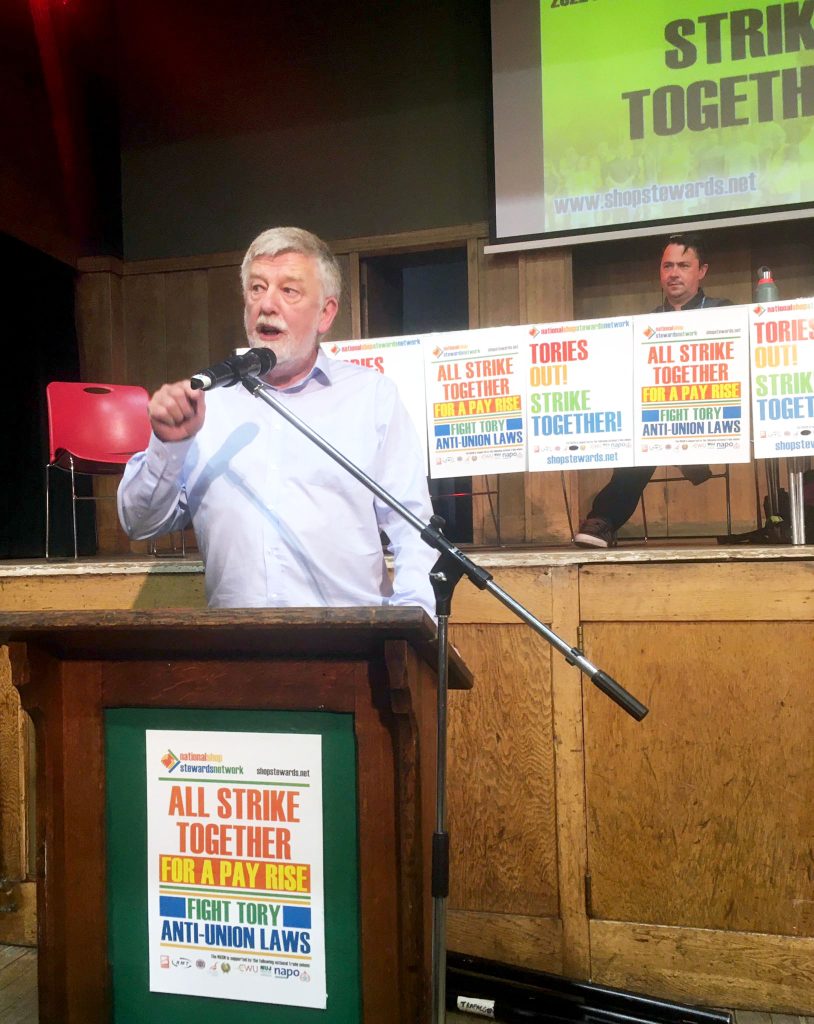 In response to David Lammy, Labour's shadow foreign secretary, saying that a serious party doesn't go on picket lines, Dave Nellist, former Labour MP, Socialist Party member, and national chair of the Trade Unionist and Socialist Coalition (TUSC), said:
"A picket line is a line. There's workers on one side, and bosses on the other. If you don't stand on the side of the workers, then you're no use to working people."
Dave argued for the trade unions to call a conference so we can start talking about a new party. He said that Jeremy Corbyn should declare he'll stand as a socialist independent and call on the rest of the Labour Party Socialist Campaign group of MPs to declare the same now, rather than wait to be picked off one by one.
But, he said, "we can't wait for that", so TUSC is looking for 100 trade unionists, socialists and anti-cuts campaigners to stand as parliamentary candidates, and is opening up a consultation on a programme for the general election.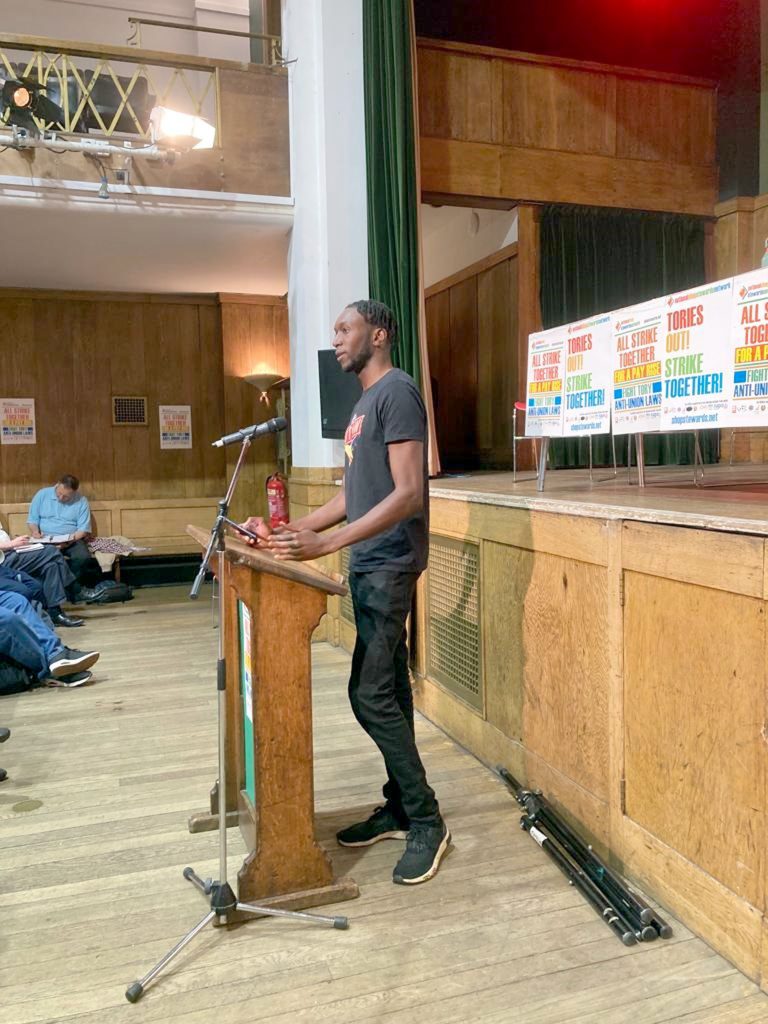 Young CWU member Deji Olayinka stated if people like Lammy "won't defend workers on TV, then they won't in parliament." He thought it was important that the CWU is encouraging members to stand as candidates, but pointed out that "socialists are being kicked out or barred from shortlists. Trade unionists trying to stand would meet the same."
Coventry CWU retired members' secretary, Judy Griffiths, reported that Coventry retired members have agreed a motion which calls on the leadership of the CWU to call a special conference to debate the disaffiliation of the CWU from the Labour Party, and appealed to others to do the same. Members are really angry at Keir Starmer. BT members need a political party that will support them and renationalise BT.
And RMT member Lee stated clearly: "This country needs a new political party. Labour has betrayed all of us. We need a voice. Working-class communities need our voice heard in parliament."
---
Conference participants spoke to the Socialist
Ellen Barzey and Jacquie Sey, Unite members in Barts NHS Trust
"We want equality and equity for all workers, we don't want to let the bosses divide and rule us, we want to all fight together."
Debbie, a young worker newly employed in a gallery
"It's the first time I've been to anything like this. With the cost of living, everything is a stretch. It's good to know it's not just me that feels like this, to meet people on the same wavelength. I feel inspired and fired up to go back to work and talk to fellow workers."
Paddy Brennan, former Unite convenor in the car industry, and long-time supporter of the NSSN:
"There's never been a riper time to galvanise workers. Communities are being affected. Workers who wouldn't normally withdraw their labour, like care workers, are being forced to fight. Even the police in Scotland are working to rule. There's a class war going on. Through collectivising all the issues, we could make a big impact. And the Labour Party has totally lost it."
Winston Richards, CWU Greater London Combined branch, commenting on the BT ballot result in a personal capacity:
"The ballot result showed the strength of feeling. This has been building for a number of years, management have treated us and our union with growing levels of contempt. It is disgusting that BT thinks they can impose a pay settlement that hasn't been agreed through negotiations with the union."
Images: Ian Pattison, Isai Marijerla, Mike Cleverley, Lawanya, Paula Mitchell