Jon Dale, Secretary, Unite Nottinghamshire Health branch, and Socialist Party member
New evidence published in the respected medical journal, The Lancet, confirms what NHS workers and campaigners have long argued: privatisation leads to worse treatment and more deaths.
The NHS has just turned 74 years old. For over thirty years, governments have claimed private companies could provide better care more 'efficiently' than the publicly owned NHS. Every prime minister since Thatcher has said patients didn't care who provided their treatment so long as it was free at the point of use.
The Tory-Lib Dem coalition's 2012 Health and Social Care Act compelled the NHS in England to let private companies provide NHS services. This accelerated earlier changes begun by John Major's Tory, and Tony Blair's Labour governments.
£11.5 billion of outsourced contracts were grabbed by profit-seeking companies between 2013 and 2020 – over 6% of total NHS spending by pre-pandemic early 2020.
The new Lancet research from Oxford University shows every ten million pounds of NHS spending awarded to profit-seeking health companies could have led to three preventable deaths the following year – 557 preventable deaths between 2014-20.
If this seems a relatively low figure (still shocking – lives sacrificed to boost private profit), it's just the tip of the iceberg. For each person who died, several will have suffered worse treatment and a poorer recovery. The figures don't include those who died as a result of earlier privatisations that cut cleaning and increased hospital infections like MRSA.
557 is too many, but dwarfed by the 231,000 deaths in England estimated to have been caused by savage cuts to all public services between 2010-18, with many more in the years since then.
On 1 July, the latest Tory attack on the NHS took place. 106 undemocratic, but relatively local, Clinical Commissioning Groups have been replaced by 42 undemocratic and more remote Integrated Care Boards. Private companies can have seats on these boards which will decide on how NHS money is spent, including outsourcing to profit-making companies.
Keir Starmer's last major speech on health in January didn't mention privatisation once in 2,900 words.
A Labour government would resume Blair's policies, further opening the NHS for big business. We need a new mass workers' party fighting for:
A fully funded NHS
Reversal of all privatisation and out-sourcing
Democratic workers' and community control
Nationalisation of pharmaceutical, medical supplies and all other companies profiteering from the NHS, as part of a socialist planned economy allowing everyone the healthiest life possible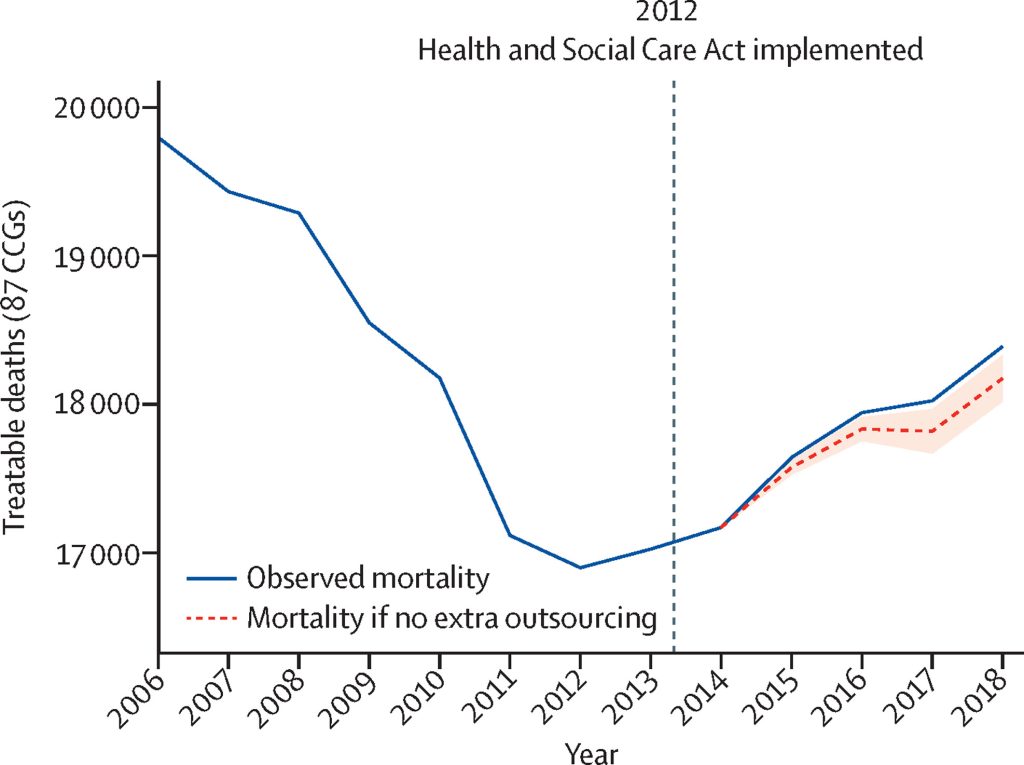 ---
Big-business NHS takeover with links to Tories and Labour
The latest corporate raid into the NHS is the £1.24 billion takeover of EMIS by US giant, United Health – the world's biggest health corporation.
EMIS is a medical records software company used by over 4,000 general practices, many community pharmacies and hospital departments. It keeps patient records digitally and so easily shared between GPs and other health professionals. Started 35 years ago by two Yorkshire GPs, many GPs have freely contributed ideas over the years to improve it.
United Health's subsidiary, Optum, is expanding within the NHS. The new Integrated Care Systems brought in by the Tories allow private companies like Optum into commissioning – deciding how the NHS budget is spent.
Controlling patient data through EMIS could help Optum steer NHS money towards other private health services it owns.
In March, United Health paid $5.4 billion for Lafayette Health Care, the largest provider of home nursing care in the USA. The EMIS takeover could help United Health move into this growing area of care in the UK.
Egerton Capital Hedge Fund owns $834 million of shares in United Health (31 March prices). It's founder and director, John Armitage, has donated £3 million to the Tories.
In January, Labour's shadow health secretary Wes Streeting declared he too had received £15,000 from John Armitage. Hardly surprising then that Streeting said in January a future Labour government would pay private hospitals and services to deliver NHS care, just like Blair and Brown's Labour governments!