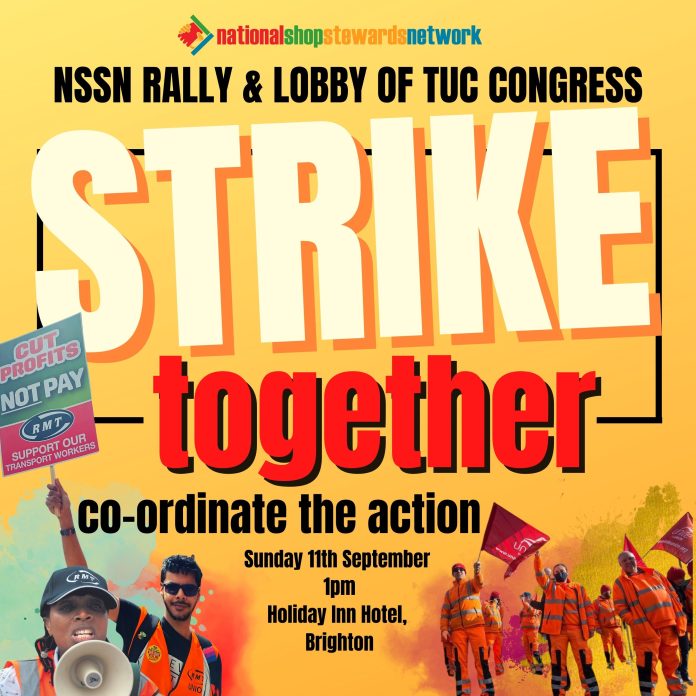 As strike action develops against the cost-of-living crisis, with workers demanding the pay rises and job protection that we all need, the National Shop Stewards Network (NSSN) is again organising a rally and lobby before the start of the Trades Union Congress (TUC) conference in Brighton on Sunday 11 September. The NSSN is calling for the six million-strong unions to coordinate action across the private and public sectors. A new generation has had a glimpse of the enormous power of the organised working class and the floodgates for action have been opened. Let's strike together!
Please take this model motion to your union branch and trades council:
"This (union branch/trades council) gives our full support to workers being forced to take strike action against their employers backed by the Tory government. The cost-of-living crisis, 'fire and rehire' tactics, and other attacks by employers in pursuit of maintaining profits at our expense, all mean workers are uniting to fight back.
We will continue to give our solidarity, building practical and financial support to all striking workers.
The increasing number of disputes shows the immense power of workers. If unions act together, significant victories can be won.
We also oppose the Tories' threats to introduce further anti-union legislation to the raft of undemocratic restrictions already in existence, and call on the TUC to coordinate opposition.
We call on unions in struggle to urgently come together to discuss and formulate a strategy to coordinate industrial action ballots and strikes.
We therefore agree to build the National Shop Stewards Network rally and lobby of TUC Congress in Brighton on Sunday 11 September behind this call."
Email the NSSN via [email protected]
to tell us the model motion has been passed
if would like copies of the leaflet to distribute at your workplace or in your area
if you would like a stall for your branch or campaign at the rally
if you need transport to the lobby in Brighton
NSSN supporters could draw up lists of workplaces and fellow trade unionists in your area you can also approach to support and mobilise for the rally and lobby.
To make a donation to the NSSN and/or get your union branch/trades council to affiliate for an annual fee of £50, either make a cheque out to 'National Shop Stewards Network' and post to NSSN, PO Box 54498, London E10 9DE or pay online: HSBC – sort code 40-06-41, account number 90143790.