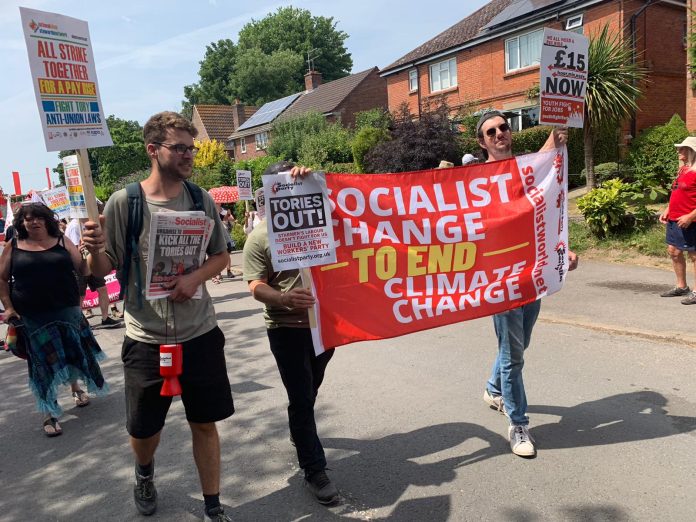 Callum Joyce, Oxford Socialist Party
Socialist Party members attended the Tolpuddle Festival, which celebrates and remembers the history of the Tolpuddle Martyrs – early trade unionists in the 1830s who were convicted of joining a union and sentenced to transportation to Australia. But mass protests helped win them a pardon, allowing them to come home.
Hundreds of trade unionists and activists attended the festival over the weekend of 16-17 July, with thousands marching on the Sunday. We sold over 100 copies of the Socialist, and the Socialist Party had a vibrant presence on the march, carrying banners and leading the chanting.
We also participated in conference sessions involving speakers like RMT union general secretary Mick Lynch and Paul Nowak, soon to be general secretary of the Trades Union Congress (TUC).
Strike together
After pressure from Socialist Party members, Nowak confirmed that some trade union leaders are in talks about coordinating ongoing strike action for maximum effect. The support for the strikes, especially action by the RMT, was huge.
Socialist Party also raised the question of political representation, following Labour's poor position on supporting the trade unions. Unfortunately, most of the platform speakers, did not agree, and were waiting for a Labour government. This sentiment was not widely shared by rank-and-file members in attendance, however, and our call for a new mass workers' party was well received.
It was clear to attendees, as it is to us, that working people need new political representation – a new party – that will refuse to continue the years of austerity, and will fight for a socialist society where the major industries are owned and democratically run by the working class.
That's why the Socialist Party stands candidates as part of the Trade Unionist and Socialist Coalition (TUSC), to show people that there is an alternative to Keir Starmer's Labour. If you want to be a part of that opposition, then consider standing as a candidate in your local area. If we join together in struggle, we can bring an end to the rotten system of capitalism.