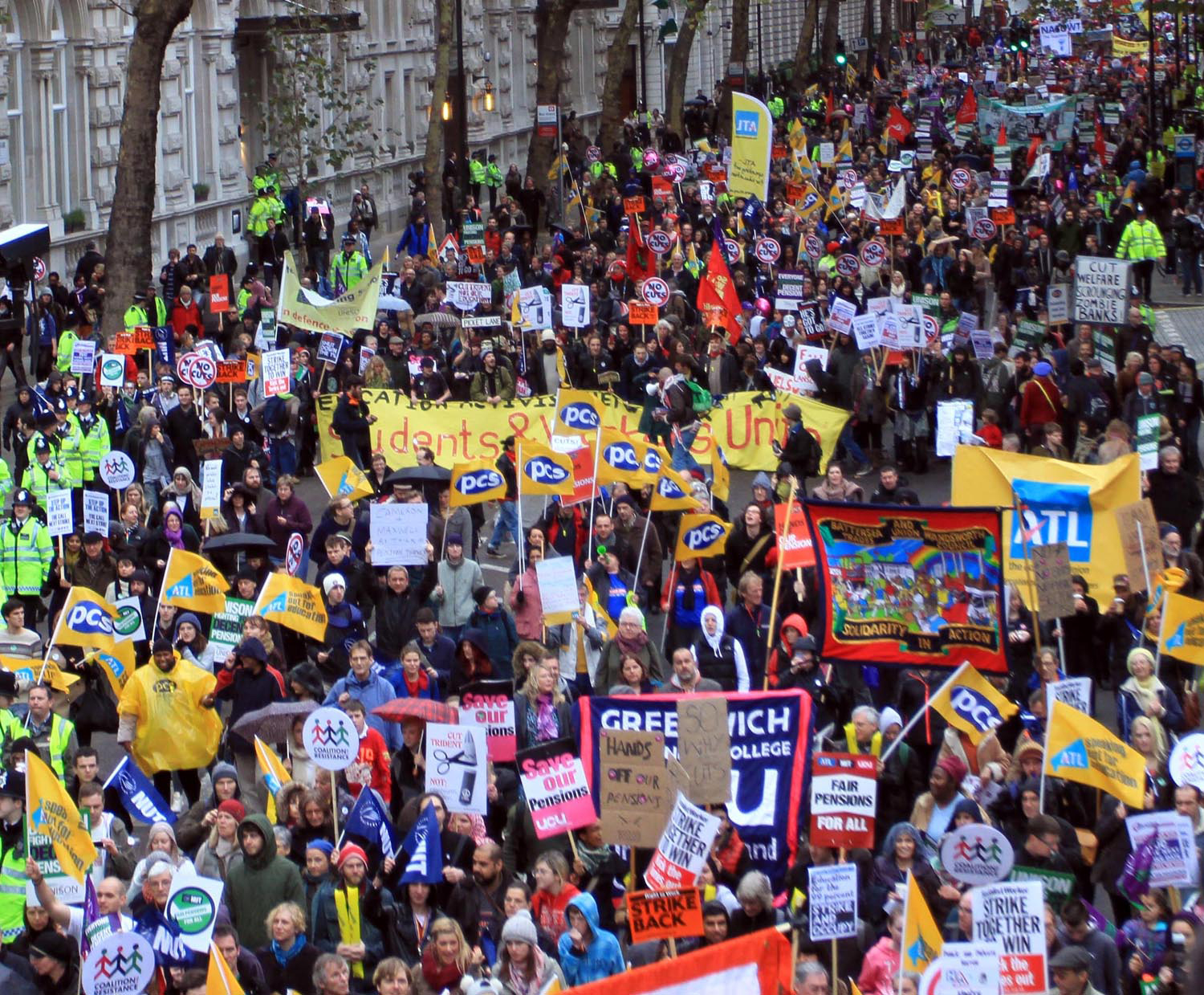 As the Socialist went to press, the Tories announced public sector pay offers well below the RPI inflation level of 11.7% to teachers and NHS workers, as well as prison officers, police, armed forces and senior civil servants. As the articles below show, angry public sector workers are preparing for action.

---
Major national action in schools brewing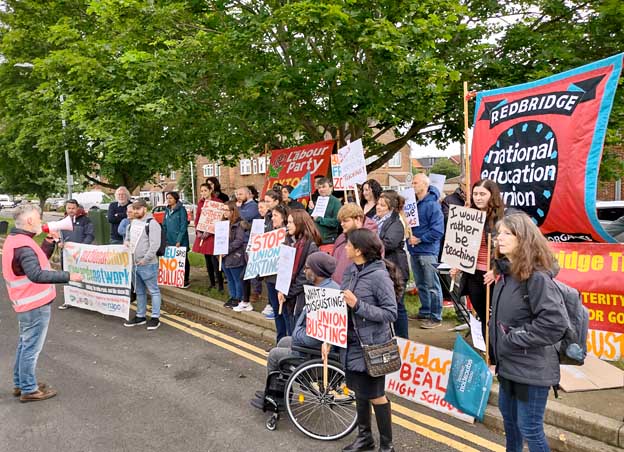 Sean McCauley, NEU executive member, personal capacity
Before the end of the year, we could see hundreds of thousands of teachers and support staff in schools take national strike action over pay.
With the government announcement on pay for 2022 expected, the national executive of the National Education Union (NEU) agreed a timetable to ballot for strike action in the autumn, which will be implemented unless the offer is considered adequate. Plans are also being discussed for sixth form and further education colleges.
Socialist Party members on the executive and throughout the union will work as hard as we can to achieve a 'yes' vote that defeats Tory anti-union thresholds.
Education workers, like all workers, are struggling with the immense cost-of-living crisis, having endured a ten-year pay freeze.
In fact, we have campaigned for eighteen months for the union to prepare for national action. The leadership of the union in the 'NEU Left' grouping previously told us this was fantasy, and that in reality only school-by-school action was possible. But we argued that the union needed to lead from the front as well as build from below.
Leadership
It is essential to build up membership and organisation at a school level, but there is no better recruiter and organiser than to couple this with bold leadership and action.
This lesson has been shown both by the RMT strikes and by the NEU itself in the action to keep schools safe during Covid at the start of 2021.
We previously put forward proposals to the executive that would have enabled action to take place sooner, which were rejected. If our timetable had been accepted, we would have been able to coordinate strike action with the RMT recently.
Some on the left have subsequently admitted in meetings that they are surprised at the anger of teachers and their willingness to fight, and now wish they could get action going sooner.
The rules of the union insist on an indicative ballot first.
These rules were established when the union was formed through a merger of the National Union Teachers (NUT) with the traditionally more conservative Association of Teachers and Lecturers (ATL), and were opposed by Socialist Party members at the time.
Nonetheless, the agreed timetable will allow for action to take place this year. The indicative ballot will start on 24 September.
Support staff
We are pleased to report that it has been agreed to also ballot support staff members of our union, coordinating with the other support staff unions: Unison, Unite and GMB.
Again, this is something Socialist Party members on the executive argued for, and which was dismissed by others. We are delighted that this position has now been taken.
Now we must build a mighty campaign, starting immediately, and then getting ready to hit the ground running when the schools start in September.
---
Gearing up for action in local government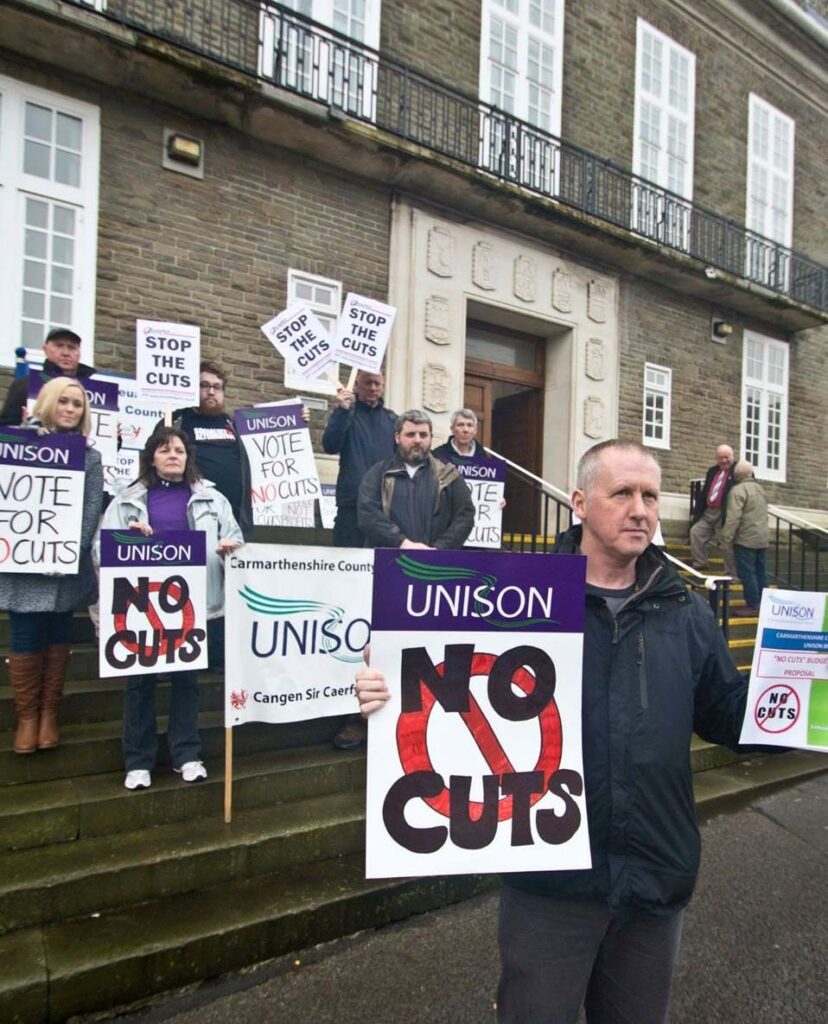 Mark Evans, Unison Local Government Service Group Executive (personal capacity)
The local government pay offer for 2022 is due to be announced by the employers at the end of July.
Unison's national joint council (NJC) committee, which negotiates with the employers, has written to all Unison branch secretaries in local government.
Assuming the offer made is not one they would recommend, they want to move straight to an industrial action ballot without first running a consultative ballot, in order to avoid delaying a fight this year.
The committee also agreed that the ballot would be disaggregated, ie a separate ballot for each employer.
Given that wages for many local government workers have fallen in value by 27.5% since 2010, and many are forced to juggle several jobs at once, a serious fight is absolutely necessary.
Socialist Party members will work tirelessly to ensure a 'yes' vote in this ballot. We have consistently argued for the recently elected left leadership of the national union to lead a fight on pay, jobs and cuts – the essential issues that affect the lives of all our members.
Unison organises many support staff in schools, and this decision opens up the potential to coordinate action with the National Education Union, which is also preparing to ballot in the autumn.
Over one and a half million public sector workers could be on strike before the end of the year.
To get over the undemocratic Tory thresholds, in place to try to stymie trade union action, a big campaign must be launched immediately, with detailed preparation in every area.
Campaign
The lesson must be learned from last year's lacklustre ballot campaign, the result of which was overwhelmingly in favour of action, but turnout fell considerably short of the threshold.
This is why Socialist Party members on the union's national executive have put a resolution to the NEC, calling for the NEC itself to make fighting the cost-of-living crisis its priority, and to take a lead in supporting and coordinating across all groups of the union.
That is particularly important given that some key service groups in Unison, such as health, remain in the hands of the old, right-wing leadership with a record of holding back struggle.
The NEC is discussing a motion to the Trades Union Congress (TUC) calling for it to coordinate action across TUC unions.
---
PCS union to hold strike ballot on pay and jobs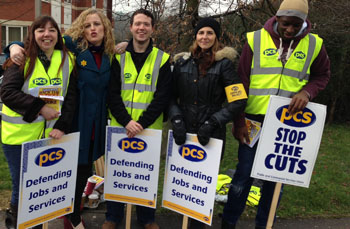 Dave Semple, PCS Branch Secretary Wigan (personal capacity)
PCS is to ballot its civil service members for strike action over pay, pensions, jobs and redundancy terms. The ballot period is 26 September to 7 November.
The union's demands are for a 10% pay increase with a living wage of at least £15 an hour, an immediate 2% cut in pension contributions, no worsening of redundancy terms, and no job cuts.
The ballot takes place against a background of a wage cut in real terms of at least 20%, as a result of over ten years of government pay restrictions, and a recently announced massive attack on jobs, with Tory plans to axe over 90,000 posts.
Socialist Party members in PCS support the strike action ballot, though believe it should have taken place earlier.
With RPI inflation running currently at 11.7%, the government pay limit of 2-3% is an insult. The 10% pay claim is modest and represents the least we can accept.
We also support the inclusion of jobs and other issues in the ballot. We have consistently argued for such a position, together with other members of the socialist rank-and-file Broad Left Network group.
When previous statutory ballots failed to secure the Tory anti-strike law 50% turnout threshold, we said the inclusion of other major issues would boost the prospects of winning a strike ballot.
At the union's recent annual conference the Left Unity leadership of PCS rejected our call for the inclusion of jobs in the ballot.
They now concede, behind closed doors, what they refused to accept in open debate.
The decision to provide within the ballot an element of disaggregation is welcome. This means that should the overall ballot fail to secure a turnout threshold of 50%, those groups within government departments that get the 50% will not be prevented from taking action.
Socialist Party members have consistently made the case for disaggregated ballots to be an option. The Left Unity leadership previously scoffed at the idea – they went with an 'all or nothing' approach, and ended up with nothing.
Tories weak
The Tories are weak and divided and, no matter the outcome of their leadership election, this will not change. The only thing that unites them is their determination to make workers pay for the crisis of their system.
Other public sector workers are already taking action, such as the RMT, with still more preparing to do so. Securing a statutory strike ballot will put PCS in a strong position to win on pay and jobs.
Socialist Party members will work tirelessly for a 'yes' vote. We will also be demanding of the union leadership a serious plan of action that shows a willingness to do what is necessary to halt the attacks on our members, and which wherever possible coordinates action with other workers.
PCS members have already suffered enough – it's time to fight back!
---
Health workers discuss response
As we go to press, the health service group of Unison is meeting to discuss its response to the government's derisory pay offer. Since 2020, health workers have been protesting for significant pay rises. Socialist Party members will be arguing for a serious national campaign, including preparation for strike action.
NHS workers will report in the next issue of the Socialist.
---
Colleges to strike
The University and Colleges Union has announced the "best further education college ballot results since the Tories brought in their anti-union bill". Last year 15 colleges passed the threshold to take strike action to get a better pay deal. Now 39 have passed the threshold! Coordinated strike action is planned for September.
---
Firefighters say no to insulting pay offer
The Executive Council of the Fire Brigades Union FBU has voted unanimously to reject a 2% pay 'offer'. The union says that firefighters never take industrial action lightly, but plans will now be made to step up its campaign for decent pay, including preparation for strike action.
A firefighter speaks to the Socialist in the next issue.
---