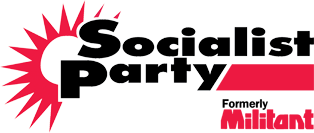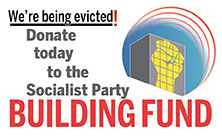 Archive article from The Socialist Issue 292
---
Home | The Socialist 21 March 2003 | Subscribe | News
Join the Socialist Party | Donate | Bookshop
Where Next For The Anti-War Movement?
SO THE 'liberation' of the Iraqis is beginning - with massive carpet bombing.
The US military have planned to use ten times the amount of bombs dropped in the whole of the last Gulf War in the first 48 hours of this war. They are prepared to use 'moabs', nicknamed the 'mother of all bombs', which are 40% more powerful than the lethal 'daisy cutters'.
The inevitable result is the destruction of the schools, the homes, and above all the bodies - the lives - of countless of those self same Iraqis. Aid agencies estimate that over ten million Iraqis will face starvation as a result of the war. The Pentagon has called this carnage 'awesome' but most of the world's population see it for what it is - blood spilt for oil.
Never before have our rulers gone to war in the face of such massive international opposition.
The anti-war movement to date has been magnificent. It has shaken the governments of the world and left Tony Blair hanging on to power by a thread, yet it has not stopped the war.
For US imperialism to back down now would be a devastating blow to their prestige. This premeditated showdown with Iraq has always been conceived by George Bush as a war, not for democracy or human rights, but for the economic and strategic interests of US imperialism, especially the oil companies.
It is really a war for oil but it has increasingly also become a struggle by Bush to re-assert the dominance of the USA on the world stage.
To stop the war in these circumstances would mean building a movement so powerful that the interests of Bush, and those of the US capitalist class, are put at greater risk from a movement at home than they would be by not going to war.
Strike action is key
IF THEY are given free reign, Bush and Co will not stop with the current war.

This is demonstrated graphically by the notes Rumsfeld wrote on September 11. While the world reeled with shock as the twin towers collapsed, Rumsfeld wrote: "Judge whether good enough [to] hit S.H. [Saddam Hussein] at the same time. Not only UBL [Osama Bin Laden]. Go massive. Sweep it all up. Things related or not."

Just as it was the movement against the Vietnam war that played a major role in forcing the US to pull out, it can be the current anti-war movement (already far bigger than any previous anti-war movement, including Vietnam) that can stop Rumsfeld and Co's plans to "go massive".

Mass movements against the war worldwide can play the primary role in derailing Bush's plans to continue waging his so-called 'war on terror', which is in reality a campaign of using brutal military force in order to assert US capitalism's dominance of the globe.

The huge demonstrations, and particularly the strikes and workplace walkouts against the war, both in Britain and internationally, show the way forward. Whilst they have not yet achieved their aims, they have weakened and undermined the position of Bush and, above all, of Blair.

The school students have already shown the older generation what can be achieved with their audacious and determined strike action.

However, it is trade union members - of which there are over seven million in Britain - that are potentially the most powerful force in the country. Trade unionists should step up their campaign for an emergency TUC congress to plan action against the war.

The Socialist Party, along with others, would campaign at such a conference for a 24-hour work stoppage. If the TUC campaigned for such a stoppage it would win support well beyond those who are already organised in trade unions. It would bring Britain to a halt in a massive show of strength against the war.

Some left trade union leaders, such as Billy Hayes (general secretary of the Communication Workers' Union) have already demanded that the TUC call a 24-hour work stoppage.

However, if the right-wing TUC leaders refuse to call strike action against the war that isn't the end of the matter. Left anti-war union leaders should conduct a massive campaign to build for strike action.

The Stop the War Coalition People's Assembly is calling, at the behest of the Socialist Party, for the left trade union leaders to produce 2,000 leaflets building for strike action and explaining to workers how to avoid disciplinary action.

Socialism

Home | The Socialist 21 March 2003 | Subscribe | News