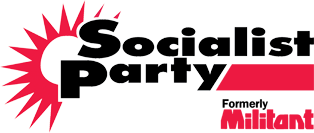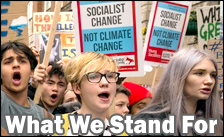 Archive article from The Socialist Issue 299
---
Home | The Socialist 10 May 2003 | Subscribe | News
Join the Socialist Party | Donate | Bookshop
Socialist Party election results
Thirty-one Socialist Party candidates received 7,814 votes in the local elections in England and Wales.
Socialist Party councillor Karen McKay, one of three Socialist Party councillors in Coventry, retained her seat with 1,185 votes, doubling her majority and winning 48.4% of the vote.
Pete Glover in Netherton and Orrell (Sefton) got 672 votes, 34% of the vote.
A number of the other candidates improved their percentage results compared to the previous occasions they had stood. Seven candidates got over 10% of the vote.
Results:
Seat

Candidate

Vote

England

Newcastle Byker

Bill Hopwood

357 votes (15.5%)

Newcastle West City

Cathy Collins

78 votes (5%)

Stockton on Tees

John Malcolm

Anne Hollifield

Freda Graham

Patrick Graham

104 votes

144 votes

168 votes

162 votes

Sheffield Park

Terry Wykes

87 votes (5.5% )

Huddersfield Newsome

Jean Goodison

165 votes (5%)

Wakefield East

Mick Griffiths

241 votes (8.2%)

Pontrefact North

John Gill

149 votes (6%)

Leeds Holbeck

Dave Jones

234 votes (8.7%)

Barnsley Wombwell

Angie Waller

73 votes (4%)

Merseyside Netherton and Orrell

Pete Glover

672 votes (34%)

Merseyside Litherland

Mike Brierley

118 votes

Birmingham Northfield

Louise Holdey

113 votes (2.01%)

Worcester All Saints

Rob Menzies

220 votes (16%)

Malvern Link, Worcester
Owen Morgan
141 votes (

8.7%)

Coventry

St Michaels

Councillor Karen Mackay

1,185 votes (48.4%)

Foleshill

Jim Hensman

348 votes (12.2%)

Whoberley

Mark Power

Michael Holton

253 votes (7.6%)

253 votes (7.6%)

Westwood

Jim Donelley

218 votes (7.6%)

Binley/Wilenhall

Sam Ashby

230 votes (6.8%)

Henley

Martha Young

262 votes (10.2%)

Lower Stoke

Jane Ashwell

345 votes (11.7%)

Leicester Braunstone

Steve Score

125 votes (5%)

Stevenage Bedwell

Steve Glennon

112 votes (4.8%)

Bristol Southville

Mark Baker

60 votes (1.89%)

Gloucester

John Ewers

98 votes (6.5%)

Wales

Wales Assembly Aberafan

Rob Williams

608 votes (3.2%)

Wales Assembly

Cardiff South and Penarth

Dave Bartlett

585 votes (2.9%)
Home | The Socialist 10 May 2003 | Subscribe | News