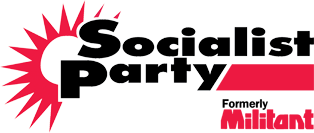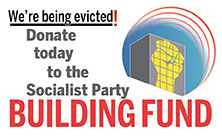 Archive article from The Socialist Issue 349
---
Home | The Socialist 29 May 2004 | Subscribe | News
Join the Socialist Party | Donate | Bookshop | Print
Child Care:
Wanted: A Real Childcare Strategy
THIS MONTH is the sixth anniversary of the government's childcare strategy.
Support for New Labour is plummeting generally but especially amongst women.
Desperate to try and turn this around, Tony Blair is hoping that some concessions on childcare will do the trick.
But as Lois Austin reports, there is a massive gap between New Labour pledges on childcare and the reality facing parents on the ground.
CHILDREN'S MINISTER Margaret Hodge and Education Minister Charles Clarke go on and on about how much they have invested in childcare over the last few years.
But anything at all would be an improvement on previous years under New Labour and Tory governments, when under five services such as nurseries, playgroups and toy libraries were slashed to the bone under the hammer of cuts to local government services.
The government claim that they have successfully targeted childcare at the poorest children. But the facts are different. There is only one childcare place for every 14 children under three living in poverty. Their childcare strategy is extremely under-funded, only targets a small number of areas and puts heavy reliance on the role of the private sector.
A study by the charity 4 Children puts the cost of providing children's centres in every community at £10 billion each year, for the next ten years. This means investing nearly ten times as much as the government presently does on early years provision.
One of the main reasons for the failure of the government's childcare policy is its reliance on the private sector. The wilful closure of state-run nurseries, and generous government subsidies to the private sector, has created a 'childcare for profit' industry. Incredibly, only 6% of childcare provision is run by local authorities.
Profit drive
A report by the National Audit Office (NAO) says government money spent on 'start-up' childcare schemes was wasted because of a lack of a plan on how to develop the schemes once they came into operation.
Many childcare providers were unable to meet their costs once government start-up funds dried up. The NAO also pointed out that childcare provision was patchy and unaffordable for many families.
The private sector is motivated by making a profit not by social provision. Under New Labour, 900 nurseries were started up. Almost all are private run, with a few run by the voluntary sector. The nurseries are located, in most cases, where the private sector believes better-off parents will pay their extortionate fees.
The drive for profits by the private vultures has led to a spiralling of nursery fees. Ten years ago, a nursery place could cost up to £65 a week. Today, fees range from £120 to £250 a week.
The average cost of full-time care per child under two years old is £7,000 a year. The market as a whole is worth a staggering £2 billion a year. This amount is clearly way out of the reach of most working-class families.
Is it any wonder at all that only 13% of parents can afford to use "formal" (i.e. not relatives and friends) childcare facilities all the time? It is estimated that grandparents save the government £1 billion in unpaid childcare costs.
Like all other social services, such as social care and education, a sharp class divide exists in Britain. It is largely middle class parents that can afford to spend around £30 to £40 a day on a place in private childcare. 73% of parents report a lack of affordable childcare in their area.
Sure Start
THE GOVERNMENT'S stated goal is to provide a 'child centre' in every community. These centres, the government claims, will provide full and part-time childcare, and deal with health and social issues too. But it is simply pie in the sky to expect private companies to plug the childcare gap.
The Daycare Trust carried out a study comparing social care and childcare and the effects of the 'private profit sector'. If the appalling level of social care for the elderly, as outlined by the report, is anything to go by, the government's insistence on the predominant role of the private sector in childcare will be disastrous.
70% of care homes are now run by the private sector and the overall number of residential care home places has fallen by 50,000 since 1997.
The market is unable to provide for the social needs of the elderly, let alone children.
The avowed aim of the Sure Start scheme is to offer early years support services to children and families in the poorest communities. So far, however, Sure Start programmes have only targeted the poorest 20% of wards in the country. This policy is heavily criticised by childcare campaigners. They point out that 56% of the poorest children actually live outside these specific wards.
Most Sure Start programmes are viewed by parents as a step forward because the facilities that existed before were so bad. But because of the very small number of areas in which Sure Start operates, it is extremely frustrating when you are told you cannot attend a Sure Start event or project with your children because you live out of the catchment area.
Targeted funding at such a small area is divisive and exclusive. In the past funding for similar services would have gone through the local authority and would have been open to all.
Another 'achievement' of this government is the creation of a nursery place for every three and a half and four year-old. This is for two and a half hours a day per week. In the first case, it is not true that every borough has achieved this target. For example, Enfield, in London, only has enough places for 75% of 3-4 year olds.
Also, the 'free' two and a half hours a day placement can be counted as contributing towards the cost of any type of formal childcare, such as a child minder. And part-time nursery care is not much use to parents who want to work full - time.
Quality care
IT IS also important to look at the quality of care and education that children are receiving.
Recent research into early years education called the Effective Provision of Pre-School Education (EPPE) Project, carried out by academics from four leading universities, indicates that while "good quality pre-school education can be found in all kinds of settings irrespective of type of provider... integrated centres and nursery schools provision have the highest scores on pre-school quality, while playgroups private day nurseries and local authority centres have lower scores."
By "integrated centres" the EPPE means where the childcare fully combines education and care. This is important because all evidence shows that pre-school children need a great amount of one to one emotional care and attention. A "key worker" system is very vital when caring for small children.
In practice, the key worker system breaks down in many privately-run nurseries. Low pay and poor working conditions leads to high turnover of staff, causing disruption and distress for the children. Staff turnover rates in the childcare sector are estimated to stand at 25%.
In many local authority nurseries, particularly those that have had to rapidly expand to meet the government target of a place for all three and a half year olds, little emotional care is given to the children, simply because there are just too many to be cared for in this way.
Some local authority nurseries providing places for three and a half year olds do not even operate a key worker system.
There should be quality childcare places available for all parents that want them in every area. These should be publicly funded, well resourced with fully qualified, well-paid staff, and meet the emotional and educational needs of every child.
The provision of childcare needs to be flexible enough to take into account the real hours the parents work, including breakfast clubs, after-school clubs and holiday schemes.
This would enable children to be cared for at a level that should be their basic right, a right denied them currently by New Labour and the free market profit-driven system they uphold.
---
Child Care Tax Credit - should cover full cost
THE GOVERNMENT has introduced Child Care Tax Credit (CCTC) benefits to help parents cover costs and to allow them to go to work. But even if you get CCTC, it only covers 70% of childcare costs with a ceiling on how much can be paid.
Costs can run into hundreds of pounds each month if a child has a full-time place or if there is more than one child in care per family.
A study of the 160,000 parents who claimed CCTC in 2002, found that when all other childcare costs are taken into account, such as their care during unsociable working hours and holiday costs etc, the CCTC only covers around 40% of real childcare costs.
In addition, some of the CCTC received is counted as income when applying for housing benefit and Council Tax benefits.
Parents can often find they lose most or all of these other benefits once they receive CCTC and the Working Families Tax Credit (WFTC), in some cases cancelling out the financial benefits of working.
CCTC should cover the full cost of all types of childcare and be disregarded as income when assessing other benefits.
---
Parents pay £3,010 million (£3bn) - Government pays £160 million
IN 2002/2003, investment in the government's childcare strategy was just £160 million with a 'promise' of additional funding in 2007/2008 of £669 million for Sure Start services (the new 'Early Years Project').
The Childcare Tax Credit added a further £315 million to the Early Years programme. But compare these figures to what parents pay themselves to get childcare. In 2002/2003, parents spent a huge £3.01 billion on childcare. In fact, parents in England spend more on childcare than any other European country.
On average, they have to pay 85% of costs, whereas the figure is around 30% in the rest of the EU.
Since the launch of the national Childcare Strategy, in 1998, 626,000 childcare places have been created in England. But another 301,000 places have closed in the same period. So, a staggering half of all places have gone!
---
We demand:
A network of good quality, flexible, publicly funded childcare that is free and accessible to all parents who want it.

All private nurseries and childcare facilities to be publicly funded and run so that childcare can be democratically planned to meet the needs of parents and children.

A living wage and high-level training for all childcare workers.
---
Low Pay
Pay Childcare Staff A Living Wage
ACCORDING TO the Daycare Trust, the private sector pays employees lower wages, provides only the minimum holidays and sickness benefits and makes little or no contribution towards training staff.
Clearly the extension of the private sector into childcare will do nothing to create the well-trained and motivated workforce the government says is needed.
There needs to be massive investment in training and education for those working with small children and a living wage given to nursery staff.
Childcare is traditionally a job carried out by women, with low pay, low status and poor conditions. Around 97% of childcare staff are female. Pre-school staff make up the lowest paid in the childcare sector, with pay averaging at £6 an hour.
Many childcare workers are paid no more than the measly national minimum wage.
In order to seriously increase and to raise the number of childcare places with motivated and qualified staff there needs to be a big increase in wages and much better conditions.
The current nursery nurses strike in Scotland illuminates the appalling pay and conditions faced by many workers in this sector. Nursery nurses were earning at little as £13,000 a year. But a determined all-out strike by these workers, lasting several weeks, has secured significant wage increases in many Scottish local authority areas.
---
At the bottom of the pile
OFTEN WHEN a woman is pregnant she feels powerful and in control of her life. But once the baby is born this society puts you and your child at the bottom of the pile.
Nancy
If you choose to stay at home you have to put up with the monotony of domesticity and lack of money and financial independence.
If you go to work full time you pay almost all your wages over in childcare. If you work part time you have to accept that you are doing it for your sanity and not material gain.
When I went back to work the after school club was full and it meant constant juggling between family and friends to work a measly eighteen hours a week.
---
MY TWINS eventually got a place in what used to be a subsidised workplace nursery attached to the local hospital. The prices were hiked up to £30 a day which meant that only the doctors or those on Child Care Tax Credits could afford it (with a struggle). Most of the staff at the hospital couldn't.
Paula
Once my twins started state nursery for two and half hours a day we then had to find a childminder for the rest of the day. I've not found anyone who can accept two children together for hours that I need.
I've given up looking and have now cobbled together friends and relatives to pick them up and look after them for me.
---
GOING TO work and putting my son in a nursery was completely out of the question there is no way I would have been able to pay childcare fees in central London even with Child Care Tax Credits.
Elly
Now my son is at a local authority nursery for two and a half hours a day. The staff are very hard working and committed but there are not enough of them and they just do not have enough resources to cater adequately for all the children.
My son took a while to settle in at nursery. I felt that he needed a lot of emotional support and care but his key worker had too many children to give him the care he needed.
They were all rushed off their feet and unable to fill in and keep up to date his 'early years' achievement folder. There is only one trained nursery teacher for about 27 children, one or sometimes two NEB trained staff and the rest are class room assistants with no training whatsoever.
---
NOTTINGHAM COUNCIL is threatening to close King Edward Park Nursery. It failed to consider expanding the nursery by providing 'wrap-around' care, to include things like breakfast clubs and after-school clubs for older children.
Janice, parent
We got 3,000 signatures on a petition against the closure which we handed in to the local council.
---
Home | The Socialist 29 May 2004 | Subscribe | News