The Socialist 6 March 2019
Cuts must stop - boot the Tories out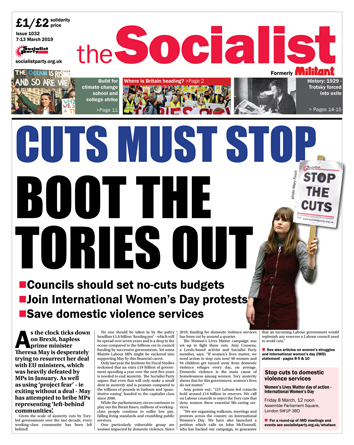 ---
No retreats: Corbyn must stand firm against Blairites
---
---
Boot out failing Grayling and the other Tory wreckers
Solidarity with Chris Williamson
Trade union action to end low pay now!
A&E 4-hour waiting targets scrapped - Save our NHS!
---
A socialist programme to end women's oppression
International Women's Day 2019: End oppression with fight for socialism
---
Leon Trotsky's struggle against Stalinism
---
Southampton: Fight council cuts
Cuts must stop - boot the Tories out
Wildfires hit Europe - build for 15 March student climate strikes
Swansea: Labour council tries to dodge no-cuts protest
Hull: support for anti-cuts policies at Corbyn solidarity rally
Hundreds of Tamils protest against death-threat brigadier
---
Women workers' militancy during the 'great unrest'
PO Box 1398, Enfield EN1 9GT
020 8988 8777

Link to this page: https://www.socialistparty.org.uk/issue/1032/28815
Home | The Socialist 6 March 2019 | Join the Socialist Party
Subscribe | Donate | Audio | PDF | ebook
Workplace news in brief
Cleaners and guards fight MoJ outsourcing
Four unions held a day of action against outsourcing on 26 February. They marched to three coordinated strikes and organised other protests too.
Cleaners and security guards in independent union United Voices are demanding a living wage at the Ministry of Justice. Members of civil servants' union PCS at the government Department of Business, Energy and Industrial Strategy also want a living wage plus equal terms and conditions and an end to outsourcing.
Cleaners in the Independent Workers Union of Great Britain at the University of London want equality with directly employed staff. Transport union RMT also backed the action.
---
Enfield school workers strike
Staff in the National Education Union (NEU) are striking against academisation at Galliard school in Enfield, London did so again on 27 February.
Later that day, Labour Party and Unite members, backed by the Socialist Party, organised a council lobby where a Labour councillor refused to vote for any more cuts. The NEU will strike again 6-7 March.
---
Greenwich cleaners fight privatisation
Cleaners and caterers in unions Unite and Unison working for GSPlus in Greenwich protested outside the council on 27 February demanding they be brought back in-house.
---
Birmingham bin workers strike
Bin workers in Birmingham took more strike action against blacklisting by the Blairite council. They will strike again on dates throughout March if they're demands aren't met.
Come to the Birmingham rally hosted by National Shop Stewards Network - Defend workers from council attacks.
Tuesday 12 March, 6.30pm, Birmingham and Midland Institute, 9 Margaret Street, B3 3BS.
Speakers include: Howard Beckett - Unite assistant general secretary, Mandy Buckley - Birmingham home care workers Unison convenor, Rob Williams - National Shop Stewards Network chair, and a bin workers' rep from Unite.
---
NSSN conference
National Shop Stewards Network conference
Saturday 6 July, 11am-4.30pm, Conway Hall, 25 Red Lion Square, London, WC1R 4RL shopstewards.net
---
In this issue
---
What we think

No retreats: Corbyn must stand firm against Blairites
---
Workplace news

Stop post-16 education cuts

Interview with a shop worker

MPs boost their own pay

Workplace news in brief
---
News

Boot out failing Grayling and the other Tory wreckers

Solidarity with Chris Williamson

Trade union action to end low pay now!

A&E 4-hour waiting targets scrapped - Save our NHS!

Them & Us
---
International Women's Day 2019

A socialist programme to end women's oppression

International Women's Day 2019: End oppression with fight for socialism
---
Socialist history

Leon Trotsky's struggle against Stalinism
---
Socialist Party reports and campaigns

Southampton: Fight council cuts

Cuts must stop - boot the Tories out

Wildfires hit Europe - build for 15 March student climate strikes

Swansea: Labour council tries to dodge no-cuts protest

Hull: support for anti-cuts policies at Corbyn solidarity rally

Hundreds of Tamils protest against death-threat brigadier
---
Opinion

Women workers' militancy during the 'great unrest'

The Socialist Inbox
---
Home | The Socialist 6 March 2019 | Join the Socialist Party