The Socialist 22 January 2020
Council cuts continue... So must the fightback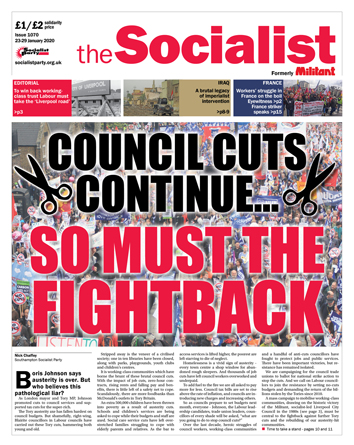 ---
Council cuts continue... So must the fightback
End climate change, end inequality, end capitalism!
Capitalism fails NHS services in Liverpool: scrap PFI!
---
To win back working-class trust Labour must take the 'Liverpool road'
---
Eyewitness report: workers' struggle in France on the boil
France striker speaks: real, deep anger needs union strategy
Iraq - a brutal legacy of imperialist intervention
India: Huge general strike but a missed opportunity
---
Royal Mail workers to reballot for strike action
A win against academisation in east London
Belfast Hovis workers' all-out strike
Westex strikers read the Socialist
Ealing tax office strike continues
---
Make a stand: set legal no-cuts council budgets
"If you think bus and rail services are crap, sign our petition to take them back"
Building Tamil Solidarity with youth and the unions
---
Robert Burns: of the people, for the people
PO Box 1398, Enfield EN1 9GT
020 8988 8777
editors@socialistparty.org.uk