The Socialist 17 June 2020
Capitalism = inequality. Fight for socialism!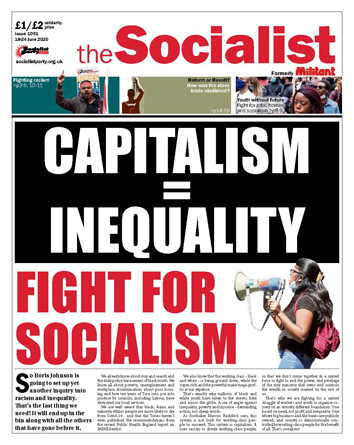 ---
Which way forward for Black Lives Matter protests?
Oppose racist symbols and the racist system
---
Capitalism = inequality. Fight for socialism!
Black Lives Matter: more youth protests take aim at capitalism
Contact tracing fiasco: You can't believe a word the government tells us
---
Youth without a future: fight for jobs and homes - fight for socialism!
---
Resist relaxation of Sunday trading laws
Debenham's protests: Workers must not pay price of Covid-19
Battle with BT management needed to win real pay rise
---
Tories retreat on free school meals
Parents' protests against Welsh schools reopening
Cumbria: Teachers, parents and socialists fight reckless school reopening
---
Tears and anger over the treatment of the Windrush generation
Film: Da 5 Bloods - entertaining but politically constrained
---
Why we joined the Socialist Party
20 days. One town. Four domestic violence murders.
---
Reform or revolt? How was the slave trade abolished?
---
Scotland and coronavirus - a catalogue of government failure
---
Three years on: No justice for Grenfell, no peace from BLM
Two-metre rule under 'review' - Another case of profit before safety
PO Box 1398, Enfield EN1 9GT
020 8988 8777
editors@socialistparty.org.uk