The Socialist 1 July 2020
Tories put profit before lives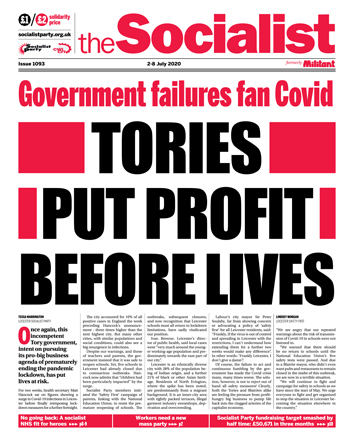 ---
A socialist NHS fit for heroes
---
PCS: Change in leadership needed to secure union's future
Sunday trading: Government blinks first
Trade unionists stand in solidarity with Maxine Peake
Equity union president elections
---
Workers need a new mass party to defend their interests
---
Tories put profit before lives
Tory full return to school plans gamble with lives
Yes to self-identity: Fight for trans rights
Benefits system being used to force return to unsafe workplaces
Leeds City Council in danger of bankruptcy
Capitalism and corruption go hand in hand
---
I left Labour and want to end capitalism - join us in Socialist Party
Cardiff community fights nursery closure: Council must step in
Fighting Fund: Target smashed by half time
Black Lives Matter has not stopped - protesters flock to Socialists
Red flags line road for Ken Douglas
---
75th anniversary of the Attlee Labour government
---
From slavery to Black Lives Matter - racism and capitalist injustice exposed
PO Box 1398, Enfield EN1 9GT
020 8988 8777

Link to this page: https://www.socialistparty.org.uk/issue/1093/31013
Home | The Socialist 1 July 2020 | Join the Socialist Party
Subscribe | Donate | Audio | PDF | ebook
Black Lives Matter has not stopped - protesters flock to Socialists
Stoke
After months of lockdown, Socialist Party members were out in the city centre to support the Black Lives Matter (BLM) protest in Hanley on 27 June. The 100 protesters were well organised, with two-metre distancing adhered to very well. Socialist Party members wore face masks.
Rory, one of the speakers, explained that he had been stopped by police more than 40 times because of the colour of his skin. And that police officers were responsible for the death of a local black worker, but have still not been charged for their crime. He directed protesters to our "Socialist stall" so they could pick up leaflets and more.
As soon as the protest finished, 30 protesters converged on the Socialist Party campaign stall to get leaflets, copies of the Socialist and BLM bracelets. Most signed up to help build the movement to smash racism, and five expressed an interest in joining the Socialist Party.
London
27 June marked the one-year anniversary of the death of Shukri Abdi, a Somali refugee who drowned after being bullied and threatened to "get in the water". Thousands of working-class young people took to the streets again on that weekend.
Protesters demanded justice for Shukri and a proper investigation into her case. It was later revealed after her death that she was severely bullied and no action was taken.
In remembering Shukri, we also remember all the refugees that are suffering in silence, abused by the hostile immigration system, and left with no help by right-wing governments.
Such an abusive situation cannot continue. The Socialist Party also supports the Refugee Rights Campaign - run by refugees themselves, fighting for their rights here in Britain.
The Socialist Party participated in the protests, and gave out leaflets linking the need to build a mass movement to smash racism with the fight for jobs, homes, services, and a decent future for all. A socialist world could finally end all oppression and exploitation of the working class.
Wolves
Organised by local young women, with support from Windrush generation campaigners, 400 turned out to a protest on 28 June. The Socialist Party's ideas were warmly received. One protester carried a homemade placard quoting the closing line of the Communist Manifesto: "We have nothing to lose but our chains".
Nick Hart
Brighton
4,000 people attended the Black Lives Matter march. But the press only reported 1,000. Black Lives Matter is supported brilliantly in our city. There is no room for racism. We need to stand up and fight for what is right and to smash this evil government.
Steve Dempster
---
In this issue
---
No going back

A socialist NHS fit for heroes
---
Workplace news

PCS: Change in leadership needed to secure union's future

Come to the NSSN conference

Sunday trading: Government blinks first

Trade unionists stand in solidarity with Maxine Peake

Equity union president elections

Tower Hamlets council strike

MoJ cleaners' covid outbreak
---
What we think

Workers need a new mass party to defend their interests
---
News

Tories put profit before lives

Boris's new big deal

Tory full return to school plans gamble with lives

Yes to self-identity: Fight for trans rights

Benefits system being used to force return to unsafe workplaces

Leeds City Council in danger of bankruptcy

Capitalism and corruption go hand in hand

Plastic waste ignored

News in brief
---
Campaigns

I left Labour and want to end capitalism - join us in Socialist Party

Cardiff community fights nursery closure: Council must step in

Fighting Fund: Target smashed by half time

Black Lives Matter has not stopped - protesters flock to Socialists

Selling the Socialist

Red flags line road for Ken Douglas
---
Lessons from history

75th anniversary of the Attlee Labour government
---
Readers' opinion

From slavery to Black Lives Matter - racism and capitalist injustice exposed

Readers' opinion
---
Home | The Socialist 1 July 2020 | Join the Socialist Party
Related links:

Race disparity gets worse - fight to improve living standards for all

After the polarised elections - what way forward?

BLM: Socialist alternative to racist capitalism

Video game developer attacks Black Lives Matter

Fight racism, Trump and capitalism

BAME Covid deaths due to capitalist inequality, confirms government

Under the microscope

Non-fiction: 'Why I no longer talk to white people about race'

US: Police escape justice over Breonna Taylor killing

Socialism 2020

Socialism 2020

Socialism 2020

How will Socialism 2020 work?

Obituary: Paul Chettle

Selling the Socialist