The Socialist 16 December 2020
Unemployment and Covid rising - The crisis is not over - Fight for jobs and safety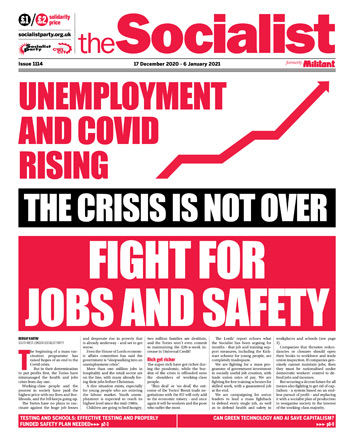 ---
Unemployment and Covid rising - the crisis is not over - Fight for jobs and safety
Mass testing - we need trade union oversight and full pay for all
Rich countries hoarding vaccine is danger to us all
No to Tories' new anti-protest law
Maternity unit deaths - democratic, public ownership needed
Met police investigate British mercenary war crimes against Tamils
No surprise, poverty is rising
---
Cancel exams for class of Covid
Welsh schools close for safety after union pressure
Effective testing and properly funded safety plan needed in schools
East London shows the way: strikes are how to fight for state education
Determined strikers at Leaways school
---
Openreach and EE: Massive vote for action
PCS union conference stripped of powers by NEC
Unite launch ballot over sacked London bus rep
Christmas redundancy shock at L&Q housing association
Stop 'fire and rehire' at British Gas
---
Can green technology and AI save capitalism?
---
'Socialism - Utopian and Scientific' by Engels
---
Protests in solidarity with Indian farmers
Book: The national question - a Marxist approach
School boy assaulted by police in Tottenham
TUSC relaunch in the north west
Protest against immigration enforcement centre in Newham
Tremendous fighting fund reflects confidence
---
PO Box 1398, Enfield EN1 9GT
020 8988 8777

Link to this page: https://www.socialistparty.org.uk/issue/1114/31756
Home | The Socialist 16 December 2020 | Join the Socialist Party
Subscribe | Donate | Audio | PDF | ebook
Maternity unit deaths - democratic, public ownership needed to ensure an accountable NHS
Jane Nellist, Coventry Socialist Party
The recently published Ockenden report into the deaths and serious injuries of mothers and babies at the maternity units in Shropshire and Telford Hospital NHS Trust exposes a very dark side of the lack of accountability in the NHS.
Credit must go to those parents who have fought tirelessly over many years to expose the hospital's failings at great cost to their own health and wellbeing, encouraging other families to speak out.
Although the report has only looked at 250 cases, the investigation has resulted in over 1,862 cases being exposed. An astonishing number of failures, have caused personal heartbreak and a total lack of confidence in a service which serves half-a-million people in a mainly rural area. It begs the question, why has it taken over two decades to expose what was happening?
Bosses shift blame
The 48-page report, which has taken over two years to compile, is horrific in its findings. Women and families have been ignored, brutalised, killed, and even falsely accused of damaging their babies in an attempt to shift blame.
The very clear report outlines nearly 30 'local learning actions' that must be introduced now, as well as seven 'immediate and essential actions'. The Royal College of Obstetricians and Gynaecologists and the Royal College of Midwives have both called for all the findings to be acted upon immediately, by all maternity services.
It should never be allowed to happen: NHS bosses seek a cover up, go on to repeat mistakes over and over again, and ignore recommendations, causing more needless misery and heartache to many families over many years.
It is vital that there is a struggle to strengthen the trade unions in the health service, so that workers are in a position to be able to whistle-blow and suggest changes, without fear of victimisation or losing their jobs.
Accountability
There is no accountability of NHS services to the local community, except for a few Patient Participation Groups. The Socialist Party demands democratic accountability across the whole of the NHS. This means being accountable to service users, NHS workers through the health service trade unions, and the working class as a whole.
With the prospect of even more cuts, privatisation and rationalising services in the NHS, the issue of accountability is vital. Privatising health services makes them less accountable, and the drive for profit makes services less safe.
That's why the Socialist Party argues for the renationalisation of the whole of the NHS under democratic working-class control and management.
If the Ockenden Report highlights one thing, it's that these tragic events should have been exposed and acted upon a long time ago. Democratic, public ownership is the only way to make sure that the NHS stays true to its original intentions.
---
In this issue
---
News

Unemployment and Covid rising - the crisis is not over - Fight for jobs and safety

Mass testing - we need trade union oversight and full pay for all

Fight for NHS pay and funding

Rich countries hoarding vaccine is danger to us all

No to Tories' new anti-protest law

Maternity unit deaths - democratic, public ownership needed

Met police investigate British mercenary war crimes against Tamils

No surprise, poverty is rising
---
Education

Cancel exams for class of Covid

Welsh schools close for safety after union pressure

Effective testing and properly funded safety plan needed in schools

East London shows the way: strikes are how to fight for state education

Determined strikers at Leaways school
---
Workplace News

Openreach and EE: Massive vote for action

PCS union conference stripped of powers by NEC

Unite launch ballot over sacked London bus rep

Christmas redundancy shock at L&Q housing association

Stop 'fire and rehire' at British Gas
---
New Technology

Can green technology and AI save capitalism?
---
Engels

'Socialism - Utopian and Scientific' by Engels
---
Reports & campaigns

Protests in solidarity with Indian farmers

Book: The national question - a Marxist approach

School boy assaulted by police in Tottenham

TUSC relaunch in the north west

Protest against immigration enforcement centre in Newham

Tremendous fighting fund reflects confidence
---
Quiz

Quiz 2020
---
Home | The Socialist 16 December 2020 | Join the Socialist Party