The Socialist 16 December 2020
Unemployment and Covid rising - The crisis is not over - Fight for jobs and safety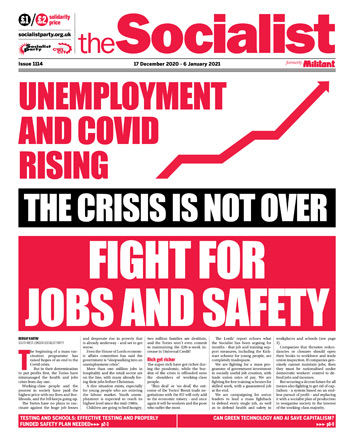 ---
Unemployment and Covid rising - the crisis is not over - Fight for jobs and safety
Mass testing - we need trade union oversight and full pay for all
Rich countries hoarding vaccine is danger to us all
No to Tories' new anti-protest law
Maternity unit deaths - democratic, public ownership needed
Met police investigate British mercenary war crimes against Tamils
No surprise, poverty is rising
---
Cancel exams for class of Covid
Welsh schools close for safety after union pressure
Effective testing and properly funded safety plan needed in schools
East London shows the way: strikes are how to fight for state education
Determined strikers at Leaways school
---
Openreach and EE: Massive vote for action
PCS union conference stripped of powers by NEC
Unite launch ballot over sacked London bus rep
Christmas redundancy shock at L&Q housing association
Stop 'fire and rehire' at British Gas
---
Can green technology and AI save capitalism?
---
'Socialism - Utopian and Scientific' by Engels
---
Protests in solidarity with Indian farmers
Book: The national question - a Marxist approach
School boy assaulted by police in Tottenham
TUSC relaunch in the north west
Protest against immigration enforcement centre in Newham
Tremendous fighting fund reflects confidence
---
PO Box 1398, Enfield EN1 9GT
020 8988 8777

Link to this page: https://www.socialistparty.org.uk/issue/1114/31757
Home | The Socialist 16 December 2020 | Join the Socialist Party
Subscribe | Donate | Audio | PDF | ebook
No surprise, poverty is rising
We want real benefits, living wage, rent control and socialism
Sam Morden, South Tyne and Wear Socialist Party
A report by the Joseph Rowntree Foundation shows that 2.4 million, including half a million children, experienced "destitution" in 2019 - before coronavirus reached the UK. This is up 54% since 2017.
In a country where unemployment is on the rise because of the financial crisis, and more people are forced onto what little Universal Credit may give (draconian sanctions permitting), these numbers are set only to increase.
Of the destitute, a fifth are homeless or suffer from addiction. 54% have a chronic health problem or disability. 14% are in paid work. These are indictments of the capitalist system and its effect on our health.
Destitution has risen sharply in all regions. The worst affected are London, where wealth contrasts with grinding poverty, and the north of England.
A January 2020 report by the Child Poverty Action Group shows that my home constituency - Gateshead - has one of the highest rates of child poverty in the north east (42%) - equal to Middlesbrough, and second only to Newcastle Central (48%).
The Foundation's report calls for the £20-a-week rise in Universal Credit to be extended, which the Socialist Party supports. But, in one of the richest countries in the world, it should be much more.
Benefits should be similar to a real living wage. Rents should be capped and council homes built. Only when the economy is taken into democratic public ownership will we see the wealth created used to end poverty for good.
---
In this issue
---
News

Unemployment and Covid rising - the crisis is not over - Fight for jobs and safety

Mass testing - we need trade union oversight and full pay for all

Fight for NHS pay and funding

Rich countries hoarding vaccine is danger to us all

No to Tories' new anti-protest law

Maternity unit deaths - democratic, public ownership needed

Met police investigate British mercenary war crimes against Tamils

No surprise, poverty is rising
---
Education

Cancel exams for class of Covid

Welsh schools close for safety after union pressure

Effective testing and properly funded safety plan needed in schools

East London shows the way: strikes are how to fight for state education

Determined strikers at Leaways school
---
Workplace News

Openreach and EE: Massive vote for action

PCS union conference stripped of powers by NEC

Unite launch ballot over sacked London bus rep

Christmas redundancy shock at L&Q housing association

Stop 'fire and rehire' at British Gas
---
New Technology

Can green technology and AI save capitalism?
---
Engels

'Socialism - Utopian and Scientific' by Engels
---
Reports & campaigns

Protests in solidarity with Indian farmers

Book: The national question - a Marxist approach

School boy assaulted by police in Tottenham

TUSC relaunch in the north west

Protest against immigration enforcement centre in Newham

Tremendous fighting fund reflects confidence
---
Quiz

Quiz 2020
---
Home | The Socialist 16 December 2020 | Join the Socialist Party