The Socialist 16 December 2020
Unemployment and Covid rising - The crisis is not over - Fight for jobs and safety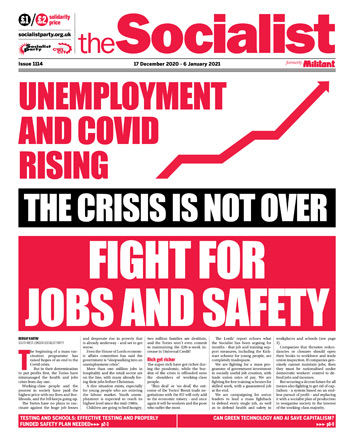 ---
Unemployment and Covid rising - the crisis is not over - Fight for jobs and safety
Mass testing - we need trade union oversight and full pay for all
Rich countries hoarding vaccine is danger to us all
No to Tories' new anti-protest law
Maternity unit deaths - democratic, public ownership needed
Met police investigate British mercenary war crimes against Tamils
No surprise, poverty is rising
---
Cancel exams for class of Covid
Welsh schools close for safety after union pressure
Effective testing and properly funded safety plan needed in schools
East London shows the way: strikes are how to fight for state education
Determined strikers at Leaways school
---
Openreach and EE: Massive vote for action
PCS union conference stripped of powers by NEC
Unite launch ballot over sacked London bus rep
Christmas redundancy shock at L&Q housing association
Stop 'fire and rehire' at British Gas
---
Can green technology and AI save capitalism?
---
'Socialism - Utopian and Scientific' by Engels
---
Protests in solidarity with Indian farmers
Book: The national question - a Marxist approach
School boy assaulted by police in Tottenham
TUSC relaunch in the north west
Protest against immigration enforcement centre in Newham
Tremendous fighting fund reflects confidence
---
PO Box 1398, Enfield EN1 9GT
020 8988 8777

Link to this page: https://www.socialistparty.org.uk/issue/1114/31763
Home | The Socialist 16 December 2020 | Join the Socialist Party
Subscribe | Donate | Audio | PDF | ebook
Stop 'fire and rehire' at British Gas
As a loyal employee of over 20 years I am disgusted with the way senior management at British Gas are treating their staff.
The threat of the S188 'fire and rehire' is bad enough, but now the company is trying to break the collective bargaining of two unions, singling out the 'no' voters in order to pressure workers into signing up for greatly reduced terms, conditions and pay.
Years of extremely poor management and horrendously bad financial decisions have led to customer losses. They use the energy pay cap and the Covid crisis as cover for their own failures.
The new chief executive officer Chris O'Shea is not willing to learn from his predecessors' mistakes and is now making a whole new set of poor decisions, hurting the brand and trust of both customers and workforce alike.
How he sleeps at night is beyond me, but I'm sure his bank balance and possible shareholder rewards are the motivation. Sad times, and if this is allowed to continue, watch this space, as large companies follow suit. This is disaster capitalism at its worst.
British Gas Engineer
---
In this issue
---
News

Unemployment and Covid rising - the crisis is not over - Fight for jobs and safety

Mass testing - we need trade union oversight and full pay for all

Fight for NHS pay and funding

Rich countries hoarding vaccine is danger to us all

No to Tories' new anti-protest law

Maternity unit deaths - democratic, public ownership needed

Met police investigate British mercenary war crimes against Tamils

No surprise, poverty is rising
---
Education

Cancel exams for class of Covid

Welsh schools close for safety after union pressure

Effective testing and properly funded safety plan needed in schools

East London shows the way: strikes are how to fight for state education

Determined strikers at Leaways school
---
Workplace News

Openreach and EE: Massive vote for action

PCS union conference stripped of powers by NEC

Unite launch ballot over sacked London bus rep

Christmas redundancy shock at L&Q housing association

Stop 'fire and rehire' at British Gas
---
New Technology

Can green technology and AI save capitalism?
---
Engels

'Socialism - Utopian and Scientific' by Engels
---
Reports & campaigns

Protests in solidarity with Indian farmers

Book: The national question - a Marxist approach

School boy assaulted by police in Tottenham

TUSC relaunch in the north west

Protest against immigration enforcement centre in Newham

Tremendous fighting fund reflects confidence
---
Quiz

Quiz 2020
---
Home | The Socialist 16 December 2020 | Join the Socialist Party