The Socialist 20 January 2021
Make the super-rich pay, not the poorest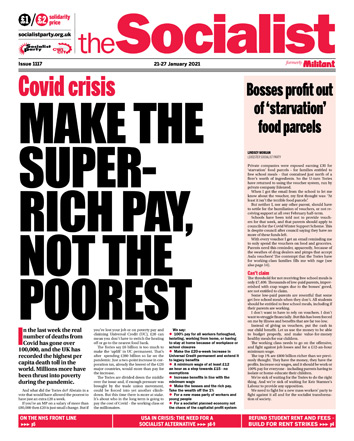 ---
Make the super-rich pay, not the poorest
Bosses profit out of 'starvation' food parcels
Teachers: On the front line, in their own words
Peace and Justice Project - no way forward for socialism
Millionaire tendency regains control of Scottish Labour
---
The Tory blame game: scapegoating the working class - 100% pay for all now
Covid: Bosses chase profit and put workers in danger
Vaccine confidence - a worker's response
Life in lockdown - being home from school when you're poor is hard
---
---
Police use Covid laws to intimidate BLM protesters
New Cross Gate fire 40 years ago
---
USA in crisis - the need for a socialist alternative
Trump Twitter ban: only independent workers' voice can defeat right
---
PCS Broad Left Network conference
Rolls-Royce Barnoldswick factory future secured following strike action
Morrisons - £10/hr headline hides divisive pay offer
A day in the life of an agency worker
---
Plymouth rent strike continues
Scrap fees, refund rents and pay a living grant
---
London's May elections: Tories and Labour's Khan both vying to slash public services
Socialist Party national women's meeting
Why I joined the Socialist Party
Christmas Crossword Competition
---
Books that inspired me: The Road to Wigan Pier
---
PO Box 1398, Enfield EN1 9GT
020 8988 8777

Link to this page: https://www.socialistparty.org.uk/issue/1117/31851
Home | The Socialist 20 January 2021 | Join the Socialist Party
Subscribe | Donate | Audio | PDF | ebook
Covid crisis
Make the super-rich pay, not the poorest
In the last week the real number of deaths from Covid has gone over 100,000, and the UK has recorded the highest per capita death toll in the world. Millions more have been thrust into poverty during the pandemic.
And what did the Tories do? Abstain in a vote that would have allowed the poorest to have just an extra £20 a week.
If you're an MP on a salary of more than £80,000 then £20 is just small change. But if you've lost your job or on poverty pay and claiming Universal Credit (UC), £20 can mean you don't have to switch the heating off or go to the nearest food bank.
The Tories say £6 billion is too much to make the 'uplift' in UC permanent. That's after spending £280 billion so far on the pandemic. Just a two-point increase in corporation tax, already the lowest of the G20 major countries, would more than pay for the increase.
The Tories are divided down the middle over the issue and, if enough pressure was brought by the trade union movement, could be forced into yet another climbdown. But this time there is more at stake. It's about who in the long term is going to pay the cost of Covid - the working class or the millionaires.
We say:
100% pay for all workers furloughed, isolating, working from home, or having to stay at home because of workplace or school closures
Make the £20-a-week increase in Universal Credit permanent and extend it to legacy benefits
A minimum wage of at least £12 an hour as a step towards £15 - no exemptions
Increase benefits in line with the minimum wage
Make the bosses and the rich pay. Take the wealth off the 1%
For a new mass party of workers and young people
For a socialist planned economy not the chaos of the capitalist profit system
---
In this issue
---
News

Make the super-rich pay, not the poorest

Bosses profit out of 'starvation' food parcels

Teachers: On the front line, in their own words

Peace and Justice Project - no way forward for socialism

Millionaire tendency regains control of Scottish Labour

News in Brief
---
Covid-19

The Tory blame game: scapegoating the working class - 100% pay for all now

Covid: Bosses chase profit and put workers in danger

Vaccine confidence - a worker's response

Life in lockdown - being home from school when you're poor is hard
---
NHS

On the NHS front line
---
Black Lives Matter

Justice for Mohamud Hassan!

Police use Covid laws to intimidate BLM protesters

New Cross Gate fire 40 years ago
---
International News

USA in crisis - the need for a socialist alternative

Trump Twitter ban: only independent workers' voice can defeat right
---
Workplace

PCS Broad Left Network conference

Rolls-Royce Barnoldswick factory future secured following strike action

Morrisons - £10/hr headline hides divisive pay offer

A day in the life of an agency worker

British Gas strike continues
---
Students

Refund student rent and fees

Plymouth rent strike continues

Scrap fees, refund rents and pay a living grant
---
Campaigns

London's May elections: Tories and Labour's Khan both vying to slash public services

Socialist Party national women's meeting

Why I joined the Socialist Party

Christmas Crossword Competition
---
Readers' Opinion

Books that inspired me: The Road to Wigan Pier
---
Obituary

Obituary - Jeff Edwards
---
Home | The Socialist 20 January 2021 | Join the Socialist Party