The Socialist 2 June 2021
NHS pay and funding: 'If we fight we can win'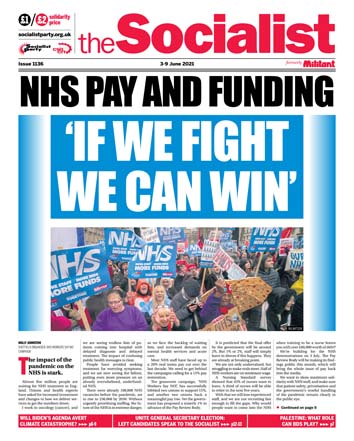 ---
3 July day of protest - save our NHS from the Tories
---
---
Unite general secretary campaign: Statement from Sharon Graham
Unite general secretary campaign: Statement from Howard Beckett
---
Boycotts - what role can these play in the struggle for a Palestinian state?
Stop Israeli state terror: solidarity protests continue
---
Will Biden's 'green' agenda avert an impending climate change catastrophe?
---
Sparks force bosses to talk after blockading AWE
Save jobs, save livelihoods, save GKN Automotive - nationalise the plant!
---
Belarus: Lukashenko's desperate attempt to silence opposition
Colombia: General strikes continue
---
Cladding danger: Protest 5 June!
Pimlico Academy protest demands elected governors
York students demand democratic control of schools
Protests against anti-protest bill
Waltham Forest byelections: Council homes not unaffordable flats
Raising Fighting Fund in Southern region
Hillsborough crimes go unpunished
---
University funding reform: Fight for free, fully funded education for all
PO Box 1398, Enfield EN1 9GT
020 8988 8777

Link to this page: https://www.socialistparty.org.uk/issue/1136/32588
Home | The Socialist 2 June 2021 | Join the Socialist Party
Subscribe | Donate | Audio | PDF | ebook
Save our NHS from the Tories
Reject 1% pay insult
Trade union action for 15%
Fully fund NHS
End privatisation
3rd July day of protest
The day of protest on 3 July - the anniversary of the foundation of the NHS - should be the launch of a fight on pay and to save our NHS. Let's build the protests around the country and demand a real fight from trade union leaders. NHS workers organised in trade unions, backed up by vibrant campaigns in our communities, have tremendous potential power. They can build a mighty movement on pay and to save the NHS from the Tories.
---
NHS pay and funding
'If we fight we can win'
Holly Johnston, Sheffield organiser, NHS Workers Say NO! campaign
The impact of the pandemic on the NHS is stark.
Almost five million people are waiting for NHS treatment in England. Unions and health experts have asked for increased investment and changes to how we deliver services to get the numbers down.
I work in oncology (cancer), and we are seeing endless lists of patients coming into hospital with delayed diagnosis and delayed treatment. The impact of confusing public health messages is clear.
People have avoided seeking treatment for worrying symptoms, and we are now seeing the fallout, putting even more pressure on an already overwhelmed, underfunded NHS.
There were already 100,000 NHS vacancies before the pandemic, set to rise to 250,000 by 2030. Without urgently prioritising staffing, the future of the NHS is in extreme danger, as we face the backlog of waiting lists, and increased demands on mental health services and acute care.
Most NHS staff have faced up to a 20% real terms pay cut over the last decade. We need to get behind the campaigns calling for a 15% pay restoration.
The grassroots campaign, 'NHS Workers Say NO!', has successfully lobbied two unions to support 15%, and another two unions back a meaningful pay rise. Yet the government has proposed a miserly 1% in advance of the Pay Review Body.
It is predicted that the final offer by the government will be around 2%. But 1% or 2%, staff will simply leave in droves if this happens. They are already at breaking point.
We are not only undervalued, but struggling to make ends meet. Half of NHS workers are on minimum wage.
A Nursing Standard survey showed that 43% of nurses want to leave. A third of nurses will be able to retire in the next five years.
With that we will lose experienced staff, and we are not recruiting fast enough to fill the gaps. Why would people want to come into the NHS when training to be a nurse leaves you with over £60,000 worth of debt?
We're building for the NHS demonstrations on 3 July. The Pay Review Body will be making its findings public this month, which will bring the whole issue of pay back into the media.
We want to show maximum solidarity with NHS staff, and make sure that patient safety, privatisation and the government's woeful handling of the pandemic remain clearly in the public eye.
The pandemic has compounded pre-existing problems of staff feeling undervalued, horrendous working conditions, people not having breaks, and staying way beyond their shifts to keep wards safe. Our workload was increasing dramatically before the pandemic.
We take on the extra responsibility, and we do it well. But this is to plug the gaps in shortages.
And it is simply not reflected in our pay. Pay is intrinsically linked to patient safety, staffing numbers and the future of the NHS.
Many staff are seeking employment elsewhere, or opting to work for outsourced companies. The NHS is quickly being privatised.
The unions are preparing to reject any offer which does not reflect their demand for a 'substantial' pay rise. They are hoping to coordinate efforts, including indicative ballots for strike action.
The government is extremely vulnerable on this issue, and has executed many U-turns in the last year when put under pressure. There is huge public support for the staff and the NHS, which can be mobilised around pay. Local campaign groups should make contact with local NHS staff and their unions.
Fighting for the NHS is a socialist issue. It's working-class people who are most affected by gaps in healthcare, compounded by the extreme health inequality that already exists. We need to give confidence to NHS workers and the whole working class to fight for the right for all to access free healthcare.
If we come out swinging, and campaign hard, then the unions will grow. This will give us more industrial muscle for combating poor pay and conditions.
If we don't fight, then we've already lost. But if we do fight, we can win.
We can win for the NHS. We can give confidence to other workers. We can push the Tory government into another U-turn, and open the door for other workers to improve their conditions.
---
Take to streets, and organise in our workplaces
Extract from latest Socialist Party leaflet
Complacency, incompetence, cronyism, corruption and downright cruelty - 150,000 deaths. That's the real Covid record of the Tories, and working-class people have paid for it.
Amid criminal shortfalls in staff numbers, bed shortages and inadequate PPE - the result of years of privatisation and austerity - NHS and care staff have worked themselves to exhaustion to save lives. A 1% 'pay rise' - along with a pay freeze for the rest of the public sector - is a slap in the face.
Trashing previous pandemic preparations; booting elderly people, untested, out of hospitals into care homes; bunging billions of pounds of public money to their big business mates - at every stage Boris Johnson and the Tories have put profit before lives. Now they've fallen out, but we didn't need former Tory advisors like Dominic Cummings to tell us what's wrong.
But where is the opposition from the Labour Party, that should have been lacerating Johnson and championing workers' interests, instead of allowing him to temporarily bask in the success of the vaccine programme and pretend to stand up for the working class? Right-wing Labour leader Keir Starmer has meekly nodded along with the Tories all year.
But he hasn't shown the same mildness in his party, ruthlessly driving out Jeremy Corbyn and the anti-austerity programme that demanded an end to cuts and privatisation in the NHS. Workers need our own political voice - we need a new mass party of working class and young people.
And we need a fightback - to take to the streets and organise in our workplaces. So let's put demands on the trade union leaders. We call for a national NHS demonstration and to prepare the ground for national coordinated strike action.
The Tories are using Covid to accelerate the privatisation of the NHS, and their plans for social care don't include reinstating the millions cut from budgets, or taking care homes out of the hands of private profiteers and bringing them back in-house.
It is only through mass workers' struggle, linked to fighting for a working-class political voice, that we can establish a fully funded, publicly owned and democratically controlled NHS and social care system - a socialist NHS.
---
What's the alternative?
The Socialist Party fights for:
An immediate 15% pay rise for all health and care staff, including those in privatised sectors. Minimum wage of £12 an hour - £15 in London. Scrap zero-hour contracts immediately
Reverse all privatisation. Scrap the Private Finance Initiative and cancel all PFI debts. Bring all outsourced workers and services in-house on a permanent contract
A fully publicly funded NHS and care system free at the point of use. Scrap prescription charges in England, and all dental and health charges
Nationalise the private healthcare sector, care homes, the medical supply industry and the pharmaceutical companies - integrate them into the NHS
Reinstate student bursaries and scrap tuition fees in England
We can't trust pro-privatisation, pro-austerity, anti-working-class politicians. Fight for the building of a new mass workers' party
A socialist NHS - democratically run by elected and accountable committees, including service workers and users
A socialist planned economy to end oppression, poverty and inequality
---
Pass this motion in your local union
We give full support to the National Health Service and NHS workers. We condemn the derisory pay offer from the Tory government to NHS staff, and agree to support any campaign from NHS unions for a substantial increase in pay within the NHS. This should apply to all NHS workers, including outsourced staff who should be brought in-house to work directly for the health service on NHS pay, pensions, terms and conditions.
We also condemn the Tory government's public sector pay freeze and the employers' 'fire and rehire' strategy. We call on all relevant unions to campaign in preparation for national coordinated strike action to end the pay freeze and the attempts to lower wages and conditions.
We call on our national union to work with other unions to call a national demonstration to properly fund the NHS and end privatisation.
'Health Campaigns Together', 'Keep Our NHS Public', 'NHS Workers Say No', and NHS Staff Voices' have called for demonstrations and rallies on Saturday 3 July 2021. We agree to play a role in building for a rally and demonstration in ... and calls on all shop stewards, members, delegates and affiliates to support it.
---
In this issue
---
NHS

3 July day of protest - save our NHS from the Tories
---
Covid-19

Capitalism's Covid failings
---
Unite election

Unite general secretary campaign: Statement from Sharon Graham

Unite general secretary campaign: Statement from Howard Beckett
---
Israel/Palestine

Boycotts - what role can these play in the struggle for a Palestinian state?

Stop Israeli state terror: solidarity protests continue
---
US politics

Will Biden's 'green' agenda avert an impending climate change catastrophe?
---
Workplace news

Sparks force bosses to talk after blockading AWE

Save jobs, save livelihoods, save GKN Automotive - nationalise the plant!

Workplace round-up
---
International news

Belarus: Lukashenko's desperate attempt to silence opposition

Colombia: General strikes continue
---
Campaigns news

Cladding danger: Protest 5 June!

Pimlico Academy protest demands elected governors

York students demand democratic control of schools

Protests against anti-protest bill

Waltham Forest byelections: Council homes not unaffordable flats

Raising Fighting Fund in Southern region

Hillsborough crimes go unpunished
---
Universities

University funding reform: Fight for free, fully funded education for all
---
Home | The Socialist 2 June 2021 | Join the Socialist Party