The Socialist 16 June 2021
1138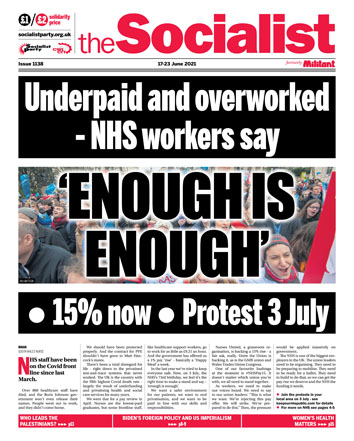 ---
Left candidate needed for Unite general secretary election
Majority of BFAWU members vote to break from Labour
Right lose control in Unison NEC election
Engineers in fourth week of strike action against huge fire-and-rehire attacks
Leicester University workers strike against redundancies
PCS conference 2021: Divide between union leaders and rank-and-file exposed
Socialist Party to the fore at Unison LG conference
Redbridge school walkout over victimised union rep
---
Underpaid and overworked - NHS workers say: 'Enough is enough'
Now is the time to fight for the NHS
Save Leicester General Hospital
---
Will Biden's new foreign policy change the direction of US imperialism?
Tamil Solidarity asylum victory
Who represents the Palestinians?
International solidarity protests
---
Make vaccine technology public, nationalise big-pharma
Schools need resources to tackle 'routine' sexual harassment
Neonatal leave introduced: Unions must fight for extensions and full pay
Beth Roper inquest: Train company failures ignored
Birmingham Clean Air Zone a tax on the poor
---
Enfield byelection: We need councillors prepared to resist
Queues at Socialist Party stall in Cov
---
Books that inspired me: The Ragged-Trousered Philanthropists
PO Box 1398, Enfield EN1 9GT
020 8988 8777

Link to this page: https://www.socialistparty.org.uk/issue/1138/32657
Home | The Socialist 16 June 2021 | Join the Socialist Party
Subscribe | Donate | Audio | PDF | ebook
Socialist Party to the fore at Unison local government conference
Paul Couchman, South East Regional Delegate (personal capacity) and Socialist Party member
At the conference on 13 June, our region had two motions on the agenda, which I moved.
One was on how local authorities can fight the cuts, particularly Labour councils. This motion was composited with a more general motion on local authority funding submitted by the Northern region. The Northern region delegate moved the composite and I spoke first in the debate and effectively seconded it.
Three of the four speakers on this vital motion were Socialist Party members - the only ones to stress the possibilities inherent within local government for a massive campaign against the cuts.
Using the Liverpool City Council stand in the 1980s as an example, we demanded that Unison members' money should only go to councillors and MPs who are prepared to make a stand in defence of public services and public sector workers.
During this debate and throughout the conference, delegate after delegate whose branches are in Labour-controlled councils spoke of the anger and frustration at having to fight cuts imposed by the very party Unison is affiliated to as a union.
The other motion was calling for a serious united industrial campaign against the public sector pay freeze. The motion called on the service group executive to launch a campaign and to press the newly elected national executive council to follow this with a cross-sector campaign.
It also demanded that our general secretary calls for a special meeting of the TUC public services committee to organise a cross-union campaign. Again, it was members of the Socialist Party that were to the fore in putting forward a strategy during the debate that can defeat the pay freeze. This motion was also carried overwhelmingly.
There was a wide range of motions discussed, covering everything from the Covid pandemic (which understandably dominated the agenda), equalities issues, protecting specific services, pay, facility time, stress and mental health.
Overall, despite the limitations of a virtual event, and the lower number of delegates than usual, the conference was upbeat and positive. Members and activists now have to make sure that the decisions made at the conference are all translated into action.
---
In this issue
---
Trade unions and workplace

Left candidate needed for Unite general secretary election

Majority of BFAWU members vote to break from Labour

Right lose control in Unison NEC election

Sparks win victory!

Engineers in fourth week of strike action against huge fire-and-rehire attacks

Leicester University workers strike against redundancies

PCS conference 2021: Divide between union leaders and rank-and-file exposed

Socialist Party to the fore at Unison LG conference

Redbridge school walkout over victimised union rep
---
NHS

Underpaid and overworked - NHS workers say: 'Enough is enough'

Now is the time to fight for the NHS

Save Leicester General Hospital
---
International news

Will Biden's new foreign policy change the direction of US imperialism?

Tamil Solidarity asylum victory

Who represents the Palestinians?

International solidarity protests
---
News

Make vaccine technology public, nationalise big-pharma

Schools need resources to tackle 'routine' sexual harassment

Neonatal leave introduced: Unions must fight for extensions and full pay

Beth Roper inquest: Train company failures ignored

Birmingham Clean Air Zone a tax on the poor

Johnson's G7 hypocrisy

Pandemic homeless
---
Campaigns and party news

Enfield byelection: We need councillors prepared to resist

Queues at Socialist Party stall in Cov

National finance meeting
---
Readers' opinion

Women's health matters

Books that inspired me: The Ragged-Trousered Philanthropists

Readers' comments
---
Home | The Socialist 16 June 2021 | Join the Socialist Party