The Socialist 13 October 2021
Fight for the pay rise we deserve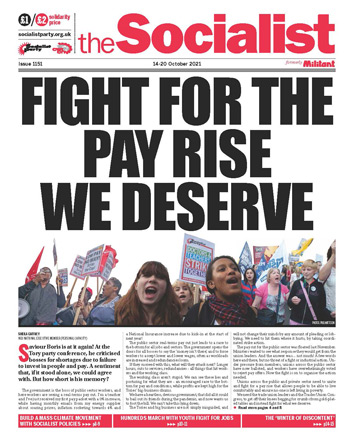 ---
Fight for the pay rise we deserve
---
Cynical Johnson government no friend of workers
---
Pandora property speculators fuel housing crisis
Social care funding needed now
---
Who runs Unison: lay members or the paid officials?
Place Unite at the head of the anti-Tory movement
Oaks Park pickets vote for more strikes to defeat bullies
National Education Union deputy general secretary election
College strikes continue into third week
60 steelworks scaffs march in second week of all-out strike
DVLA: Workers ballot on further strike action
---
Build a mass working-class climate movement with socialist policies
---
Hundreds march with Youth Fight for Jobs
---
The 'winter of discontent' - When workers could take no more
---
Hackney: Stop closure of children's centres
Durning Hall: Hands off our community space
March to save Stratford arts jobs from Newham Labour attacks
---
Newcastle United takeover - no to billionaire Ashley or Saudi despots
Ridley Road: An engaging story of fighting fascism
PO Box 1398, Enfield EN1 9GT
020 8988 8777

Link to this page: https://www.socialistparty.org.uk/issue/1151/33141
Home | The Socialist 13 October 2021 | Join the Socialist Party
Subscribe | Donate | Audio | PDF | ebook
Fight for the pay rise we deserve
Sheila Caffrey, NEU national executive member (personal capacity)
Saviour Boris is at it again! At the Tory party conference, he criticised bosses for shortages due to failure to invest in people and pay. A sentiment that, if it stood alone, we could agree with. But how short is his memory?
The government is the boss of public sector workers, and here workers are seeing a real-terms pay cut. I'm a teacher and I've just received my first pay packet with a 0% increase, while having monthly emails from my energy supplier about soaring prices, inflation rocketing towards 4% and a National Insurance increase due to kick-in at the start of next year!
The public sector real-terms pay cut just leads to a race to the bottom for all jobs and sectors. The government opens the doors for all bosses to say the 'money isn't there', and to force workers to accept lower and lower wages, often as workloads are increased and redundancies loom.
If they succeed with this, what will they attack next? Longer hours, cuts to services, redundancies - all things that hit workers and the working class.
The working class aren't stupid. We can see these lies and posturing for what they are - an encouraged race to the bottom for pay and conditions, while profits are kept high for the Tories' big-business chums.
We have a heartless, devious government, that did all it could to bail out its friends during the pandemic, and now wants us to foot the bill. We can't take this lying down.
The Tories and big business are not simply misguided, and will not change their minds by any amount of pleading or lobbying. We need to hit them where it hurts, by taking coordinated strike action.
The pay cut for the public sector was floated last November. Ministers waited to see what response they would get from the union leaders. And the answer was... not much! A few words here and there, but no threat of a fight or industrial action. Under pressure from members, unions across the public sector have now balloted, and workers have overwhelmingly voted to reject pay offers. Now the fight is on to organise the action needed.
Unions across the public and private sector need to unite and fight for a pay rise that allows people to be able to live comfortably and ensure no-one is left living in poverty.
We need the trade union leaders and the Trades Union Congress, to get off their knees begging for crumbs from gold-plated tables and instead fight for what we deserve.
---
In this issue
---
We need a pay rise!

Fight for the pay rise we deserve

Workers need a pay rise
---
What we think

Cynical Johnson government no friend of workers
---
News

Pandora property speculators fuel housing crisis

Social care funding needed now

News in brief
---
Workplace news

Who runs Unison: lay members or the paid officials?

Place Unite at the head of the anti-Tory movement

Oaks Park pickets vote for more strikes to defeat bullies

National Education Union deputy general secretary election

College strikes continue into third week

60 steelworks scaffs march in second week of all-out strike

DVLA: Workers ballot on further strike action
---
COP26

Build a mass working-class climate movement with socialist policies
---
Youth Fight for Jobs

Hundreds march with Youth Fight for Jobs
---
Winter of Discontent

The 'winter of discontent' - When workers could take no more
---
Campaigns news

Hackney: Stop closure of children's centres

Durning Hall: Hands off our community space

March to save Stratford arts jobs from Newham Labour attacks
---
Readers' opinion

Newcastle United takeover - no to billionaire Ashley or Saudi despots

Ridley Road: An engaging story of fighting fascism

Readers' comments
---
Home | The Socialist 13 October 2021 | Join the Socialist Party