The Socialist 13 October 2021
Fight for the pay rise we deserve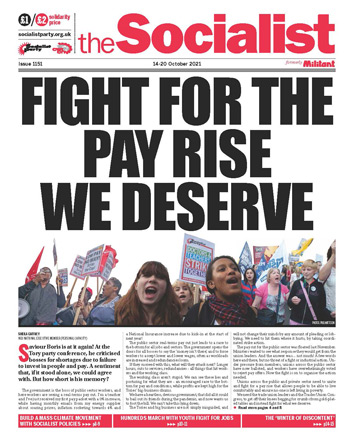 ---
Fight for the pay rise we deserve
---
Cynical Johnson government no friend of workers
---
Pandora property speculators fuel housing crisis
Social care funding needed now
---
Who runs Unison: lay members or the paid officials?
Place Unite at the head of the anti-Tory movement
Oaks Park pickets vote for more strikes to defeat bullies
National Education Union deputy general secretary election
College strikes continue into third week
60 steelworks scaffs march in second week of all-out strike
DVLA: Workers ballot on further strike action
---
Build a mass working-class climate movement with socialist policies
---
Hundreds march with Youth Fight for Jobs
---
The 'winter of discontent' - When workers could take no more
---
Hackney: Stop closure of children's centres
Durning Hall: Hands off our community space
March to save Stratford arts jobs from Newham Labour attacks
---
Newcastle United takeover - no to billionaire Ashley or Saudi despots
Ridley Road: An engaging story of fighting fascism
PO Box 1398, Enfield EN1 9GT
020 8988 8777

Link to this page: https://www.socialistparty.org.uk/issue/1151/33143
Home | The Socialist 13 October 2021 | Join the Socialist Party
Subscribe | Donate | Audio | PDF | ebook
News in brief
MPs list Covid failings: Workers' inquiry needed
A slow move into lockdown restrictions at the start of the pandemic, a decision to halt testing in March 2020, the disastrous privatised test-and-trace, and sending thousands of Covid-positive patients into care homes - all among the government's "big mistakes" in handling the Covid pandemic in England identified in an official report by MPs. The consequences leave more than 20,000 'excess' deaths.
The report takes evidence from 50 witnesses, including former health secretary Matt Hancock. But there are hundreds of thousands of witnesses to the government's failures better placed to give evidence than the likes of Matt Hancock - the health and care workers, and other key workers on the frontline. We need a democratic workers' inquiry into Covid, and one that is prepared to point the finger at the root of the failures - the government's prioritisation of bosses' profits over our health, and years of underfunding and privatisation in the NHS preceding the pandemic.
A workers' Covid inquiry could further expose not just useless politicians, but the inability of capitalism to keep us healthy and safe. This would need to be linked to the fight for a fully funded, publicly run NHS, and for society run in the interests of the vast majority not the profits of a few.
See 'Covid inquiry? Workers must decide' at socialistparty.org.uk
---
Private healthcare rip-off
£400 million a month is how much the Treasury paid for the use of nearly 8,000 beds in private hospitals during the pandemic. But for the year from March 2020, private hospitals provided just 0.08% of the total number of Covid beds, just eight patients per day.
The Tories like to talk about privatisation giving value for money. This is more proof that the opposite is true, private NHS bosses have been taking our money, delivering peanuts and making an unhealthy profit. We say, bring the whole health service back in house as part of a fully funded, publicly owned, Socialist NHS.
---
Make the super-rich pay
The government's excuse for raising National Insurance (NI), hitting low-paid workers hardest, was that it is needed to raise £12 billion for health and social care.
Now the Institute for Fiscal Studies (IFS) says that is enough just to fix the immediate shortfalls in the health service. The IFS also suggests that the increase in NI would have to more than double to meet what's needed.
We have another suggestion: make the super-rich pay! Britain's billionaires increased their wealth by £106.5 billion in the last year.
---
In this issue
---
We need a pay rise!

Fight for the pay rise we deserve

Workers need a pay rise
---
What we think

Cynical Johnson government no friend of workers
---
News

Pandora property speculators fuel housing crisis

Social care funding needed now

News in brief
---
Workplace news

Who runs Unison: lay members or the paid officials?

Place Unite at the head of the anti-Tory movement

Oaks Park pickets vote for more strikes to defeat bullies

National Education Union deputy general secretary election

College strikes continue into third week

60 steelworks scaffs march in second week of all-out strike

DVLA: Workers ballot on further strike action
---
COP26

Build a mass working-class climate movement with socialist policies
---
Youth Fight for Jobs

Hundreds march with Youth Fight for Jobs
---
Winter of Discontent

The 'winter of discontent' - When workers could take no more
---
Campaigns news

Hackney: Stop closure of children's centres

Durning Hall: Hands off our community space

March to save Stratford arts jobs from Newham Labour attacks
---
Readers' opinion

Newcastle United takeover - no to billionaire Ashley or Saudi despots

Ridley Road: An engaging story of fighting fascism

Readers' comments
---
Home | The Socialist 13 October 2021 | Join the Socialist Party