The Socialist 13 October 2021
Fight for the pay rise we deserve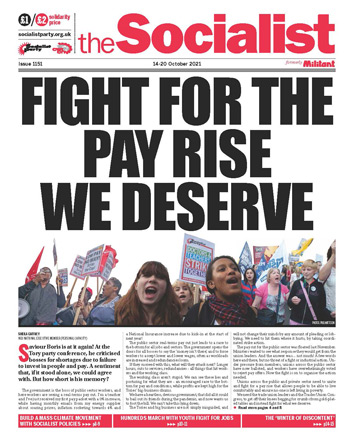 ---
Fight for the pay rise we deserve
---
Cynical Johnson government no friend of workers
---
Pandora property speculators fuel housing crisis
Social care funding needed now
---
Who runs Unison: lay members or the paid officials?
Place Unite at the head of the anti-Tory movement
Oaks Park pickets vote for more strikes to defeat bullies
National Education Union deputy general secretary election
College strikes continue into third week
60 steelworks scaffs march in second week of all-out strike
DVLA: Workers ballot on further strike action
---
Build a mass working-class climate movement with socialist policies
---
Hundreds march with Youth Fight for Jobs
---
The 'winter of discontent' - When workers could take no more
---
Hackney: Stop closure of children's centres
Durning Hall: Hands off our community space
March to save Stratford arts jobs from Newham Labour attacks
---
Newcastle United takeover - no to billionaire Ashley or Saudi despots
Ridley Road: An engaging story of fighting fascism
PO Box 1398, Enfield EN1 9GT
020 8988 8777

Link to this page: https://www.socialistparty.org.uk/issue/1151/33149
Home | The Socialist 13 October 2021 | Join the Socialist Party
Subscribe | Donate | Audio | PDF | ebook
National Education Union deputy general secretary election
'Why I'm voting for a fighting strategy to win on workload, pay and cuts'
Socialist Party member and teacher Martin Powell-Davies is running as a candidate for National Education Union (NEU) deputy general secretary. Supporters and teachers have been sharing why they are voting for Martin.
"We need a deputy general secretary who will help us change the bullying regime that has taken hold of education. Martin has shown himself to be a successful organiser and campaigner with over 20 years of defending members and building the union."
Louise, Maryam and Marcia - district and assistant secretaries, Harrow NEU
"Martin doesn't just talk about what's needed, he has a well-planned strategy on how we can achieve real change."
NEU national executive member Nicky Downes
"We need someone who has a strong union track record, who is strategic in their planning, to lead us in the upcoming battles we face. I urge every member to use their vote and vote for Martin."
Louise Lewis, NEU Kirklees vice-president
"Martin understands that while we have to build the membership from below, we also need leadership from above. We have to stand up for ourselves, and Martin is the one to do it."
Alex Moore, membership secretary, Plymouth NEU
"I'm supporting Martin as I know that he will lead from the front. As Martin only intends to take a teacher's salary for the role, we know that our conditions are his conditions."
Steve Scott, joint secretary, East Riding NEU and member of the NEU executive
The postal ballot is open now. Vote for Martin and for a fighting strategy to win! See martin4dgs.co.uk for more
---
In this issue
---
We need a pay rise!

Fight for the pay rise we deserve

Workers need a pay rise
---
What we think

Cynical Johnson government no friend of workers
---
News

Pandora property speculators fuel housing crisis

Social care funding needed now

News in brief
---
Workplace news

Who runs Unison: lay members or the paid officials?

Place Unite at the head of the anti-Tory movement

Oaks Park pickets vote for more strikes to defeat bullies

National Education Union deputy general secretary election

College strikes continue into third week

60 steelworks scaffs march in second week of all-out strike

DVLA: Workers ballot on further strike action
---
COP26

Build a mass working-class climate movement with socialist policies
---
Youth Fight for Jobs

Hundreds march with Youth Fight for Jobs
---
Winter of Discontent

The 'winter of discontent' - When workers could take no more
---
Campaigns news

Hackney: Stop closure of children's centres

Durning Hall: Hands off our community space

March to save Stratford arts jobs from Newham Labour attacks
---
Readers' opinion

Newcastle United takeover - no to billionaire Ashley or Saudi despots

Ridley Road: An engaging story of fighting fascism

Readers' comments
---
Home | The Socialist 13 October 2021 | Join the Socialist Party