The Socialist 5 June 2013
Food bank Britain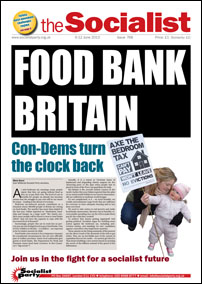 ---
Food bank Britain: Con-Dems turn the clock back
NSSN conference : Unite to fight all the cuts
Legal aid cuts: Justice in the balance
Continued deterioration of the Labour Party
---
Mass joblessness wrecks lives! Youth must fight for a future
A day in the life of a Primark employee
---
NHS crisis: Turn anger into action
---
Turkey: Mass movement challenges Erdogan's authoritarian government
---
97% vote for strike action at Carling brewery
Thera Trust: the campaign moves up a gear
Unison and Labour: Welsh government cuts are still cuts
Lecturers' union UCU members vote to fight austerity
---
1983: A political voice for the working class
---
Campaigning against the bedroom tax
Standing for TUSC in Woolston, Southampton
Save the Independent Living Fund
Needed: new social housing NOT unaffordable rents
Support the Fighting Fund collectathon!
Socialist Party national organisers' school
---
Crackdown on democratic rights
PO Box 1398, Enfield EN1 9GT
020 8988 8777
editors@socialistparty.org.uk

Link to this page: https://www.socialistparty.org.uk/issue/768/16838
Home | The Socialist 5 June 2013 | Join the Socialist Party
Subscribe | Donate | PDF | ebook
PCS rolling strike programme
On 3 June, a week of rolling strike action in the two largest government departments, the Department for Work and Pensions (DWP) and the tax department HMRC, began.
This involves 135,000 workers in a dispute over pay cuts, jobs and working conditions. This action was preceded by strikes in other departments, including the vehicle licensing agency DVLA.
Ronnie Job reports from the Swansea picket line.
For once it was nice weather for the civil service union PCS pickets at the DVLA in Swansea, when I went to give solidarity greetings on behalf of the Swansea trades council and the Socialist Party on 31 May.
PCS members in the Department of Transport and the Land Registry were on strike as part of a programme of departmental action that will see DWP and HMRC members joining later.
Pickets told me that they were striking over a raft of issues. These include:
Pay - this is the fourth consecutive year that they've been offered no cost of living pay award.
Privatisation - you can see giant private firms like IBM and Fujitsu muscling in to the public sector in pursuit of profit at the DVLA.
Job cuts - the decision to close the DVLA regional offices is leading to the loss of hundreds of jobs around the country.
Attacks on union facilities - one of the pickets at the DVLA was a PCS branch official who's seen his facility time cut by 50% already.
Despite all these, and more, attacks, the pickets were resolute and aware that this is a fight that has to be won.
I've always experienced a good reception on PCS picket lines. The only unfriendly greeting I had was from a visiting Labour MP who made sneering comments about selling 'magazines' (the Socialist). When I offered her one she told me she'd "been there, done that and got the T-shirt".
It was good to see a Labour politician who knows what a picket line is; it's just a shame that the majority of Labour MPs didn't back John McDonnell MP's attempt to defend PCS members' right to strike in the Home Office and Border Agency.
Each of the three pickets the MP had been talking to when I arrived bought a Socialist paper off me.
Manchester
On 4 June, Hugh Caffrey visited the HMRC picket line in Manchester. Martin Ayres, PCS Salford Revenue branch vice-chair and assistant branch secretary said: "We've had great support today.
"Members are totally opposed to the draconian changes to terms and conditions, and despite the pay freeze most people are prepared to lose a day's pay in support of the PCS-organised action".
---
In this issue
---
Socialist Party news and analysis

Food bank Britain: Con-Dems turn the clock back

NSSN conference : Unite to fight all the cuts

Legal aid cuts: Justice in the balance

Continued deterioration of the Labour Party

Them & Us
---
Youth feature

Mass joblessness wrecks lives! Youth must fight for a future

A day in the life of a Primark employee
---
NHS feature

NHS crisis: Turn anger into action
---
International socialist news and analysis

Turkey: Mass movement challenges Erdogan's authoritarian government
---
Socialist Party workplace news

PCS rolling strike programme

97% vote for strike action at Carling brewery

Thera Trust: the campaign moves up a gear

Unison and Labour: Welsh government cuts are still cuts

Lecturers' union UCU members vote to fight austerity

Workplace news in brief
---
Socialist history

1983: A political voice for the working class
---
Socialist Party reports and campaigns

Campaigning against the bedroom tax

Stopping the BNP in London

EDL blocked by counter demo

Standing for TUSC in Woolston, Southampton

Save the Independent Living Fund

Needed: new social housing NOT unaffordable rents

Support the Fighting Fund collectathon!

Socialist Party national organisers' school
---
Readers' comments

Stop drone attacks!

Crackdown on democratic rights
---
Home | The Socialist 5 June 2013 | Join the Socialist Party