The Socialist 19 August 2015
Corbyn: no cuts stand wins mass support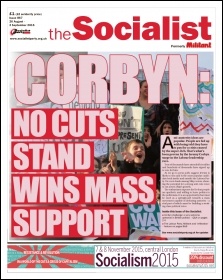 ---
The Labour Party, Militant and 'infiltration'
Gulf War 'unfinished business' remains today
---
Fascists caged, humiliated and driven out of Liverpool
We won't pay for their crisis!
Anger at bus service cuts in Sheffield
TUSC by-election boost in Grimsby and Cleethorpes
---
Corbyn stand: A welcome upheaval in British politics
Solidarity with the Polish workers' strike
Government discrimination against EU workers
---
Socialist challenges right winger for Unison leadership
National Gallery all-out strike goes on as bosses sell off jobs
London tube's summer of strikes joined by First Great Western
Probation and courts union Napo needs socialist leadership
Uni unions ready Manchester jobs fight
Retail union must fight Sunday trading deregulation
---
Greece: Building a new left alternative after Syriza capitulation
Ireland: drop the prosecutions, scrap the water charges
US: Kshama Sawant leads Seattle primary elections count on 50%
PO Box 1398, Enfield EN1 9GT
020 8988 8777

Link to this page: https://www.socialistparty.org.uk/issue/867/21230
Home | The Socialist 19 August 2015 | Join the Socialist Party
Subscribe | Donate | Audio | PDF | ebook
Probation and courts union Napo needs socialist leadership
Chas Berry, National vice-chair, Napo
Members of probation and family courts union Napo are currently voting for national officers. The union is under sustained attack following the break-up and privatisation of over half the probation service.
In this context, a socialist voice linking our struggles with the wider anti-austerity movement has never been more important. That is why I am standing again for national vice-chair.
In the outsourced community rehabilitation companies (CRCs), members face savage cuts. Their new owners want to cash in through wholesale redundancies.
Union-busting Sodexo, which owns six CRCs, is attempting to bully nearly 500 staff into voluntary severance on drastically reduced terms. While this may be an option for some, most will have no alternative but to stick it out. And we cannot stand by while services are downgraded and destroyed.
Those who have rejected the so-called 'offer' of voluntary severance want a fight to maintain current jobs while protecting terms and conditions.
Staffing
The situation for members in the National Probation Service, now run by the civil service, is no better. Current staffing levels are dangerously low in many areas. Flexible and responsive locally run services have been replaced by a bureaucratic dictatorship. It is proving incapable of delivering the complex "rehabilitation revolution" promised by former Tory justice secretary Chris Grayling.
Members are understandably downcast. But the anti-austerity mood exemplified by support for Jeremy Corbyn shows the tide is beginning to turn. By voting for me, Napo members can show that they too will not be browbeaten by the bosses' big business agenda.
---
In this issue
---
Socialist Party features

The Labour Party, Militant and 'infiltration'

Gulf War 'unfinished business' remains today
---
Socialist Party reports and campaigns

Subscribe to the Socialist!

Fascists caged, humiliated and driven out of Liverpool

We won't pay for their crisis!

Anger at bus service cuts in Sheffield

TUSC by-election boost in Grimsby and Cleethorpes
---
Socialist Party news and analysis

Corbyn stand: A welcome upheaval in British politics

Solidarity with the Polish workers' strike

Government discrimination against EU workers

Kids Company closure

Them & Us
---
Workplace news and analysis

Socialist challenges right winger for Unison leadership

National Gallery all-out strike goes on as bosses sell off jobs

London tube's summer of strikes joined by First Great Western

Probation and courts union Napo needs socialist leadership

Uni unions ready Manchester jobs fight

Retail union must fight Sunday trading deregulation

Workplace news in brief
---
International socialist news and analysis

Greece: Building a new left alternative after Syriza capitulation

Ireland: drop the prosecutions, scrap the water charges

US: Kshama Sawant leads Seattle primary elections count on 50%
---
Home | The Socialist 19 August 2015 | Join the Socialist Party