The Socialist 4 January 2017
Nationalise rail now!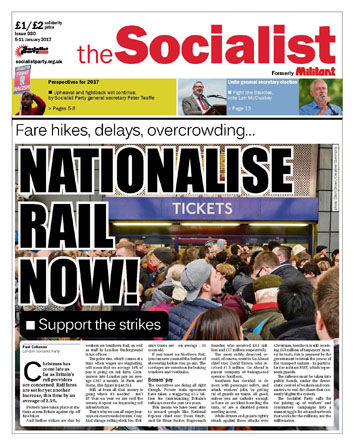 ---
2017: Upheaval and fightback will continue
---
Resist Trump: protest on 20 January
Bosses' pay goes up by 82% for nothing
Make Harrods give back stolen tips!
Northern Ireland: 'Cash for ash' scam shows need for non-sectarian, socialist politics
Tories want donors to 'defeat rise of socialism'
NHS drug price hike: nationalise big pharma!
No to 'Ceta' privatisation treaty stitch-up
---
Unite election - fight the Blairites, vote Len McCluskey
---
Post Office workers striking against cuts
Why prison officers rejected pay and pensions deal
Support mounts for Picturehouse strikers
CWU strike against closures and pension cuts
---
PO Box 24697, London, E11 1YD
020 8988 8777
editors@socialistparty.org.uk

2017: Upheaval and fightback will continue
Unite general secretary election
Socialist readers' comments and reviews