The Socialist 6 June 2018
Stop the Tory NHS wreckers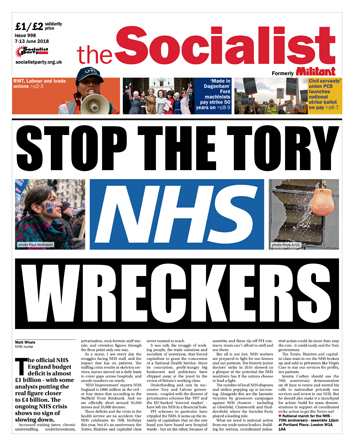 ---
RMT rejects Labour affiliation - now step up the fight for workers' political representation
RMT special conference debates political strategy
---
#NorthernFail: 250 rail services cancelled
Socialists defend Lush ad campaign against spy cops
---
Italy's political crisis is reverberating through Europe
Jordan: Workers and youth remove prime minister and demand end to austerity
---
Congress shut down by staff walkouts
PCS union launches strike ballot on pay
West Midlands firefighters vote to strike in massive numbers
East London housing workers fight privatisation of pay
---
'Made in Dagenham' Ford machinists pay strike 50 years on
---
Liverpool meeting remembers 47 councillors who fought and defeated Thatcher in 1980s
Yorkshire 1,000 for issue 1000
People's Assembly event lacks understanding of task facing Corbyn
200 years since the birth of Karl Marx - come and walk in his footsteps!
---
Alt-right gains exposure - but tedious clichés betray lack of ideas
Rich, raw tale of financial crisis's impact on rural Ireland
PO Box 1398, Enfield EN1 9GT
020 8988 8777

Link to this page: https://www.socialistparty.org.uk/issue/998/27467
Home | The Socialist 6 June 2018 | Join the Socialist Party
Subscribe | Donate | Audio | PDF | ebook
Fiction: The Spinning Heart
Rich, raw tale of financial crisis's impact on rural Ireland
Ian Hunter, Derby Socialist Party
I have only recently caught up with Donal Ryan's wonderful, inventive 2012 debut novel about the brutal and shattering effects on a rural Irish community following the financial meltdown of 2007-08.
When a local building firm collapses the effects on the local community and its inhabitants are traumatic and far-reaching.
Each of the short 21 chapters tells the story, in monologue form, of individuals caught up in a bewildering and unprecedented - for this generation - economic crash. The 21 individual accounts starkly document how each person is affected as they search for meanings, truths and explanations.
They are a community and generation that expected better. They find themselves let down by establishment politicians, EU bureaucrats, and financiers as the 'Celtic Tiger' is vanquished.
The free market system and the ideology of economic liberalism, with its promise of prosperity and a land rich in milk and honey, has ended in inevitable failure. The dream - or rather the illusion - is dead, and the sting in the tail will be the years of harsh austerity to follow for people who had no hand in this financial disaster.
The narrative is rich, often raw, and sometimes humorous. Not surprisingly the style and form have drawn comparisons with Dylan Thomas's 'Under Milk Wood'. Ryan's novel is larger than fiction; it's a tale of the times.
'The Spinning Heart' by Donal Ryan, published by Doubleday Ireland, £7.99
---
In this issue
---
Labour and the unions

RMT rejects Labour affiliation - now step up the fight for workers' political representation

RMT special conference debates political strategy
---
Socialist Party news and analysis

Stop the Tory NHS wreckers

#NorthernFail: 250 rail services cancelled

Socialists defend Lush ad campaign against spy cops
---
International socialist news and analysis

Italy's political crisis is reverberating through Europe

No to Trump's trade war

Jordan: Workers and youth remove prime minister and demand end to austerity
---
Workplace news

Congress shut down by staff walkouts

PCS union launches strike ballot on pay

West Midlands firefighters vote to strike in massive numbers

East London housing workers fight privatisation of pay
---
'Made in Dagenham' strike 50 years on

'Made in Dagenham' Ford machinists pay strike 50 years on
---
Socialist Party reports and campaigns

Liverpool meeting remembers 47 councillors who fought and defeated Thatcher in 1980s

Yorkshire 1,000 for issue 1000

People's Assembly event lacks understanding of task facing Corbyn

200 years since the birth of Karl Marx - come and walk in his footsteps!
---
Opinion

Alt-right gains exposure - but tedious clichés betray lack of ideas

Rich, raw tale of financial crisis's impact on rural Ireland

The Socialist inbox
---
Home | The Socialist 6 June 2018 | Join the Socialist Party