New workers parrty
---
Filter by importance | All results
---
20 September 2007

Time for a new party
Break with Labour: The new merged union 'Unite' is leading a lobby of Labour Party conference on Sunday 23 September... By Rob Williams, Unite convenor, Swansea Visteon plant, personal capacity
13 September 2007

Fighting Unions Need a New party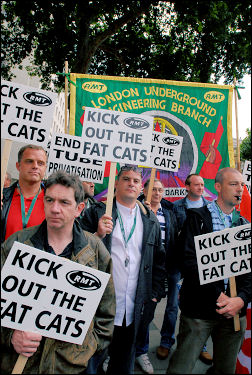 RMT protest against Tube privatisation, photo Paul Mattsson
Smash the pay freeze:
Insisting that public sector workers must accept below inflation pay rises - in reality, pay cuts - Gordon Brown showed how little difference there is between the Blair and Brown governments...
By Councillor Dave Nellist Chair, Campaign for a New Workers' Party.
19 July 2007

Build a new workers' party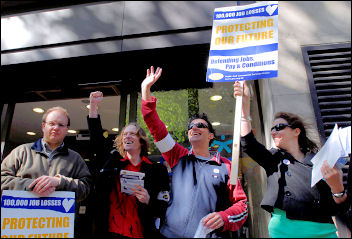 PCS workers on strike 1 May 2007. Workers need a party that will defend their interests. Photo Paul Mattsson
Trade unions - break with New Labour:
Rail workers' union (RMT) general secretary Bob Crow broadened the debate about the need for a new workers' party when he addressed the National Shop Stewards Network recently...
10 May 2007

How we can fight to build a new workers' party
"ABANDONED BY New Labour, working people need a political voice," said Chris Baugh, assistant general secretary of the PCS union...
7 February 2007

BLAIR MUST GO!
Time for a new workers' party: The 'cash for peerages' scandal has again reared its head with more arrests and police now circling around Tony Blair himself, writes Rob Windsor, Socialist Party Councillor, Coventry




LATEST POSTS

WHAT'S ON

17 May Oxfordshire & Aylesbury Socialist Party: The role of the state

18 May Bristol North Socialist Party: Liverpool - history of socialist struggle

19 May North London Socialist Party: Stop the Gaza slaughter - How can the conflict be ended?

CONTACT US
Locate your nearest Socialist Party branch Text your name and postcode to 07761 818 206
Regional Socialist Party organisers:
Eastern: 079 8202 1969
East Mids: 077 3797 8057
London: 075 4018 9052
North East: 078 4114 4890
North West 079 5437 6096
South West: 077 5979 6478
Southern: 078 3368 1910
Wales: 079 3539 1947
West Mids: 024 7655 5620
Yorkshire: 078 0983 9793

ABOUT US

ARCHIVE
---

2020

2019

2018

2017

2016

2015

2014

2013

2012

2011

2010

2009

2008

2007

2006

2005

2004

2003

2002

2001

2000

1999