PDF
|
Audio
|
2018 Back issues
---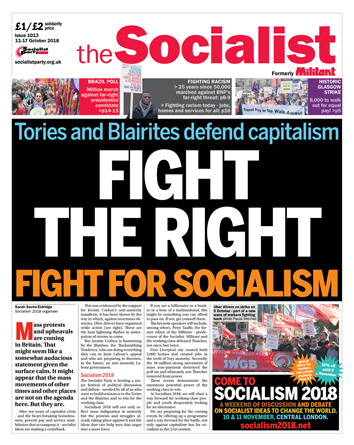 Click image for PDF

Tories' crisis conference – Corbyn must fight for general election
Dancing distractions, Brexit boos, Johnson leadership bids: The Tories are afraid. Of the Brexit negotiations, and of a general election
Workplace news and analysis

We need democratic, rank-and-file leadership to win national UCU disputes
Big battles loom in post-16 education – the best way to win is to put UCU members in democratic control of our union

First coordinated catering and courier strike whets workers' appetite for action
Workers at several branches of McDonald's, Wetherspoon and TGI Fridays have struck together, joined by couriers for Uber Eats and other gig economy workers #FFS410

Another first: pub strike victory in south London!
Striking workers at the Ivy House pub in Nunhead, south London, have won all their demands after three days of stoppage

Cable makers strike against real-terms pay cut
At midnight on 26 September, staff at cable manufacturer Prysmian in Eastleigh downed tools, with more strikes and a demo planned

Strike raises pay at Liverpool airport
Striking workers at Liverpool's John Lennon Airport who run essential safety-related services have settled for an improved pay offer

South Western rail guards hit 18 strike days
Guards at South Western Railway struck for 48 hours on 5 October – their 17th and 18th strike days – in their ongoing battle to maintain their safety-critical role
Socialist Party news and analysis

Fight the right
Fight for socialism: Mass protests and upheavals are coming in Britain. That might seem like a somewhat audacious statement given the surface calm. But they are

12 years to halt irreversible climate disaster. Capitalism's time is up
Real and immediate horrors face humanity even if the world limits global warming to the current target of 2°C.

8,000 Glasgow workers plan historic mass strike
A historic mass strike for equal pay by 8,000 council workers in Glasgow, 90% of whom are women, will take place on 23 and 24 October

Super-rich flee to Monaco to evade Corbyn
Britain's very wealthiest are already moving their trusts and setting up more offshore accounts in tax havens

Workers in UK do £1.2trn of unpaid housework and care
People in the UK do unpaid domestic labour equivalent to almost half of GDP – and the growing burden still falls mainly on women

Workers' action wins Amazon pay rise
Nationalise Amazon! £10 an hour now! Collective workers' action has forced billionaire boss Jeff Bezos to concede pay rises – £9.50 an hour in the UK and $15 in the US

Them & Us
It's one world for the super-rich, and another for the rest of us. Brett Kavanaugh, wage depression, deaths

Fight racism: fight for jobs, homes and services for all
Today, racism at work, racist attacks, racist immigration laws, deportations and police racism, are facts of life for millions of workers and young people

25 years since 50,000 marched against the far-right threat
In 1993 a mass protest demanded the HQ of the far-right BNP be shut down – with Militant, predecessot of the Socialist Party, playing a central role
International socialist news and analysis

Polarisation, risks and resistance in Brazilian elections
Brazil's most polarised and unpredictable election campaign in recent history has ushered in a new era for the country, with the far-right candidate coming within inches of victory

US: #CancelKavanaugh
Socialist Alternative (Socialist Party co-thinkers in the US) helped to call dozens of protests before and after Brett Kavanaugh was brought onto the Supreme Court

Mexico: socialists violently attacked by gangs – urgent solidarity needed
Socialists in Mexico have been attacked by fascistic gangs

Ireland: 10,000 march for homes in Dublin
"Inspired by the successful campaigns for marriage equality, repeal of the anti-abortion laws and abortion rights, young people from the 'locked-out generation' are turning their attention to housing"
Socialist Party reports and campaigns

Liverpool 47 plaque: "Better to break the law, than break the poor"
Standing ovations in a packed room as the Liverpool councillors who beat Thatcher called for fighting councils again today

Palestinian solidarity: "We are not victims. We are freedom fighters."
Ahed Tamimi addressed a meeting in Coventry via Skype

Leicestershire: stop the cuts to our hospital services
Ninety people gathered for a public meeting on Saturday called by Save Our NHS Leicestershire to oppose plans to remove, without consultation, intensive care beds from Leicester general hospital

Save Huddersfield Royal Infirmary – the fight goes on
Hundreds of onlookers pledged their support when they heard the fight for all Huddersfield hospital services still has to be won

Finance – a crucial component of socialist campaigns
Socialist Party members and supporters raised £27,483 in the July to September fighting fund quarter

The murky world of the 'Big Four' accountancy firms
The murky world of accounting is not easy to follow but it certainly reveals a lot about big business

The Socialist Inbox
Do you have something to say? Letters to the Socialist's editors. Varoufakis wrong on far right; GDPR at uni; street fighting; rail safety