PDF
|
Audio
|
2021 Back issues
---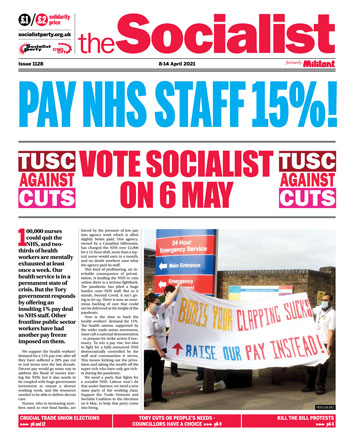 Click image for PDF

Pay NHS staff 15%!

Racism exists! Unite to fight all inequality

Report condones vigil police violence – democratic community control a necessity

Low-paid workers shouldn't pay for Covid crisis

The system is broken… youth unite and fight back

Fighting Fund: An amazing £39,948 raised

Sexism in education: It shouldn't be like this!

Pimlico Academy protests: "Run by racists for profit"

Academy schools have become business ventures

Defiance continues against anti-protest bill

London: #BuhariMustGo protests are back

Councillors have a choice – don't vote for cuts

Former Labour parliamentary candidate to stand for TUSC

NEU elections: Elect a socialist leadership to fight for national action and a united campaign

GMB general secretary election: A fighting, socialist leadership needed

Sparks take deskilling protests to Hinkley Point

Marley Tiles workers strike against bullying bosses

New British Gas deadline and strike dates

Bristol Water walkout

Childcare in crisis: A socialist solution

Right-wing Labour and Tory commissioners out of Liverpool!
After the arrest of Liverpool's Labour mayor Joe Anderson over allegations of corruption, the Tory communities minister Robert Jenrick ordered an investigation which was chaired by Max Caller.

1981 Brixton riots: Racism and poverty – the anger explodes

Brazil: Bolsonaro regime plunges into a deeper crisis

The Socialist Inbox