PDF
|
Audio
|
2021 Back issues
---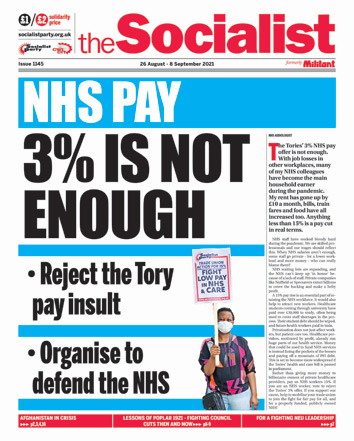 Click image for PDF

Afghanistan disaster – Unite to fight for funding for refugees and local communities

Afghanistan in crisis:

Afghanistan: The Taliban takeover – what are the lessons for the workers' movement internationally

NHS Pay

UK hospitals in danger of collapse

University of Leeds students bribed to stay away while staff are under attack

Exam results: grade gap widens
Lessons from Poplar 100 years on

Lessons from Poplar 100 years on

NEU: Oppose the pay freeze with action not just words

Care workers struggle for a pay rise and trade union recognition

Reject the Ministry of Justice pay offer

East Midlands rail strikes continue

Homelessness workers fight for better pay and conditions across sector

Woolwich ferry strikers – the action necessary to win
Unite the Union members working on the Woolwich Ferry have been taking discontinuous strike action since 14 May

Liverpool university strike saves jobs

Nigeria: Comrade Omomeewa, student leader and socialist campaigner, killed by armed assailants

SNP-Green deal will not deliver for workers and youth

Reflections on the Lebanese tragedy one year on

Biggest in-person socialist event this year!

Ealing by-election: Labour council has not opposed Tory cuts

Why I rejoined the Socialist Party

Councils declared climate emergency – now act like it!

Wales: Gearing up for 9 October youth marches

Liverpool: Stop the arms fair!

Marching for Kashmir's liberation

Donate to stop Tories clawing back crumbs

Film Review: Martin Eden

TV review: Revolutionary Love