PDF
|
Audio
|
2021 Back issues
---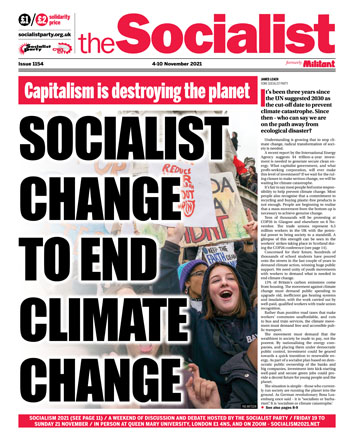 Click image for PDF

Socialist change to end climate change

Fight for socialism to end climate destruction
COP26: Zero trust in capitalist class: COP26 – the global climate summit taking place in Glasgow from 1 November – will probably agree on something. Promises to hit a 'net zero' carbon emissions target by 2050 for example.

COP26 begins – workers strike for pay

COP26 News in brief

Why I joined the Socialist Party
To explain why I joined the Socialist Party, I need to go back to 2008 and the global financial crisis

Fund the fight for a socialist world

Sheffield students tirelessly campaigning for socialist change

Hackney children's centres: Campaigners see through council deception

East London gentrification plans exposed

Fight for a real wage rise for all

Local government cuts set to continue – we need councillors prepared to fight

Race to top for bankers

Fight for a £15-an-hour minimum wage and an end to youth rates

Water companies put profits before protecting our environment

Tories threaten arts students: we are prepared to fight back!

Tory Universal Credit crumbs no solution to cost of living crisis

Tory plans won't fix social care

Pay freeze lifted for civil servants – prepare now for the struggle for a decent rise

NEU: Strategy needed to bring members together to take national action
NEU deputy general secretary election: For the first time, members of the National Education Union (NEU) have had the opportunity to vote for a deputy general secretary

Oaks Park school strike spurred on by head's lies

Scunthorpe scaffs strike into fifth week

Unite leaflets supermarkets to build support for Weetabix fire and rehire strike

Plant engineers pay dispute

Sexism, safety and the profit system

Sudan – mass protests and general strike against coup

Chile: International solidarity campaign to free political prisoners

Vaccine inequality – the ugly face of capitalism

Hunger strike in Calais for refugee rights

Protests against Sudan coup reach Britain