PDF
|
Audio
|
2021 Back issues
---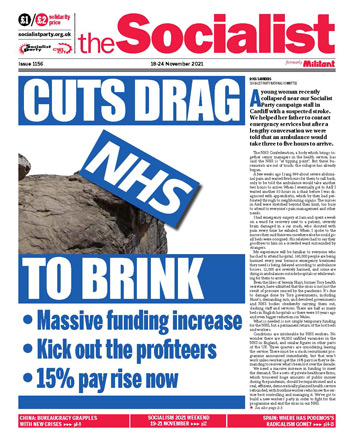 Click image for PDF

Cuts drag NHS to brink

NHS workers must take action now to save our NHS

Outsourced Barts health workers in strike ballot for a pay rise

Health and care staff shortages worsened by Tory vaccine sacking threat

Fund the fight for socialism
The Today programme, on BBC Radio 4, has been examining the state of the NHS, and looking at its history. The pressure on NHS and social care is unsustainable and untenable.

London MPs' second home swindle while workers and students struggle

Tory sleaze scandal continues, an ex-workers' MP responds

University bosses' pay piles up while workers are forced to strike

Youth fight for well-paid green jobs and socialist change

Sunak's climate finance agenda typifies capitalism's COP26 failure

China: Bureaucracy grapples with new crises

Ten years on – where has Podemos's radicalism gone?

Belarus refugees – caught between a rock and a hard place

S Wales Stagecoach bus drivers win £10.50 an hour
After 17 days of strike action Stagecoach members of Unite at Cwmbran, Blackwood and Brynmawr depots have voted to accept a deal that wins a £1 an hour rise to £10.50, backdated to April

DVLA ballot turnout falls short of threshold
PCS members at the Driver and Vehicle Licensing Agency (DVLA) have voted by 79% to continue their campaign of industrial action over Covid safety, but unfortunately the turnout was 39.6%, short of the 50% threshold required under the anti-union laws

Striking Scunthorpe steel scaffs up the ante

Leeds cab drivers protest against taxi rank move

Fresh strikes on East Midlands Railway

An appeal to trade union members to stand as anti-cuts candidates

Clarks workers fight 'fire-and-rehire' pay cut

London couriers take action

St Mungo's report fails to address bullying and victimisation of workers

Resisting evictions in east London

Leeds solidarity protest says stop Sudan coup

Why I joined the Socialist Party

Why am I coming to Socialism 2021?

Birmingham People's Budget
One Birmingham family – two adults with three children – one with ADHD who needs their own bedroom, are trying to survive in one-bedroom flat

Readers' opinion