The Socialist 7 November 2018
Tories out - we need socialism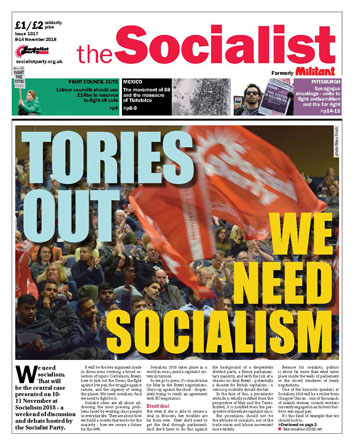 ---
Worldwide walkout at Google against sexual harassment
Pittsburgh Synagogue shootings: Unite to fight anti-Semitism and far right
Mexico: The movement of 68 and the massacre of Tlatelolco
---
Nae Pasaran: a film about working-class solidarity
---
Tories out - we need socialism!
---
Labour councils should use £14bn reserves to fight all cuts
University bankruptcy threat - kick the market out of education
Stand up against abuse - justice not racism
---
PCS Left Unity: Back Chris Baugh and Marion Lloyd for a fighting, democratic, lay-led union
Arriva Rail North strike hits 34 days of action
Cable workers' Halloween picket line attempts to 'scare' management into talks
Royal Bolton Hospital: Another victory against NHS privatisation
Occupy and demand nationalisation to save Devon shipyard
Unison HE ballot: Anti-union rules block action
---
Hundreds march to save Blackwood leisure centres
Crowds turn out for Corbyn in Rugby
Thousands march against overnight closure of Shropshire A&E
Protesters drive far right out of Liverpool
Unions and campaigners challenge Southampton cuts inside Labour and out
Support the Socialist alternative, subscribe to the Socialist
East London public square threat halted
PO Box 24697, London, E11 1YD
020 8988 8777
editors@socialistparty.org.uk

Link to this page: http://www.socialistparty.org.uk/issue/1017/28219
Home | The Socialist 7 November 2018 | Join the Socialist Party
Subscribe | Donate | Audio | PDF | ebook
Care crisis cashing in
Scott Jones
Private companies are making millions treating NHS patients in psychiatric hospitals that often fail to provide decent and safe care. An investigation by the Times found that thousands of patients are affected - many of them detained against their will under the Mental Health Act - and in some cases for years.
To provide this poor service the NHS can be charged as much as £13,000 a week, with some companies making huge profits. One firm has squirrelled away £25 million into a secret trust in Belize being investigated by the government. Another pays its chief executive £496,000. The latter - St Andrew's Healthcare - has been accused of locking a 17-year-old girl in a cell-like room with only a mattress and chair and meals passed through a hatch in the door. 76 of its other employees are paid more than £100,000.
About 2,400 people are thought to be being failed by these companies - most with learning disabilities or autism. The figure includes 250 children.
Patients are shipped out to private firms due to hospital closures and cuts to NHS mental health services. We need a fully-funded, completely publically owned and run NHS which can provide the services and care vulnerable patients need. Nationalise the private hospitals and kick out the fat cats that rip off the NHS and provide terrible care now!
---
In this issue
---
International socialist news and analysis

Worldwide walkout at Google against sexual harassment

Pittsburgh Synagogue shootings: Unite to fight anti-Semitism and far right

Mexico: The movement of 68 and the massacre of Tlatelolco

CWI news in brief
---
Opinion

Nae Pasaran: a film about working-class solidarity

The Socialist inbox
---
What we think

Tories out - we need socialism!
---
News

Labour councils should use £14bn reserves to fight all cuts

University bankruptcy threat - kick the market out of education

Stand up against abuse - justice not racism

Care crisis cashing in
---
Workplace news

PCS Left Unity: Back Chris Baugh and Marion Lloyd for a fighting, democratic, lay-led union

Arriva Rail North strike hits 34 days of action

Cable workers' Halloween picket line attempts to 'scare' management into talks

Royal Bolton Hospital: Another victory against NHS privatisation

Occupy and demand nationalisation to save Devon shipyard

Unison HE ballot: Anti-union rules block action

Bradford uni strike
---
Socialist Party reports and campaigns

Hundreds march to save Blackwood leisure centres

Crowds turn out for Corbyn in Rugby

Thousands march against overnight closure of Shropshire A&E

Protesters drive far right out of Liverpool

Unions and campaigners challenge Southampton cuts inside Labour and out

Support the Socialist alternative, subscribe to the Socialist

East London public square threat halted
---
Home | The Socialist 7 November 2018 | Join the Socialist Party