In this week's issue:
The Socialist 3 May 2007, issue Time for a new workers' party

2007 election analysis: Time for a new workers' party
Belligerent to the end, Blair described Labour's election results as a "perfectly good springboard to win the next election"...

Scottish Elections: Labour rocked as SNP wins
Socialist Party election campaign

NHS cuts... privatisation... widening wealth gap
Jackie Grunsell, Save Huddersfield NHS campaign councillor, photo Alison Hill

THE GOVERNMENT'S relentless attacks on the NHS show that health workers and NHS users need a new political party, as well as fighting trade unions...

CNWP conference
Campaign for a New Workers' Party conference
Saturday 12 May 12 - 5 pm
University College London, Gower Street.
To register or find out more visit www.cnwp.org.uk
Speakers include:
Ricky Tomlinson - actor and Shrewsbury Two Campaign
Chris Baugh - PCS assistant general secretary
Dave Nellist - Socialist Party councillor
Mel Mills - Huddersfield parent - campaigning against the closure of local nurseries and standing in the 3 May elections against cuts and privatisation.
Tony Mulhearn - Liverpool 47
Socialist Party NHS campaign

NHS: A matter of life and death in Swansea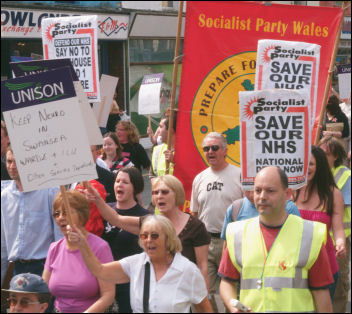 Marching through Swansea to save NHS services, photo M Kamish

NHS: AROUND 600 health campaigners and health workers held a march and rally in Swansea on 28 April to protest at the threat to services in the area...

Fat cats eye the cream
Socialist Party workplace news

PCS: Fighting for jobs, pay and services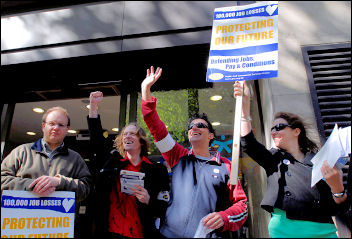 PCS on strike 1 May 2007, photo Paul Mattsson

May Day Strike: OVER 200,000 civil servants in the PCS took strike action on May Day, in defence of jobs, pay and services...

Picketing the Tate Modern
Socialist Party editorial

Widening wealth gap needs working-class response
Editorial: What is Tony Blair's legacy? The Sunday Times has no doubts. Its latest 'Rich List' revealed that the wealth of the richest 1,000 people in Britain.

Analysis of the local election results will be posted from Friday onwards
Socialist Party election campaign

Packed election rally for Scotland's Solidarity
OVER 500 people crowded into Glasgow's Royal Concert Hall for a Solidarity - Scotland's Socialist Movement election rally on 25 April...

Irish election - Socialist Party takes on the establishment

New Labour panics and resorts to lies

Yorkshire ISR and Socialist Students day of action
Global Warming

Alternative energy: Winds of change?
MOST SCIENTISTS agree that climate change caused by centuries of burning fossil fuel is a serious threat to the future of the planet...
Education

Stop these education cuts
ESOL: ON 28 April, Hackney Socialist Party members joined a union-organised east London demonstration against cuts to ESOL (English for Speakers of Other Languages) courses in further and adult education...
Socialist Students

Campaign to Defeat Fees
THE CAMPAIGN to Defeat Fees (CDF) day of action on 27 April involved students in schools, colleges and universities nationwide...

Seattle students walkout against the Iraq war

Pressure mounts for troops withdrawal
Socialist Party Marxist analysis

Russia April 1917: Lenin returns from exile
2007 is the ninetieth anniversary of the 1917 Russian revolution. To mark this, the socialist is running a series of articles looking at the events of...
Comment

Women must have the right to choose!
Abortion rights under threat: It has been revealed by the Royal College of Obstetricians and Gynaecologists that a woman's right to choose to terminate a pregnancy is under threat, due to a lack of medical staff willing to be involved in the procedure...
Socialist Party news and analysis

What 'public-private partnerships really mean
Tales from the council chamber: SOCIALIST PARTY councillors, Ian Page and Chris Flood have won another victory on Lewisham council...

Campaigning for LGBT rights

Oppose legal aid contracts tooth and nail
Socialist Party workplace news

Support the Sunvic strikers
STRIKING WORKERS from the Sunvic Controls factory in Uddingston, Scotland attended a Solidarity election rally in the Glasgow Concert Hall on 25 April....

Greenwich workers fight on

Remember the dead but fight for the living

The scandal of HSE cuts