In this week's issue:
The Socialist 17 October 2007, issue National Health Service: cutbacks and privatisation kill

National Health Service Cutbacks and privatisation kill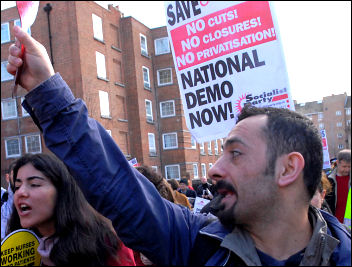 NHS demonstrations 3 March 2007, photo Paul Mattsson

HEALTH SERVICE workers and users in Kent were shocked at news that hundreds of deaths over three years have been blamed on epidemics of illness caused by the bacterium clostridium difficile in hospitals in Maidstone, Pembury ... By Nigel Sheahan and Julian Wilson, Tunbridge Wells and Hastings Socialist Party

National NHS demo
Called by Unison
Stop cuts, closures and privatisation
Saturday 3 November, 11am
Assemble at Temple Place, Victoria Embankment, London WC2

The vultures are circling ever closer

Vulture, cartoon Alan Hardman

NHS privatisation: FOURTEEN PRIVATE multinational companies will shortly be 'helping' England's primary care trusts (PCTs) commission services for patients... By Roger Shrives

10,000 march in Sussex

Swansea fights the cuts
Rally for Socialism
17 November 2007, 6.30-9pm
Friends Meeting House, Euston Road, London NW1
Speakers include:
Brian Caton, general secretary POA
Mark Serwotka, general secretary PCS
Matt Wrack, general secretary FBU
Peter Taaffe, Socialist Party general secretary
Tickets £10/£5
or ring 020 8988 8768
Postal dispute

Exposing Royal Mail's lies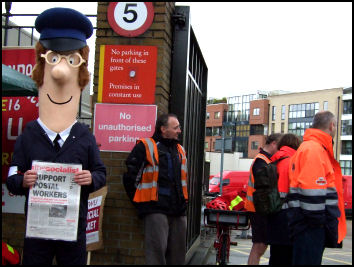 Postman Pat joins the CWU picket line in East London, photo Naomi Byron

While negotiations between Royal Mail management and the Communication Workers Union were still on-going, a London postal worker who was involved in unofficial strike action spoke to the socialist about the dispute....

Postal workers waiting to assess Royal Mail deal

Fighting Royal Mail management's attacks

Solid unofficial action in East London
National Shop Stewards' Network meetings
London & South East
Sunday 21 October 1-4pm
ULU, Malet Street near Euston station
Speakers include Brian Caton (POA), Rob Kelsall (GMB), Paul Jackson (RMT).
Wales conference
Sunday 28 October 12noon-4pm
Temple of Peace, Cathays Park, Cardiff
email robbo@redwills.freeserve.co.uk for more details.
West & East Midlands
Saturday 24 November
Scotland
Saturday 1 December 11am-5pm
Quality Central Hotel, Hope Street, Glasgow
Speakers include Bob Crow (RMT) and Janice Godrich (PCS)

Daylight robbery in Scotland!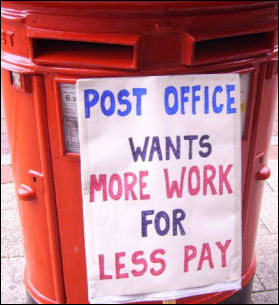 CWU poster during strike in Sheffield

After our return to work on Wednesday the mood was very tense. Our members had just been on two 48-hour strikes, covering two separate weeks. As we are...

Save Bolsover Post Offices
Socialist Party Marxist analysis

Brown's blues
Gordon Brown's honeymoon is over. His initial commanding lead in opinion polls fuelled speculation of a snap election. Now, the new prime minister trails...
International Appeal

Students on trumped-up charges
Nigeria: THREE NIGERIAN student activists from Obafemi Awolowo University (OAU), Ife Ife, are in jail on made-up charges including conspiracy to murder and attempted murder....
Socialist Students

Scrap fees for all students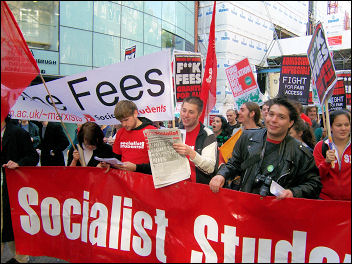 Students demonstrating in 2006, photo Dave Carr

Fight for free education: On what basis did the Sunday Times name Manchester University 'university of the year'... By Abby Taylor, Manchester Socialist Students

National Shop Stewards Network

Young workers and students need to get involved
National Shop Stewards Network: : "I work in the Pensions Department but I'll never receive one when I'm older" and "Treat us like the rest, temps have feelings too... By Tracy Edwards PCS national young members organiser, personal capacity

"You've got to stick together"

Stop the placement rip-off now!
Campaign for a New Workers Party

Tony Benn evades the issue
Workers' party debate: TONY BENN can still draw a crowd. Over 200 students packed into a recent Stop the War Society meeting at University College London to hear him speak. ... By Paula Mitchell
Trade Union Freedom Bill

Trade Union Freedom Bill: Banishing Thatcher's anti-union legacy?
For the last quarter of a century the labour movement has been shackled with what Tony Blair once boastfully described as the most restrictive laws governing trade unions in the western world...

Working longer hours for less pay
Socialist Party women

ITV2 - making a good deal out of women's bodies
Lois Austin comments on the heavily promoted ITV2 programme, 'Secret Diary of a Call Girl'....
International socialist news and analysis

Workers' struggle and political instability sends Polish government into meltdown
THE POLISH government has imploded. The ruling Law and Justice Party has decided to end the long drawn out demise of its coalition. Elections are scheduled... By Karl Debbaut, Committee for a Workers' International (CWI)

Australia: Liberals v Labour - no choice for working people in election
Socialist Party news and analysis

Children's homes at risk of buy-outs
IT IS like a scene out of Oliver Twist. A big private equity firm (which are notorious for their high profits and cost-cutting attitudes) bought up a profit-seeking... By Keith Whitehead