The Socialist 29 November 2017
Make the Tories history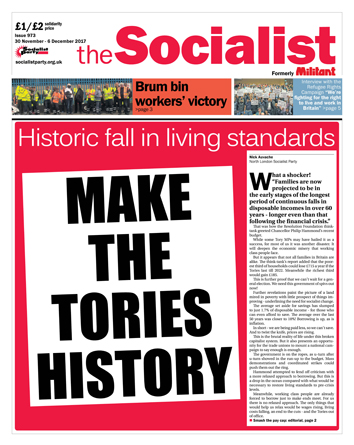 ---
After the budget - unions must launch pay fight
---
Tory housing policy: build zilch, hike prices
---
Socialist Students day of action demands free education
---
We're fighting for the right to live and work in Britain
---
North West: drivers and housing workers escalate strike wave
Kirklees bin workers ballot for strike over schedule and bullying
Brighton Uni lecturers strike against job cuts
DWP to outsource more work to Capita
PCS union says no to pay misery
---
Save Glenfield Children's Heart Centre! Save our NHS!
'Hands around HRI' to save Huddersfield A&E
Tyneside to protest against A&E and walk-in cuts
---
Bristol libraries safe - for now - as council caves to pressure
Osborne evades Carlisle socialists
New ebook: Liverpool A City That Dared To Fight
---
Amber warning lights flash on British economy
PO Box 24697, London, E11 1YD
020 8988 8777
editors@socialistparty.org.uk

Link to this page: http://www.socialistparty.org.uk/issue/973/26533
Home | The Socialist 29 November 2017 | Join the Socialist Party
Subscribe | Donate | Audio | PDF | ebook
Tory housing policy: build zilch, hike prices
We say: cap private rents and build council homes now
Dave Carr, East London Socialist Party
In his recent Budget speech, Chancellor Philip Hammond - to the delight of bleating Tory MPs - announced a cut in stamp duty on house sales, and measures to build 300,000 new homes a year.
As is always the case with Tory headline claims, the devil is in the detail. Closer inspection shows Hammond's housing initiatives don't amount to a hill of beans.
They plan to abolish stamp duty for first-time buyers on properties costing up to £300,000. And there will be 0% tax on the first £300,000 on properties costing up to £500,000.
But this will not reverse the trend in rising housing costs and declining home ownership.
Firstly, it will have little impact on property hotspots like London and the South East. And by the way, only the very affluent could afford the deposit and mortgage required on a £500,000 house - the average price in London.
Secondly, according to the Office for Budget Responsibility, "the main gainers from the policy are people who already own property, not the first-time buyers themselves." The cut in duty goes straight on the house price. This is based on evidence from a similar scheme New Labour's Gordon Brown introduced after the 2008 financial crisis.
But what about Hammond's other master stroke - building 300,000 new homes a year by pumping in £44 billion of investment?
The headline £44 billion investment is mostly in the form of loans and guarantees. According to the Institute for Fiscal Studies, the actual amount of new money is only £1.5 billion.
Compare that to the £20 billion the Tories have ripped out from UK housing projects - the equivalent of 280,000 homes, according to a Labour estimate.
Moreover, the latest house building announcement doesn't promise much more than the existing 'Starter Homes Initiative' introduced by the Tories in 2014.
Scandalously, it was revealed two days before the Budget that under this scheme not a single house has been built! The only beneficiaries appear to be the big builders.
The simple truth is that the last time any government built 300,000 homes was when it did it itself. Councils could start right now by building council homes. Jeremy Corbyn should tell them to do so, and pledge to reimburse them when in power.
100,000 households are priced out of the property market every year, according to estate agent Savills
The Tories have slashed house building grants to councils and housing associations by 81% - from £4.1 billion in 2010 to £764 million last year
---
In this issue
---
What we think

After the budget - unions must launch pay fight
---
Socialist Party news and analysis

Make the Tories history

Tory housing policy: build zilch, hike prices

Them & us
---
Socialist Students

Socialist Students day of action demands free education
---
Refugees

We're fighting for the right to live and work in Britain
---
Workplace news and analysis

Birmingham bin workers win!

North West: drivers and housing workers escalate strike wave

Kirklees bin workers ballot for strike over schedule and bullying

Brighton Uni lecturers strike against job cuts

DWP to outsource more work to Capita

PCS union says no to pay misery
---
NHS

Save Glenfield Children's Heart Centre! Save our NHS!

'Hands around HRI' to save Huddersfield A&E

Tyneside to protest against A&E and walk-in cuts
---
Socialist Party reports and campaigns

Bristol libraries safe - for now - as council caves to pressure

Osborne evades Carlisle socialists

New ebook: Liverpool A City That Dared To Fight
---
Economy

Amber warning lights flash on British economy
---
Home | The Socialist 29 November 2017 | Join the Socialist Party