The Socialist 29 November 2017
Make the Tories history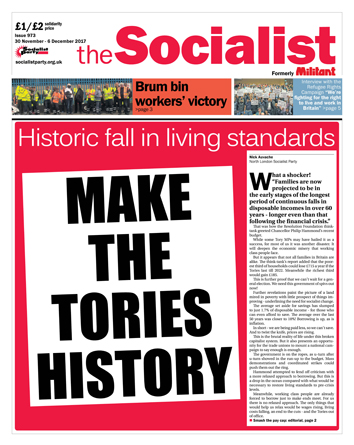 ---
After the budget - unions must launch pay fight
---
Tory housing policy: build zilch, hike prices
---
Socialist Students day of action demands free education
---
We're fighting for the right to live and work in Britain
---
North West: drivers and housing workers escalate strike wave
Kirklees bin workers ballot for strike over schedule and bullying
Brighton Uni lecturers strike against job cuts
DWP to outsource more work to Capita
PCS union says no to pay misery
---
Save Glenfield Children's Heart Centre! Save our NHS!
'Hands around HRI' to save Huddersfield A&E
Tyneside to protest against A&E and walk-in cuts
---
Bristol libraries safe - for now - as council caves to pressure
Osborne evades Carlisle socialists
New ebook: Liverpool A City That Dared To Fight
---
Amber warning lights flash on British economy
PO Box 24697, London, E11 1YD
020 8988 8777
editors@socialistparty.org.uk

Link to this page: http://www.socialistparty.org.uk/issue/973/26541
Home | The Socialist 29 November 2017 | Join the Socialist Party
Subscribe | Donate | Audio | PDF | ebook
'Hands around HRI' to save Huddersfield A&E
Fighting 'closure by stealth'
Mike Forster, chair, Hands off HRI campaign
The campaign to save Huddersfield Royal Infirmary, Hands Off HRI, has called a protest on 2 December in solidarity with staff and patients.
Two weeks ago the local NHS trust announced plans to centralise some services by moving wards to nearby Halifax, claiming this was due to staff shortages and a looming winter crisis.
We have explained this is part of a 'closures by stealth' programme by the trust. Although it has claimed the wards will be reopened, no one believes them. Especially since the wards earmarked for closure would be part of their plan to close the A&E anyway.
The people of Huddersfield remain very angry and worried about the implications of these cuts. One woman contacted the campaign to tell us her grandmother is seriously ill on one of the wards and any move could kill her.
Thousands of leaflets have been distributed, and twice-weekly stalls have been taking place, calling people to action.
Of course the campaign is still pursuing a full judicial review against the planned moves, and has now secured legal aid to take the case all the way. At the same time, local councillors vetoed the plans earlier this year, and have referred the whole matter to the government's 'Independent Reconfiguration Panel' which can order a rethink.
So the campaign goes on. It continues to attract new supporters every week due to high-profile events and ongoing local support.
The protest is supported by all local MPs - two of whom will be joining the protest - as well as local councillors. As the campaign approaches its second anniversary, morale remains high. Campaigners are hopeful the judicial review can force the trust back to the drawing board.
Protestors will assemble at Reinwood playing fields at 11.30am on 2 December, before marching to the hospital to join hands and rally at the main gates just after midday. Everyone is welcome.
---
In this issue
---
What we think

After the budget - unions must launch pay fight
---
Socialist Party news and analysis

Make the Tories history

Tory housing policy: build zilch, hike prices

Them & us
---
Socialist Students

Socialist Students day of action demands free education
---
Refugees

We're fighting for the right to live and work in Britain
---
Workplace news and analysis

Birmingham bin workers win!

North West: drivers and housing workers escalate strike wave

Kirklees bin workers ballot for strike over schedule and bullying

Brighton Uni lecturers strike against job cuts

DWP to outsource more work to Capita

PCS union says no to pay misery
---
NHS

Save Glenfield Children's Heart Centre! Save our NHS!

'Hands around HRI' to save Huddersfield A&E

Tyneside to protest against A&E and walk-in cuts
---
Socialist Party reports and campaigns

Bristol libraries safe - for now - as council caves to pressure

Osborne evades Carlisle socialists

New ebook: Liverpool A City That Dared To Fight
---
Economy

Amber warning lights flash on British economy
---
Home | The Socialist 29 November 2017 | Join the Socialist Party