Merthyr
---
Filter by importance | All results
---
6 February 2013

Them & Us
Spending power: In the last decade spending on cinema and theatre tickets has dropped by a third and spending on foreign holidays by 16 to 34 year olds has fallen by £922 million...
9 November 2011

1935 - when angry Welsh protests forced a government u-turn
On 4 February 1935, Ceridwen Brown of Aberdare led an army of women, some carrying babies, to Merthyr Tydfil Unemployed Assistance Board (UAB) offices, writes Geoff Jones.
7 September 2011

NEET figures still rising
The number of NEET (Not in Employment, Education or Training) youth in the UK has risen to 18.4%. One year ago NEET figures were at 16.3%. It is no coincidence that the figure has risen sharply and steeply...
17 August 2011

Youth march in Wales to demand jobs
17 young people marched from Merthyr to Cardiff to protest against the scandal of youth unemployment. The three-day march of Youth Fight for Jobs, Wales, ended on 6 August to a terrific reception...
3 August 2011

MARCH FOR JOBS!
Merthyr to Cardiff 4-6 August: Tory work and pensions secretary, Iain Duncan Smith, singled out Merthyr Tydfil when he implied that the main barrier to jobseekers finding work was their own apathy - 'why don't they just get on a bus to Cardiff?' he asked
13 July 2011

Jobs not Cuts
Con-Dems have no solution to unemployment: Merthyr Tydfil in Wales has the fourth highest level of youth unemployment in Britain with more than a third of 16-24 year olds unable to find work, writes Katie Simpson, Cardiff Youth Fight for Jobs.
27 October 2010

On your bus, IDS!
WORK AND Pensions Secretary Iain Duncan Smith (IDS) wants to blame the "feckless" unemployed for mass unemployment in the south Wales valleys, writes Dave Reid, Cardiff.
3 November 2009

Reports from the postal workers' picket lines
Postal workers reported solid support for the strike across Southampton. At Bitterne the mood was particularly determined in the face of an ongoing dispute over drivers' hours that management want to reduce:...
21 January 2009

Hoover workers march in protest at job losses
People on the streets of Merthyr applauded as over 200 Hoover workers marched from the factory to the town centre to protest at the threat to 337 jobs by Candy, the parent company, writes Dave Reid, Socialist Party Wales.
3 December 2008

Fighting the threatened closure of Hoover factory
South Wales: Over 300 jobs are at risk in South Wales, as management at the Hoover washing machine and tumble dryer factory in Merthyr Tydfil warned it could no longer produce "competitively priced" products, writes Vic Jenkins.
19 March 2008

Anger and strength in the DWP workplaces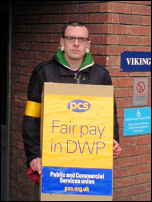 DWP members strike on 17 - 18 march 2008
ON 17 and 18 March, members of the civil service union PCS in the Department for Work and Pensions (DWP) were on strike for the second time against the imposition of a three year pay offer. Regional reports.
31 May 2007

The Merthyr Rising 1831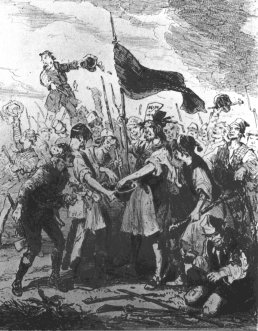 The Merthyr Ruising of 1831
Pages from working-class history: Insurrection of the men of iron
A PROTEST march attacked by the military turns into a generalised insurrection. Armed workers take over the town, and besiege the authorities in their headquarters. Barricades are set up on the roads into town and a military 'relief force' is surrounded and disarmed.
10 May 2007

Wales: Labour's worst result
THE WELSH Assembly election on 3 May produced Labour's worst-ever result in Wales...
8 March 2007

No divide and rule - save these hospitals
SOCIALIST PARTY members have been campaigning in Rhondda Cynon Taff and Merthyr against hospital cuts...
12 February 2005

Incapacity benefit: New Labour hits the poor and vulnerable
THE GOVERNMENT'S own survey showed last year that only 0.3% of the Incapacity Benefit paid in the UK is fraudulently claimed...