Reports and Campaigns
---

About the Socialist Party

Anti-capitalism

Anti-privatisation

Anti-war

Election campaigns

Environment

Health

Socialist women

Workplace

Youth and Students
---
Local government tags:
---
Reports and campaigns:
Stop the slaughter of Tamils (55)
Workplace and TU campaigns (5133)
Related websites
Trade Unionist and Socialist Coalition
National Shop Stewards Network
---
19 September 2012

Them & Us
Taxing issue: 'Only the little people pay taxes' appears to be chancellor George Osborne's mantra after allowing, from 2013, UK-based multinational corporations to avoid paying taxes on profits from offshore operations...
30 May 2012

Them & Us
Expense oversight: Baroness Warsi says it was all an oversight. Her Ladyship, Tory peer and vice-chair of the Conservative Party, allegedly took taxpayers' cash for expenses for hotels while sleeping at a friend's house...
20 September 2010

Is sustainable growth possible on a capitalist basis?
Most capitalist politicians now pay lip service to sustainability, so what are the prescriptions they are putting forward to achieve this...
26 May 2010

Tory government says rich must pay less
CAMERON'S GOVERNMENT wants to cut public services drastically and make most people pay more through rising taxes (direct and indirect) to slash the deficit...
21 October 2008

Keynesianism now trumpeted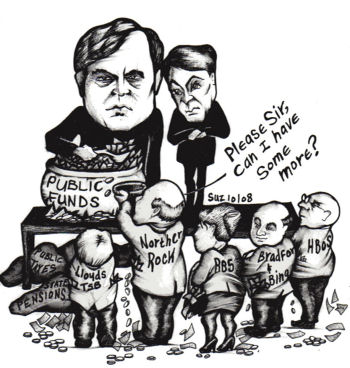 Oliver Twist banks - Please sir, can I have some more?, photo www.squashdonkey.co.uk
"EVERY DAY this week there will be a picture of misery for the UK economy" said Citigroup economist Michael Saunders at the start of last week...
23 July 2008

Car taxes add to inflation misery
CHANCELLOR ALISTAIR Darling is postponing his proposed 2p in the pound fuel tax rise scheduled for October, writes Mark Pickersgill.
3 June 2008

Editorial: Target 'ecological' taxes at the biggest polluters
Across Europe, farmers, fishermen, lorry drivers and others have been protesting against increased fuel costs...
28 May 2008

Tax the rich not the poor!
Over four million low-paid workers felt some relief when Gordon Brown was forced into his tax u-turn, writes Judy Beishon.
11 October 2007

Any spare cash?
Retired and insolvent: DISPOSABLE INCOME, the amount of money a household has available to spend after all the must-pay bills – taxes, utility bills, food, transport, clothing, communication, TV licence fees, insurance and housing – has reached its...
26 July 2007

Airports industry expansion plans fail to take off
IN MAY 2007 a public inquiry started at Stansted Airport, Essex, over plans to increase the number of passengers from the current 25 million limit a year to 35 million...