The Socialist 29 April 2015
Fight cuts - vote TUSC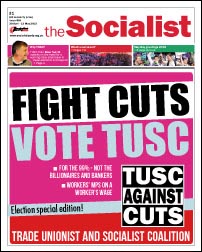 ---
After the election: prepare for the battles to come
Establishment witch-hunt in Tower Hamlets
Rent controls? Another Labour fudge
The Socialist election schedule
---
125 years of May Day: Learn lessons of past struggles
Ireland: crucial stage for water charges
---
Socialist plan or capitalist chaos
Why you should join the socialists
---
Why the Trade Unionist and Socialist Coalition?
Key working class fighters rally to TUSC
Anti-cuts councillor set to defend seat
Pop star and activist Jawad Ahmad backs TUSC
Why many class fighters won't vote Labour
---
Labour Party link dominates conference discussion
Dundee porters force NHS bosses to retreat
Glasgow homelessness caseworkers' strike
MoD IT workers demand decent pay
Bromley workers escalate strikes
Bradford bus drivers strike against job losses
Wales: Hundreds protest cuts to adult education
Barking bin workers walkout over pay cuts
---
May Day Greetings in the Socialist 2015 - pdf
PO Box 24697, London, E11 1YD
020 8988 8777
editors@socialistparty.org.uk

In this issue:
The Socialist 29 April 2015, Fight cuts - vote TUSC

NHS in crisis
Reverse all cuts and privatisation: The scene: a Medical Incident Officer - a standby doctor normally called upon for major accidents - arrives at Worcestershire Royal Hospital to treat patients who have been waiting for hours, untreated in ambulances outside the hospital

After the election: prepare for the battles to come

Establishment witch-hunt in Tower Hamlets

Rent controls? Another Labour fudge

And the rich just get richer!

Them & Us

The Socialist election schedule

125 years of May Day: Learn lessons of past struggles
This year marks the 125th International Workers' Day, or 'May Day'. The original call for workers' demonstrations around the world on 1 May was made in July 1889 at the International Socialist Workers Congress in Paris

Ireland: crucial stage for water charges

Greece: gold mining meeting

Socialist plan or capitalist chaos
The 'S' word - socialism - dare not speak its name in this election. Apart from TUSC - with its brilliantly effective TV broadcast and general programme for socialist change - none of the big or even the smaller parties have been prepared to offer any alternative to the existing capitalist system

Why you should join the socialists

Why the Trade Unionist and Socialist Coalition?
It's crunch time. As Britain heads to the polls - and awaits the outcome of subsequent political horse trading - who will fight for the interests of ordinary people?

Why I'm standing

Key working class fighters rally to TUSC

Anti-cuts councillor set to defend seat

Pop star and activist Jawad Ahmad backs TUSC

Why many class fighters won't vote Labour

Labour Party link dominates conference discussion
The Communication Workers' Union conference started in the aftermath of Dave Ward becoming the new general secretary

Dundee porters force NHS bosses to retreat

Glasgow homelessness caseworkers' strike

MoD IT workers demand decent pay

Bromley workers escalate strikes

Bradford bus drivers strike against job losses

Wales: Hundreds protest cuts to adult education

Barking bin workers walkout over pay cuts

May Day Greetings in the Socialist 2015 - pdf