The Socialist 17 April 2019
£100 billion for bosses - cuts for us. Fight for the socialist alternative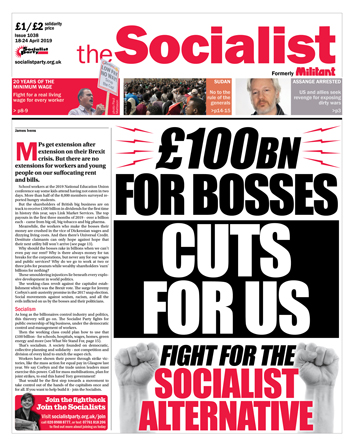 ---
Tories facing electoral meltdown - but only a socialist alternative to austerity can finish them off
---
£100 billion for bosses - cuts for us.
Assange arrest: US and allied governments seeking revenge for exposing dirty wars
Labour looks to Bank of England to stall house prices
No-fault evictions ban, but cuts leave tenants vulnerable
Labour needs socialist policies to solve "climate emergency"
---
20 years of the minimum wage: Fight for a real living wage for every worker
---
Newham bin workers ballot for strikes
Arriva Rail North cleaners fight bosses' punitive pay arrears
School staff demand action on pay and testing at NEU conference
Deliveroo workers protest at firm's Nottingham roadshow
PCS union: vital local strikes and a national pay ballot - vote for a fighting leadership
Unison union: right wing tries to block campaigning - elect a socialist leadership
---
Sudan: No to rule of the generals!
---
Labour councils must act now to save our schools!
Council elections - an opportunity to present a socialist alternative to cuts
Activists rally in fight for more council housing and against high rents
Youth climate strikes: Democratic organisation and socialist policies needed
---
Engels' classic essential for understanding socialist ideas old and 'new'
Real life on Universal Credit: "As soon as I get billed for my electric, I'm finished"
PO Box 24697, London, E11 1YD
020 8988 8777
editors@socialistparty.org.uk