The Socialist 22 March 2017
The Tories are rotten: kick them out!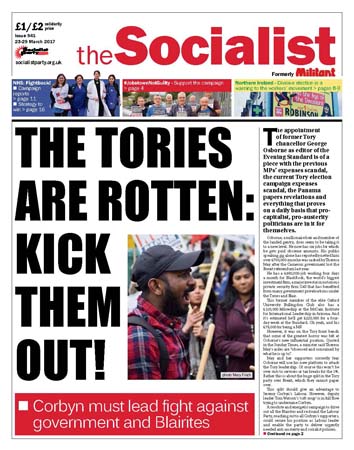 ---
Tory splits brought to the surface - Corbyn must go on the attack
---
Tories scrap housing benefit for under-21s
Fight Tory attacks on women and children
Socialists demand reply to Livingstone's smear of Militant
---
Northern Ireland: divisive election a warning to the workers' movement
Jobstown Not Guilty: defend the right to protest
Netherlands: Heavy defeat for austerity government
Yemen: workers and their families left to starve by multinational companies
---
Merseyrail guard found not guilty of "endangering safety"
End the seven-year public sector pay cap!
Aslef offer: unity needed with the RMT to defeat DOO on Southern
Battle steps up in Unite general secretary election before start of voting
Derby TAs' strike suspended after new offer
---
Biggest ever protest by Orgreave campaigners outside Home Office
Join the march against NHS cuts and privatisation in Cumbria
Battle for Wallsend walk-in NHS service
East London demonstration against A&E closure
Salford: International Women's Day meeting full of interesting debate
---
"After seeing the branch's effect in the community, I decided to join"
'I'm writing this to tell you about the plight of disabled people'
Precise, visceral account of working class heroism
PO Box 24697, London, E11 1YD
020 8988 8777
editors@socialistparty.org.uk
Socialist readers' comments and reviews