The Socialist 19 November 2014
Workers unite to defend the NHS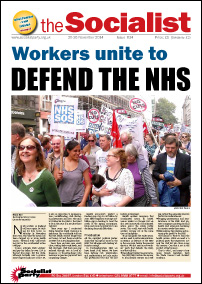 ---
Workers unite to defend the NHS
Solidarity vital to defend trade union rights
Leaked document reveals union busting plan
Toxic mix in Rochester and Strood byelection
Fraudster bankers couldn't give a Forex
The beautiful game looking ugly
---
Unreported Nigeria: Class struggle and inequality
Israel/Palestine: Wave of rage answers new repression
---
We can defeat low pay and zero-hours!
Fighting for decent working conditions
---
Labour councils attack organised workers
Campaigning against rail cuts and profiteering
Power station builders walkout over blacklisting
Local government unions accept shabby pay deal
---
Raging tenants evict rich landlord
Students' victory in housing battle
---
Teacher and health worker take fight to Oxford council
---
PO Box 24697, London, E11 1YD
020 8988 8777
editors@socialistparty.org.uk

In this issue:
The Socialist 19 November 2014, Workers unite to defend the NHS

Workers unite to defend the NHS
NHS workers in England will once again be striking for four hours on Monday 24 November from 7am. This time the action has been stepped up as more health unions - eleven in total - will be taking part

Solidarity vital to defend trade union rights
Thirty years after the Miners' Strike, the government has launched the biggest single attack on a trade union since Tory Prime Minister Margaret Thatcher set her sights on the NUM

Leaked document reveals union busting plan

Toxic mix in Rochester and Strood byelection

Rotten to the Greencore

Fraudster bankers couldn't give a Forex

The beautiful game looking ugly

Them & Us

Unreported Nigeria: Class struggle and inequality
When Nigeria is mentioned in the British press it is usually to report the horrors of Boko Haramís latest terrorist attack or the - at least for now - successful battle against Ebola. However, there is another side to Nigeria - the magnificent history of struggle by the working class

Israel/Palestine: Wave of rage answers new repression

We can defeat low pay and zero-hours!
Protest 21 November: The Fast Food Rights campaign, organised by the bakers' union BFAWU, Youth Fight for Jobs and others, has been causing a stir with our protests outside McDonalds, KFCs and Burger Kings across the country

Fighting for decent working conditions

Labour councils attack organised workers
Hull: A year after determined Hull council trade unions stopped the worst attacks of a Labour-led council on it workforce, the council leadership is now preparing the way for a fresh onslaught

Campaigning against rail cuts and profiteering

Power station builders walkout over blacklisting

Local government unions accept shabby pay deal

Unison Wales FE strike ballot

Raging tenants evict rich landlord
When a 200 strong march of London's New Era estate and their supporters posted a massive eviction notice on management's door, no one believed it would happen five days later

'We will not move!'

Students' victory in housing battle

Bedroom farce

Teacher and health worker take fight to Oxford council
Teacher Stella Collier and health worker James Morbin are standing for TUSC on the Blackbird Leys estate in city and county council by-elections on 27 November

Bitterne walk-in's bitter win

NHS is going to the dogs

Owen Jones: no answers
Owen Jones, the celebrity, journalist and Labour member, spoke to a packed lecture theatre on 15 November

Socialism 2014