The Socialist 13 July 2016
Organise the resistance: fight the Tories and the Blairites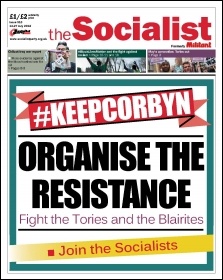 ---
Child poverty rises by 200,000 in a year
Welsh Assembly to scrap 'right to buy'
Nine-month prison sentence for fleeing ethnic cleansing
What we saw: Angela Eagle Facebook meme
---
Fight racism: for jobs, homes and services for all
Police racism still lethal in Britain
Majority support migrants staying - fight hate crime
---
Step up the campaign to back Corbyn's fight
Tory coronation is attempt at stability that can't work
---
Chilcot Iraq report: More piles of evidence against the blood-soaked war for oil
---
Angry prison officers walk out over reforms
New threat to impose junior doctors contract must be met with strike action
Vote Chas Berry for Napo national chair
Unite policy conference 2016: Blairite coup, Trident and cuts dominate opening days
---
Spain: Disappointment for left in re-run general election
---
Thousands mobilising to #KeepCorbyn
Why I joined: "I no longer felt isolated from politics"
Fight back is on to save NHS heart services
Sales of the Socialist through the roof since the referendum
PO Box 24697, London, E11 1YD
020 8988 8777
editors@socialistparty.org.uk

In this issue:
The Socialist 13 July 2016, Organise the resistance: fight the Tories and the Blairites

Child poverty rises by 200,000 in a year
In the space of just one year, 2014 to 2015, the number of children living in poverty in the UK has risen by a staggering 200,000. This brings the total number to 3.9 million, according to the Department for Work and Pensions (DWP).

Welsh Assembly to scrap 'right to buy'

Nine-month prison sentence for fleeing ethnic cleansing

HSBC jailbreak

Rail fail

What we saw: Angela Eagle Facebook meme

Them & Us

Fight racism: for jobs, homes and services for all
Solidarity with #BlackLivesMatter: Eljeer Hawkins of the Socialist Party's US co-thinkers reports on the anti-racist struggle there.

Police racism still lethal in Britain

Majority support migrants staying - fight hate crime

Step up the campaign to back Corbyn's fight
It's a victory - reflecting enormous pressure from Labour members and trade unionists - that the attempt to stop Jeremy contesting a new Labour leadership election has been defeated.

Tory coronation is attempt at stability that can't work

Chilcot Iraq report: More piles of evidence against the blood-soaked war for oil
The 2.6 million-word Chilcot report in essence acknowledges that the devastating war on Iraq and occupation was a completely unjustifiable act of military aggression, by making it clear that it was not necessary.

Angry prison officers walk out over reforms
Prison officers in England and Wales staged unofficial walkouts on 8 July in protest against proposed reforms. The Prison Officers Association (POA) is angry that its members have not been consulted over the government's plans to change the way prisoners are supervised - which it believes could lead to redundancies.

New threat to impose junior doctors contract must be met with strike action

Vote Chas Berry for Napo national chair

Unite policy conference 2016: Blairite coup, Trident and cuts dominate opening days

Workplace news in brief

Spain: Disappointment for left in re-run general election
The results of the 26 June re-run general elections in Spain were without doubt very disappointing for many activists, and for broad layers of workers and youth. All opinion polls pointed to the much-coveted 'sorpasso' - ie the alternative left overtaking the ex-social democratic PSOE as the main opposition to the right-wing PP (People's Party).

CWI in brief

Thousands mobilising to #KeepCorbyn
Reports of rallies and meetings around the country in support of Jeremy Corbyn.

Why I joined: "I no longer felt isolated from politics"

Fight back is on to save NHS heart services

Sales of the Socialist through the roof since the referendum