Elizabeth O'Hara
Around 30 supporters of the Save Our Children's Services – Westminster campaign marched on the 26 March TUC demonstration.
Children from a local nursery used handprints to make t-shirts and placards saying 'hands off our services'. The demo will give a huge boost to hundreds of campaigns like ours everywhere.
Our campaign was set up earlier in March by parents and carers to oppose the local council's plans to cut the borough's Sure Start children's services by, on average, £50 a child next year. This is despite the prime minister's assurance that children's centres would not suffer from spending cuts.
Westminster says central government funding for Sure Start has been reduced so the council must also cut its budget, but we don't accept our services must be cut as a result.
In Westminster there is money for some things but not for others.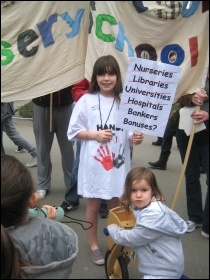 Save Sure Start services – Westminster campaign, photo Save our Childrens Services (Click to enlarge: opens in new window)
The council says it needs to save around £0.75 million from its Sure Start budget. Yet, it has over £11 million in reserves.
The council spends £10.5 million a year on highly paid consultants and the council admits that some top council officers earn more than the prime minister. Nonetheless, the council plans to increase charges for children's holiday play schemes from £22 a week to £120 a week – up 545%. They would also raise charges for children's after school play provision from £8.30 a week to £30 a week – a 360% increase.
Our campaign asked every councillor to vote against cutting the Sure Start budget. Yet at the March meeting, elected councillors voted through a 20% cut to children's services, while rejecting a proposal to reduce their own allowances by 10%.
We forced Westminster to publish an additional consultation document, extend the consultation period and hold additional consultation meetings with parents. But there is still everything to fight for. We demand that Westminster council uses its reserves to ensure no cuts to children's services in the borough.
Please send protest messages to Nicola Aiken, Westminster council cabinet member for Children & Young People, 64 Victoria Street, London, SW1E 6QP or to [email protected] westminster.gov.uk, with copies to the campaign: [email protected] gmail.com or SOCSW, 3A Lydford Road, London W9 3LU.